Monthly Archives:
June 2013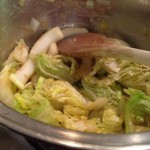 I made this Chinese Napa cabbage side dish recipe using half a cabbage and half the ingredients, and it made a great dish for 2 people. I made soy sauce chicken to go with it.
To make that, you need to slice chicken breast in half across the width, then soak it in soy sauce for an hour and cook on the griddle until cooked through.
The 2 dishes together were lovely. You could also serve noodles or rice on the side but I didn't. This recipe is very easy and it really brings out the Chinese Napa cabbage side dish flavor. Even if you aren't sure whether or not you are a cabbage fan, this dish is worth trying, and cooking cabbage in this way means it not only makes a good Asian side dish but it also tastes good! Continue reading →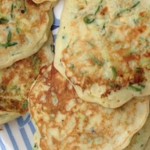 These simple zucchini pancakes make a great breakfast and you can make them in advance, so what is not to love about that?
Low in calories and fat (especially if you fry them in cooking spray rather than butter or oil) they can be enjoyed with sausage or bacon, or simply as they are, perhaps with some garlic mushrooms on the side or a broiled tomato. Try these simple zucchini pancakes and you will be surprised how great they are.
Different Types of Pancakes
Pancakes range from thin and crepe-like to thick and fluffy, and different people prefer them different ways. And yes some even prefer these simple zucchini pancakes. Personally I am more a crepe person and I love large thin crepes rolled around savory ingredients like mushrooms, garlic, goat cheese and walnuts. My mouth is drooling saying that. Nobody knows how to make crepes like the French.
Some More Hot Content For You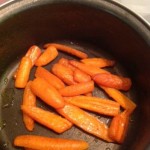 Learn how to make caramelized carrots because this winning side dish goes with everything. This very easy recipe makes a lovely side dish. Carrots offer a natural sweetness but adding butter and a little sugar to the carrots gives them a wonderful crunchy glaze. Pair these with meat or poultry, adding some mashed potatoes too, for a great dish.
I like to peel and chop mine into fat matchsticks but it's up to you whether or not to peel, and also whether to cut them into slices, chunks or strips. The thinner they are cut the less time they will take to cook.
How to Make Caramelized Carrots: Honey or Sugar
I have made this recipe before using honey instead of the sugar but I found the honey flavor too strong. You can experiment with it if you want, or try brown sugar, but I think it's better with white sugar. That's just something I discovered when learning how to make caramelized carrots. Continue reading →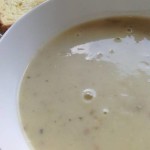 This delicious cream of cauliflower soup recipe is thick and creamy. If you want to make the best cream of cauliflower soup recipe, this is a very nice recipe to choose. Each serving offers 150 calories, 12g carbs, 4g protein and 10g fat. This makes a very nice lunch or appetizer.
I often make curried soups but occasionally I like to make something creamy, and cauliflower is really good. Mashed cauliflower (like mashed potatoes but with cauliflower) is also very good, and I like to add cauliflower to curries.
Cream of Cauliflower Soup Recipe: So Simple and Good
What makes this cream of cauliflower soup recipe special is the simplicity of it. The focus is all on the cauliflower and the other ingredients are used to complement it. So if you are wondering what kind of soup to make, you might like to try this one. It really is yummy. Continue reading →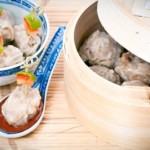 Authentic Chinese recipes are incredibly popular and have several different benefits, which is why more people than ever before are searching for the best recipe ideas.
You might enjoy Chinese food but it's fair to say that authentic Chinese recipes will taste very different. Once you have discovered several different recipes to try at home, you can begin to enjoy these benefits and appreciate real Chinese food for what it really is.
Why Choose Authentic Chinese Recipes?
Chinese food is considered to be incredibly healthy and very fast to make, ensuring that it is the perfect snack food. Continue reading →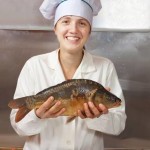 This potato wrapped fish filets recipe is something which is easy enough for the home cook to master but will give professional results. If you love fish and potatoes, why not combine them to make this delicious recipe?
Whether you are used to tasty stuffed squid recipes and other seafood dishes, or not, you will love this. The potatoes need to be thin enough to wrap around the fish, although you can choose any type of potatoes and any type of fish.
Perhaps you love the big flakes cod offers, the economical price of basa fish or tilapia, or the distinctive flavor of salmon. Whichever makes your mouth water would be an ideal candidate for this potato wrapped fish filets recipe, so take your pick. Continue reading →
Other Posts You Might Like