Monthly Archives:
August 2013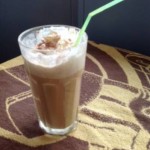 I have always loved ice coffee but find it prohibitively expensive in the coffee shops. There are plenty of ice coffee recipes online but many are too time-consuming to bother with, advising you to brew the coffee for 18 hours with mint leaves or add an array of ingredients which you probably don't already have. That was my inspiration behind this 3 minute ice coffee recipe.
The following recipe is for a basic ice coffee but of course you can jazz it up however you wish, adding syrups, sprinkles and cream on top, a shot of liqueur or whatever tickles your taste buds today.
Flavored Syrups for this 3 Minute Ice Coffee Recipe
I have a selection of syrups here including vanilla, caramel and strawberry and sometimes I will add a splash of one of those to my ice coffee. It just depends on my mood. I'm not into sweet coffee so I often do not bother with syrup.
Continue reading →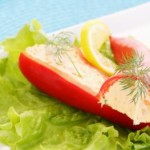 These cream cheese stuffed sweet peppers are gorgeous and I often make them as a side dish. I like to use the long pointy red peppers, both because of their nice, sweet flavor, and also because of how they lie flat on the plate and don't fall over. You can use bell peppers if you want, or even chilies if you have a taste for them. Roast these in the oven or broil them if you prefer. Keep an eye on them. You will be able to see when they are done.
Tweak if You Wish
It is perfectly possible to tweak this cream cheese stuffed sweet peppers recipe based on what you have. I have made these with just the peppers and the cream cheese before because I didn't have any sour cream. You can also add minced garlic, minced green onion or anything else you fancy. If you are making these as an accompaniment for Mexican food, perhaps add some chopped cilantro or a pinch of chili powder to the filling mixture.
Some More Hot Content For You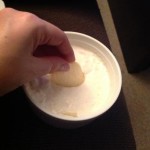 This hot and creamy crab dip recipe is lovely if you want something hot, creamy and with seafood in it. The crab is blended with cream cheese, Parmesan, hot sauce and more, for a hot and delicious dip.
The dip is not too firm or too runny, so you can use it for chips, crudites or anything else. Chips should not snap off when you dip them in because, well, that's just annoying!
Hot and Creamy Crab Dip: Serve It Nice and Hot
Because this is a hot dip, you will need to serve it immediately. Feel free to make it in advance though and pop it in the oven when your guests start to arrive. It will smell good while it heats up in the oven and the top will begin to go golden brown after 20 minutes or so. That is your cue to serve it. Continue reading →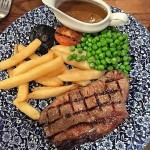 Steak is one of the most popular cuts of meat but unfortunately a lot of people are rather clueless about how to transform a raw steak into something flavorful, tender and perfectly cooked. Perhaps it is your first time cooking steak or maybe you are keen to find out some griddle tips, because this ridged pan is so handy in the kitchen. Either way, read on for my foolproof recipe and learn how to griddle steak like a pro every time you make it.
Barbecuing is one of the best ways to cook this cut of meat, because you can't beat the lovely smoky flavor, but what happens if you can't barbecue and you don't want to pan-fry? The answer is using a ridged griddle pan. Not only can you cook the steak without adding any fat, but you can make crisscross marks on it and they add a certain charm to the meat. See how knowing how to griddle steak means you can rustle up something really amazing?
Continue reading →
Other Posts You Might Like