Monthly Archives:
September 2013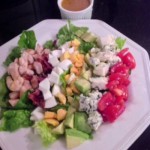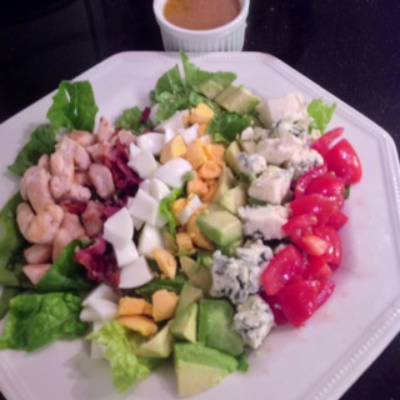 Cobb salad is one of my favorite salad recipes, well that and Caesar salad. It is not the quickest salad to make because there is cooking and chopping involved, but the recipe is well worth making because it is so good! I love this easy Cobb salad recipe and make it a lot.
Cobb salad is also a low-carb salad recipe. The distinctive look of Cobb salad is really appetizing because the ingredients are arranged in rows. Traditionally, a red wine vinegar dressing is served with Cobb salad, but I like to offer a creamy dressing on the side too, in case anyone wants some of that instead.
It is easy to remember the ingredients in this easy Cobb salad recipe if you remember EAT COBB because each letter stands for an ingredient – Egg Avocado Tomato Chicken Olives Bacon Blue Cheese. The black olives are optional and you might find a few on your plate if you order this in a restaurant. I don't usually use them though. Continue reading →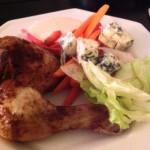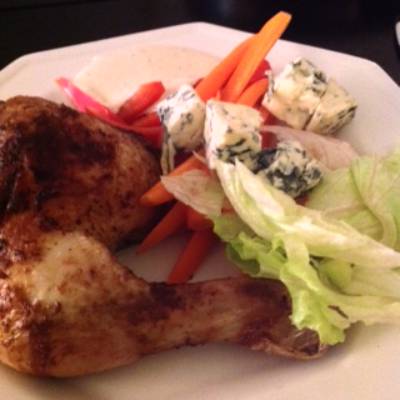 Being an English girl, I wasn't quite sure what buffalo chicken was when I first heard the term. Of course I knew what a buffalo was and what a chicken was but didn't see how you could combine them. All became clear when I tasted this delicacy Stateside and fell in love with it! Keep reading for the best buffalo chicken recipe I have found.
So much so in fact that I have added it to our regular meal rotation because I adore the combination of crispy, spicy chicken, fresh vegetable sticks, creamy dressing and of course don't forget the blue cheese!
This best buffalo chicken recipe, like most of mine, is really easy to make. You have the choice of using any kind of chicken. The first time I made it I used chicken breast but now I usually use chicken legs. Not only are they cheaper here but they are also more flavorful, plus I like to crisp the skin up in the oven. Crispy chicken skin on a best buffalo chicken recipe is always good! Use drumsticks if you like because they are also good in this recipe. Continue reading →
Some More Hot Content For You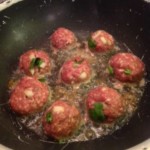 This is a wonderful recipe and it is also low in carbs. I love this Asian meatballs with sweet chili sauce recipe because I never get tired of the taste. I used to own the site Crackslaw.com where you could find out how to make all kinds of crack slaw recipes, something else that offers a wonderful Asian flavor. I've since moved them all on to this blog, so look at our low carb category and you will find plenty more ideas.
Anyway, back to the Asian meatballs with sweet chili sauce. I had some ground beef to use up and some other bits and pieces and I asked my sister for inspiration and she came up with the idea to make these delicious meatballs. Luckily I had all the ingredients I needed.
What Meat to Use
The meatballs can be made using ground pork, beef or even chicken or turkey if that is what you have. You can add as much or as little flavoring as you wish. Some people just like to roll the ground meat into balls and fry those, but I like to add a few seasonings to them. Continue reading →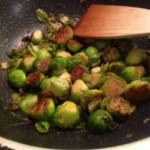 When I remember Brussels sprouts from my childhood, unfortunately the memory makes me grimace a bit! I assumed Brussels sprouts were supposed to be soggy and flavorless but actually I have discovered a new way of cooking them. That's right, read on to discover an easy sauteed Brussels sprouts recipe which might just convert even the most die-hard sprout hater!
Although a lot of people just boil them, adding a pinch of bicarbonate of soda to keep them vivid green, sauteing them (cooking them in a pan with some oil or butter) is a much better way to go.
I like to trim off the bottom, remove a few outer leaves and then slice them horizontally a few times. Then I toss them in the wok with my oil, butter or oil/butter mix, and cook them, stirring often, until they are al dente or tender. Depending on what I am serving with them, I might add a pinch of nutmeg or some curry powder. That's how I like to prepare my easy sauteed Brussels sprouts recipe. Continue reading →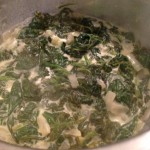 Creamed spinach makes a lovely side dish and it is very easy to prepare. Try out this easy creamed spinach recipe if you want to make your own from scratch. It really is good. Grab a bag of spinach and then just add some cream cheese and seasonings. The recipe also features some optional ingredients so you can ensure your creamed spinach comes out perfectly for your palate.
I usually buy the unwashed spinach and soak the leaves in cold water for a few minutes but you can also get pre-washed fresh spinach.
Do use fresh spinach for this recipe for the brightest color and freshest flavor. I haven't made this with the frozen kind but I probably wouldn't. This easy creamed spinach recipe goes with anything, especially a delicious marinated T-bone or ribeye steak. Remember the baked potato or mac 'n cheese on the side as well. Continue reading →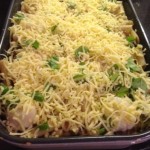 This creamy scallop baked pasta is one of my favorite dishes. It is simple to make and its creaminess makes it wonderful comfort food. I love scallops. In fact, I love all kinds of seafood! This is also a dish my husband enjoys whenever I made it.
The fact that this contains scallops makes it a gourmet baked pasta dish. Every time I make creamy scallop baked pasta, I make it slightly differently, so I offer different options in the recipe so you can tailor it to your own palate.
I like to add spinach or bell pepper, both for color and for nutrients and added flavor. I use frozen scallops because I don't have much option where I live. I like to thaw them overnight in the refrigerator, then pat them dry using plenty of paper towels. Continue reading →
Other Posts You Might Like