Monthly Archives:
October 2013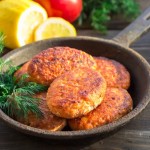 Fishcakes make an excellent meal, accompanied by a salad or your choice of vegetables, and they are also ideal for a low carb diet, making a change from the steak or chicken you might be getting tired of. Make these low carb fishcakes because you will love the taste and they don't taste like diet food at all.
A lot of people start low-carbing and over-indulge in the red meat, then wonder what else there is. Repetition can be good because you can stick to the same meals all the time but for some people repetition can be their downfall because they get bored, so add some low carb fishcakes to your meal rotation to keep things interesting.
This low carb fishcakes recipe is really easy to make. If you have a food processor, this recipe is quicker to make, but you can also make it without out. If you are used to eating regular fishcakes, you might be wondering what the potato and breadcrumbs are replaced with, to make these low in carbs.
The egg whites help the low carb fishcakes mixture to stick together, while the other ingredients add all the flavor you need. Sauteing these in hot oil will give them a nice crusty outside. Continue reading →
These bacon wrapped avocado appetizers are absolutely gorgeous and you can serve them as an appetizer or side dish. They are low in carbs (if you leave out the sugar) but high in flavor.
Spicy or Mild, Your Choice
Use the chili or cayenne pepper if you wish, or just have the bacon wrapped avocado appetizers without if you want a milder finish. These are great to pop into the oven when you have something else cooking on the stove.
I wasn't sure these would work the first time I made bacon wrapped avocado appetizers. I have made bacon-wrapped shrimp before, and bacon-wrapped cheese, but this is the first time I used avocado. Although avocado is usually served raw, you can cook it or at least heat it. It also freezes well if you puree it with sweetened condensed milk, to make ice cream. Continue reading →
Some More Hot Content For You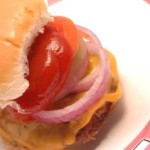 Sometimes nothing can beat the comfort food appeal of a juicy, freshly cooked hamburger. If you make cheeseburgers at home, you might be interested in learning a few handy cheeseburger tips to ensure your burgers always come out perfectly.
One of the most important parts of your cheeseburger is the meat you use for the patty. For the best results, you should choose 80/20 ground meat. That means it is 80% lean and 20% fat. If you use lean, or worse still extra-lean, meat, you will end up with a dry burger, and that is never attractive. Fat isn't the enemy. Serve your burger with some salad or a vegetable side dish to balance out the meal.
One of the best cheeseburger tips: the cheese is just as important as the meat, but there is no reason why you must use American sliced cheese. Experiment with some different kinds, like halloumi, feta, white cheddar, fontina, Asiago, or a Mexican cheese blend, to add a brand new taste. Blue cheese can be really good in there too. Continue reading →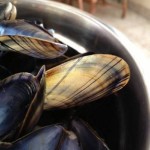 Learn how to cook fresh mussels and you will be able to prepare this delicious seafood whenever you're in the mood. Mussels can be purchased or you can pick your own, depending of course where you live. If you are collecting your own then ensure the water is unpolluted.
Mussels are nicer during the colder months which are not in the breeding season. If you are shopping for them, then shop around and choose ones with tightly closed shells.
When cooked, you will want juicy, plump flesh and the taste of the sea. Mussels are white if male and orange if female, so color does not indicate freshness. Knowing how to cook fresh mussels means you can prepare all kinds of mussel recipes from simple ones with white wine and parsley to bolder mussel dishes, paella and more.
How to Cook Fresh Mussels: Keep Them Fresh
Eat mussels the day you get them unless you are sure how fresh they are. Put them carefully into a sink filled with cold water.
Other Posts You Might Like