Monthly Archives:
November 2013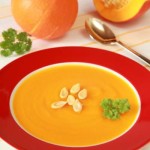 Thick and creamy pumpkin soup is a winter favorite. There are many ways to make it and a lot of people like it thick, rich and sweet, but there are also more savory options.
In some parts of Europe, for example, the soup will include onion, garlic, bacon and herbs. In other parts of the world this soup is made very sweet and can almost be compared to a dessert. No wonder thick and creamy pumpkin soup is so popular with the kids.
Personally I love the 'comfort food' kind of pumpkin soup and I love adding maple syrup, cream and other wonderful ingredients to bring out the flavor of the pumpkin. I like to roast my pumpkin before making the soup, just because it brings out the natural sweetness and enhances the flavors that are in the pumpkin.
Continue reading →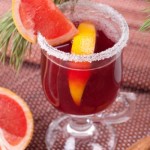 Mulled wine is a hot beverage which is popular during the chillier months. This red wine-based cocktail is really flavorful and you will be able to taste the spices and fruit which go into it. Once you know how to make mulled wine you will often want to prepare it for chilly fall and winter evenings.
Our recipe is made with apple cider or juice, red wine and other flavorings. It is actually tastier the day after you make it and even more so the following day if you have any left by then!
Mulled wine is nice served in clear mugs so you can see the lovely color, and you can decorate the glasses with some orange zest or orange slices.
How to Make Mulled Wine: Perfect Party Drink
If you are having a party anytime during fall or winter, this is such a nice recipe to make. You could even make it in the slow cooker and then have it on the 'keep warm' setting and let people serve themselves. The amounts are adjustable of course and you can make much more or much less depending how many guests you are expecting to have. Discover how to make mulled wine like a pro and enjoy all the wonderful flavors it has to offer. Continue reading →
Some More Hot Content For You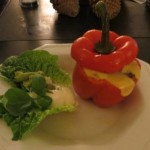 You will find these beef and cheese stuffed bell peppers to be really filling. If you are not sure that one stuffed bell pepper is going to be sufficient for your meal, don't worry, because it will be! I love making beef and cheese stuffed bell peppers. Sometimes I use a rice based stuffing but the beef and cheese option is also very nice. It is filling and if you are keeping an eye on your carbs then that is another reason to make these.
Stuffed peppers look attractive and while some people throw the top away I like to cook it in the baking pan with the stuffed peppers and then put it back on at the end. I just like the presentation done that way.
Make the Stuffed Peppers Unique
Feel free to experiment with the filling in these beef and cheese stuffed bell peppers. If you want to use ground pork instead of ground beef, or use Swiss cheese or cheddar, just go ahead. You can also make the filling spicy if you want. There is no right or wrong way of making these, and you can just use this recipe as a guideline and make the dish however you want. Continue reading →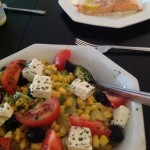 Boasting all kinds of delicious ingredients from lettuce and tomatoes to corn, olives, oregano, and a stunning oil and vinegar dressing, this salad offers a true taste of the Mediterranean, and it makes a lovely side dish for any fish, meat or poultry dish. Consider this healthy Mediterranean salad recipe if you want a fresh and seasonal side dish.
Alternatively you can serve it as an appetizer. I can't stress enough how important it is to wash your lettuce properly because there might be little worms or caterpillars in there (yes, I found one last week!)
So separate the leaves and use a salad spinner after rinsing the lettuce in cold water. Make sure all that excess water is out, so the lettuce stays nice and crisp in this healthy Mediterranean salad. Continue reading →
Other Posts You Might Like