Monthly Archives:
April 2014
The first time I saw a photo of Vietnamese summer rolls I just thought 'wow'! I love spring rolls (egg rolls) because of their wonderful crispy exterior, but summer rolls are slightly different, still oozing Asian character but featuring a very different coating and a more subtle, fragrant characteristic which you will love.
These are lovely in the summer (hence the name) but perfect served as an appetizer or light meal any time of the year.
What are Vietnamese Summer Rolls?
A summer roll is a Vietnamese dish made by enclosing a filling in a soft rice paper wrap. Typical ingredients used to make the filling include shrimp, pork, rice vermicelli, and vegetables. Continue reading →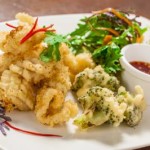 Many people enjoy Chinese recipes at least once a week, as the meals are simple to prepare and cook, making them quick and easy for everyone. Chinese appetizers can be enjoyed before a traditional Chinese meal, and many people enjoy this style before their normal main dish, Chinese or not. You might want to try this Chinese calamari Szechuan recipe and see how you find the spice and flavor.
There are various authentic flavors from China which you will already be familiar with, and you can get many Chinese ingredients from the regular grocery store, although an Asian grocery store is your best bet if you want to stock up on such ingredients.
Choosing the Right Chinese Appetizer
If you take the time to select the Chinese appetizer recipe wisely, you will be able to choose something which enhances your whole meal, starting it off in style and leaving people eager for the main dish to come out once their appetite has been whetted. This Chinese calamari Szechuan dish is certainly a great choice. Continue reading →
Some More Hot Content For You
Other Posts You Might Like