Monthly Archives:
September 2014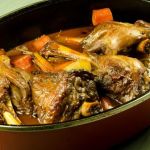 Lamb shanks are a wonderful thing to serve on a cold day, so as fall arrives and winter rolls in, stock up on these meaty treats and you can braise them to make the most delicious meals. Braising means slow-cooking in liquid, and you can choose from beer, wine or other liquids. There is plenty of meat on a lamb shank and the flavor is phenomenal. I especially love this braised lamb shanks in red wine recipe because the flavors are so amazing.
So Much Appeal in this Dish
Lamb shanks smell incredible while they cook and the flavor will drive you half-crazy with anticipation! The following braised lamb shanks in red wine recipe is easy to make and the ingredients are easy to find. The lamb is browned then cooked with onion, carrots and celery, garlic, bay leaves, peppercorns, and red wine.
Use a casserole dish on the stove and in the oven, or else use a heavy pot on the stove and transfer the mixture into an ovenproof casserole to bake. It just depends what you have to hand.
Braised lamb shanks in red wine is excellent served with mashed potatoes and this recipe makes 4 portions, but you can always double it if you are feeding a crowd. Once you have experienced the amazing flavor of this braised lamb in red wine recipe you will certainly want to make it again.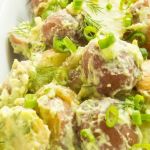 Have you ever tried avocado in your potato salad? If not, make some avocado potato salad now because it is really tasty! The avocado adds a creamy, nutty, decadent touch to the potato salad which works so well.
This avocado potato salad goes beautifully as a side dish alongside chicken, burgers or any other meat, or try it with fish or something else. Make this once and you are sure to want to make it again and again, and don't be surprised if everyone asks you for the recipe.
Which Potatoes to Use in Avocado Potato Salad
We are using baby red-skinned potatoes here but you can use brown-skinned ones if you wish, or even larger potatoes cut into cubes. They should be boiled until they are just tender, no more else they will fall apart too easily in the avocado potato salad and that is not what you want.
Use freshly squeezed lemon juice for the tastiest result and if you have some leftover potato avocado salad then squeeze extra lemon juice into it, to help preserve the bright green avocado color and prevent browning. You can keep any leftovers (although there usually aren't any!) in a covered container in the refrigerator for 2 or 3 days.
Some More Hot Content For You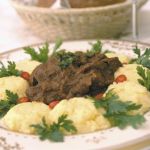 This Hungarian venison goulash stew is a real winter warmer of a recipe, offering amazing comfort food for those chilly fall and winter evenings. An authentic Hungarian recipe, this is sure to fill even the hungriest belly, and it is easy to make as well, even if you are new to cooking venison, new to making stews, or just never made this particular recipe before. The results will be great.
Serving Hungarian Venison Goulash Stew
Serve this Hungarian venison goulash stew with mashed potatoes, fluffy white rice, dumplings, vegetables, or anything else you want. Personally I like garlic mashed potatoes with plenty of butter mashed into them! Leftover stew can be reheated the following day if you want to enjoy this lovely dish twice. You  might be surprised by the amounts of onions and paprika but the onions soften and cook down and the paprika lends an amazing flavor, mellowing as the dish cooks.
You can swap the venison stew meat for another type of stew meat if you wish – lamb, beef, goat or rabbit are all good. Mushrooms would work for a vegetarian take on the dish. Ensure your paprika is fresh too – it should be bright red and fragrant for a perfect result. If you have old paprika and it's losing its color and aroma toss it out because that isn't much good for anything apart from a colorful sprinkling on the top of deviled eggs or similar, for presentation only.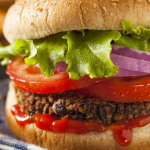 These delicious vegetarian burgers are made with quinoa and beans, ensuring they are hearty and appealing to vegetarians and carnivores alike. Quinoa, pronounced keen-wah, is a tasty grain available in health food stores and, these days, most food markets too. It is great for making everything from side dishes to this delicious quinoa burger recipe.
Quinoa is actually a pseudocereal, not a true cereal, since it is not in the grass family. Quinoa is closely related to spinach and beetroot.
It is high in protein and can be used to make appetizers, entrees, risotto-type dishes, and even burgers. If you have never cooked with this grain, grab some the next time you go to the store and make this wonderful quinoa burger recipe. You will then want to find more uses for quinoa because it is tasty, filling and really versatile.
One of the Tastiest Vegetarian Burger Recipes
Quinoa works particularly well in burgers and is a great solution if you want a meat-free burger, something new and different, or simply a vegetarian change from the standard bean burger options.
Continue reading →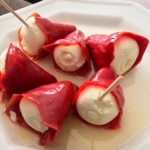 These stuffed mini peppers with goat cheese make an incredible appetizer and my husband and I both love them. Where we live we can buy them in different varieties – some are sweet while others are spicy.
One store uses the pointy end of spicy chilies as their 'mini' peppers while others use mini sweet peppers, mostly red but sometimes green or yellow.
Green is more savory while yellow (and orange to a lesser extent) is sweeter. Whichever peppers you use in this stuffed mini peppers with goat cheese recipe, the flavor of these little bites is going to be fantastic. See what they sell in your local food market and decide whether you want a sweet, semi-spicy or piquant result, or you could make some of each.
Plenty of Tempting Choices
Making your own stuffed mini peppers with goat cheese over buying them saves you money, plus you get to decide what result you want – spicy, medium or mild, as well as what color peppers you want, plus whether to use only goat cheese for the filling, or to combine the goat cheese with sour cream and/or cream cheese. There are a lot of options here actually!
Continue reading →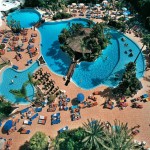 There are plenty of great hotels to choose from in Gran Canaria's sunny south, so if you are in the mood to soak up some sun in Playa del Ingles or Puerto Rico, consider the following budget hotels in Gran Canaria and see which you fancy.
Finding your own flights and booking a hotel separately, instead of booking a package, means you get more control over dates and times, as well as how you fly and where you stay. No wonder many people like to book their own flights and accommodation, so they can create the tailor-made holiday of their dreams. Continue reading →
Other Posts You Might Like