Monthly Archives:
January 2015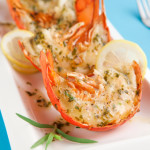 Lobster tails make a real treat and, when cooked right, you can expect a succulent, tasty result with plenty of ocean flavor. Learning how to cook lobster tails is straightforward and the results are impressive. These little delicacies might not be the cheapest type of seafood in the store (far from it, usually) but once it in a while it is nice to spoil yourself to a lobster tails recipe. Buying the tails is cheaper than buying a whole lobster, and they're easier to prepare and eat too.
I spotted some of these on sale just after Christmas. Of course we had a full-to-bursting refrigerator then (who doesn't?) but they were frozen, so into the freezer they went. When I felt like cooking them, I thawed them overnight in the fridge and then started researching the best recipes for them.
The two times I'd had lobster tails before were memorable. Once was in Gran Canaria and they were caught fresh that morning (it pays to have fishermen as friends!) and char-grilled, and the second time was on the Oasis of the Seas cruise ship and those were boiled. I wanted to know how to cook lobster tails so I could make them any time.
Continue reading →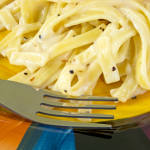 Although pasta goes great with all kinds of sauces, the gentle aromatic appeal of a white wine pasta sauce is something incredibly special. White wine pasta sauce is so easy to make and other ingredients which go well with the wine include garlic, butter and parsley.
A lot of these white wine pasta sauce recipes might include olive oil instead of the butter, or alongside it, and you can make such a sauce even if you don't really drink white wine, since you are just using it for a rich flavor and typically only need a splash.
When making a white wine pasta sauce, it is important to use a white wine you would drink, not something labeled 'cooking wine' or something you don't like, the reason being this is one of the main flavors in the finished dish, so use good quality ingredients and the resulting white wine sauce for your pasta will have a nice taste and not disappoint you.
Although whole wheat pasta is popular these days because of its fiber content, I like to use white pasta, and I also feel it goes best with a light, aromatic pasta sauce because white pasta has a more neutral taste so the flavors in the sauce will be more evident.
Continue reading →
Some More Hot Content For You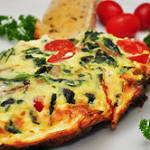 Eggs are a wonderful and versatile ingredient for vegetarians, and you can use them to make breakfast, lunch or dinner, so it is a good idea always to keep some in the refrigerator. The following recipe teams the eggs with fresh vegetables, garlic, cheese, and basil, and the result is light yet perfectly satisfying. This healthy vegetarian frittata is something you are sure to enjoy.
Feel free to change the vegetables, using up whatever you have in the refrigerator. Pretty much anything goes, so you might wish to swap the green onions for red onion, the baby spinach for broccoli, the potatoes for mushrooms, or even the basil for cilantro or parsley.
Throw in some diced chili pepper too if you want to give the dish some extra zip! Any kind of cheese is good in this frittata recipe, although a blend of parmesan and mozzarella works especially nicely here.
Continue reading →
Other Posts You Might Like