Monthly Archives:
May 2015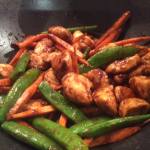 This easy Chinese chicken stir fry is the simplest Chinese recipe ever, and once you make it you will certainly want to make it again and again. We are using chicken and vegetables, along with a flavorful sauce, and this makes a wonderful dinner served with rice, noodles or your favorite Asian side dish.
You will need skinless, boneless chicken breast to make this easy Chinese chicken stir fry, along with vegetables (either snow peas and water chestnuts or carrots, or anything else you like, such as mushrooms, bamboo shoots, broccoli or bell pepper).
The sauce for the easy Chinese chicken stir fry is up to you. I like to combine 2 tablespoons of hoisin sauce with a tablespoon each of soy sauce and oyster sauce, but use whatever you had. Perhaps you want to use another kind of Chinese cooking sauce or simply add a splash of teriyaki, a splash of soy sauce and a few roasted sesame seeds. You can really go to town and get creative here because anything goes.
Continue reading →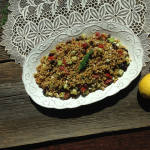 Before you think about making this easy freekeh salad you might be wondering about this grain. What is freekeh, you might be thinking, and that is a very good question because a lot of people have never heard of this particular grain. Freekeh can also be spelt frikeh, and it is known as farik as well. This cereal food is made from green wheat which goes through a roasting process. It is traditional in Arabian cuisine along with North African and some other cuisines.
The wheat is harvested while the seeds are soft and the grains are yellow, and then it is sun-dried. Piles of freekeh are set on fire and the straw and chaff burn, leaving the seeds intact. The roasted wheat is then thrashed and dried more in the sun to get the right color, flavor and texture. The seeds are then cracked to resemble green bulgur and this is what goes into our easy freekeh salad recipe.
The earliest mention of freekeh was in the early 1200s in a Baghdad cookery book. In that particular recipe, meat is fried in oil, then braised with water, cinnamon bark and salt.
Next, dried coriander is added and then the dish is served with cinnamon, cumin and lamb fat. Freekeh is served as a pigeon stuffing in Egypt and it is made into a soup in Tunisia. One famous Syrian freekeh dish is made with roast lamb, spring peas and pine nuts. This grain is also enjoyed in Israel. So there are many alternatives to our easy freekeh salad.
Continue reading →
Some More Hot Content For You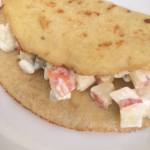 Whether you are looking for a tasty breakfast recipe, a quick snack or even a sweet treat when you get peckish in the evening, this easy banana pancakes recipe is ideal. You can combine the ingredients in a couple of minutes, then cook the pancakes in a skillet on the stove for a few minutes.
Serve them just as they are, drizzled with some syrup or perhaps will chopped fruit or berries as a filling. You can also tweak our recipe, perhaps adding some cinnamon or nutmeg or even a little brown sugar. The sweetness of the banana means you don't really need to add any sugar to the pancake batter, especially if you are going to serve it with syrup, but you know your palate best, so tweak it as you wish.
You can cook these in oil, butter or cooking spray, as you wish. Don't make them too thick, so unless you have a big skillet you might wish to divide the batter in 2 and cook 2 pancakes. Cook them on one side, then flip and cook the other side. The raw batter is very pale yellow, nearly white, and the finished pancakes are golden.
Continue reading →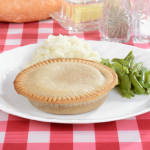 Pot pies make a great meal and, being English, I have tried lots of British pot pie recipes. Although some people claim pot pies are not English, I beg to disagree. English chicken pot pies are not only 'a thing' but they are yummy! In the UK if you eat 'pub grub' or a simple meal in a pub, you can expect at least one kind of pie on the menu. My own favorite is beef and ale pie, although chicken makes a nice change, either paired with corn or with mushrooms. I like either mashed potatoes or fries with mine, along with baked beans or some kind of vegetable.
Although large pies which you can cut into wedges are nice, individual ones are just as easy to make and they look attractive on the plate. You can make English chicken pot pies any size you want.
Ingredients for English Chicken Pot Pies
In the following recipe we are using chicken breast but you can use chicken thigh if you prefer the richer flavor. You can also swap the peas and corn for mushrooms and leek, or tweak the filling, perhaps adding black pepper, a little honey and maybe even some white wine if you want.
Continue reading →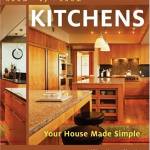 The kitchen is the heart of the house, so choosing kitchen cabinets and counters is something you ought to take your time doing. This room is where you make delicious meals, congregate during parties and get the family together for a relaxing dinner. But even though you might have all the best kitchen gadgets, your kitchen cabinets and kitchen counters might need replacing.
Why Replace Them Anyway
Perhaps your cabinets are too small or they do not match the rest of the kitchen, which is why you are choosing kitchen cabinets and counters. Before you rush out to buy new ones, there are a few things to think about. How many cabinets do you need and what size do you want? If your kitchen is on the small side, you should make the most of the space. Perhaps floor to ceiling height cabinets would be good because a lot of people have wasted space in the kitchen.
A lot of kitchen cabinet manufacturers build their wall cabinets in standard sizes, 24 inches deep and 34.5 inches high. Widths start at 12 inches and can be up to 48 inches, so bear this in mind when choosing kitchen cabinets and counters. Wall cabinets have varying depths and heights so you can put them over the microwave or fridge if you like. If you cannot find the right kitchen cabinets you might want to look at custom kitchen cabinets instead. These are more expensive but are a good investment. Continue reading →
Oak cabinets are beautiful but they can be tricky to paint because of the way the grain is in the wood. Oak tends to have a heavy grain and when you paint over the grain it tends to show through, even if you apply more than one coat of paint. This is what makes oak kitchen cabinet painting trickier than you might at first think.
You need to even out the wood grain surface before you begin oak kitchen cabinet painting and this means you should apply wood grain filler before paint.
Wood grain filler smooths the cabinets and fills in between the grains, giving a nice finish. Of course you must let your coat of wood grain filler dry properly before attempting to prime and paint.
How to Sand and Prime the Cabinets Before Oak Kitchen Cabinet Painting
The next thing to do for your oak kitchen cabinet painting is to sand the surface for priming. Do this with a piece of fine grit sandpaper but be careful not to rub too hard. Be careful and gentle, taking your time for the best results. You do not want to remove more of the top surface than necessary. When you are done, wipe the surface down with a clean tack cloth, to get rid of dust.
Your next step in oak kitchen cabinet painting will be to brush on some primer in order to cover the wood grain. Let the primer dry and you will find that your oak cabinets are smooth and ready to be painted.
If you are going to use a latex paint, use a Shellac-based primer. These primers normally dry quite fast but they do have a strong odour so open the windows before you start. Continue reading →
Other Posts You Might Like