Monthly Archives:
June 2015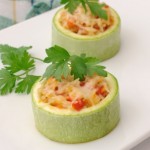 This is a great recipe for stuffed zucchini, or stuffed courgette if that's what it's known as in your neck of the woods. You can cut your zucchini in to 'boats' or lengthwise strips or into wide slices. Perhaps you can get mini zucchini, or 8-ball zucchini, in which case one of those makes one serving. For the filling we are using rice, vegetables and walnuts, along with some garlic, thyme and cheese for added flavor. Feel free to tweak any of the ingredients in this rice stuffed zucchini . Pecans would work in place of the walnuts, or you could sub parsley, basil or even mixed dried herbs for the thyme.
First we are going to take the pulp out of the zucchini and just leave ½-inch or so on the skin. Then the vegetables are sauted and combined with the aromatic ingredients. Add in the zucchini pulp and rice, and spoon this mixture into your prepared zucchini pieces. You can then bake them in the oven, covered with foil so they don't burn or dry out. Take the foil off at the end for a while so the cheese on top can melt and turn golden brown. When the cheese is golden brown and bubbling, the rice stuffed zucchini is ready to serve.
Rice Stuffed Zucchini – How to Serve It
This rice stuffed zucchini makes a nice main dish for a vegetarian or you could serve one slice alongside meat for a carnivore. Either way, the flavor will be great, and this goes with any kind of side dish, or as a side dish for some kind of meat, poultry or seafood entrée. Once you have made this, you might like to swap some of the ingredients to make it the next time. Honestly, all kinds of filling ingredients work here – mushrooms, spinach, fresh herbs, any kind of nuts, raisins – just add whatever you like and make the rice stuffed zucchini  recipe your own. If you want to serve this as a main dish, feel free to add some chopped cooked ham, chicken or shrimp into the mix. Add it when you add the rice to the pan.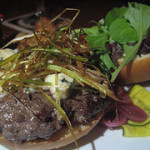 If you are in the mood for a change from your usual homemade burger recipes, why not consider a venison burger recipe instead? These blue cheese stuffed venison burgers are very special indeed. Venison is very lean which means it is best to add some fat to the patties. This ensures they will come out juicy and succulent instead of dry. Some people add bacon trimmings to their blue cheese stuffed venison burgers while others will ask their butcher for any pork fat they don't need (they might give it to you free!)
Venison is very tasty and doesn't need to be seasoned a lot. A little salt and black pepper along with the meat (and some added fat if it needs it) is enough, but in the following blue cheese stuffed venison burgers recipe we are adding blue cheese and shallots, along with some more flavors, for a gourmet venison burger result! Whatever you are adding into the patty mixture, make sure you don't over-mix else the burgers will come out tough and that of course isn't what you want to have.
What Else Goes into Our Blue Cheese Stuffed Venison Burgers
In the following blue cheese stuffed venison burgers recipe we are combining the meat with garlic, cream and herbs, then adding a blue cheese filling to make them extra-special. This recipe makes 4 venison burgers but double the amount if you are having a crowd over. Leftover patty mixture can always be shaped into meatballs and cooked the next day then served with pasta or spaghetti.
You can cook these blue cheese stuffed venison burgers on the barbecue or in a ridged griddle pan. They will take a couple of minutes per side to cook through. Top the burgers with any toppings and sauces you like or, if you are making these for a crowd, have the toppings in separate dishes so people can top their own. This recipe is particularly nice with a creamy, homemade potato salad.
Continue reading →
Some More Hot Content For You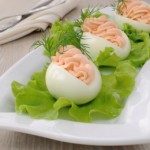 How pretty do these salmon pate stuffed eggs look? This recipe takes deviled eggs to the next level, by combining the egg yolk with salmon, lemon and creamy ingredients to make a pale pink, delicious-tasting appetizer. One or two egg halves per person is a good estimate although some people won't be able to stop munching on these lovely little snacks.
There are different ways to prepare these salmon pate stuffed eggs. You can make them the traditional way by slicing the eggs in half lengthwise or you could remove a wedge from the top (like in the picture) for a different look.
How to Add the Salmon Pate Stuffed Eggs Filling
The salmon pate stuffed eggs filling is better piped in with a piping bag (or a plastic bag with the corner cut off) but if you don't have one or you don't want to pipe, you can simply spoon the filling in. Chill the salmon deviled eggs for half an hour then serve them perhaps with some snipped chives on top or with some fresh herb sprigs. Maybe add some lemon wedges to the platter too.
This tasty snack is easy to prepare and you can make them ahead, making them ideal buffet food or party snacks. If you're making them any more than half an hour ahead though, cover them with plastic wrap before popping them in the refrigerator. Be careful not to wrap them too tight – you won't want to ruin your carefully piped filling.
Continue reading →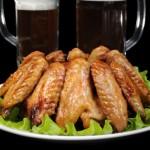 These baked chicken wings are so good. If you are in the mood for chicken wings but you don't want to fry them, try this recipe instead because they come out just as crispy as fried wings but are healthier because they aren't going to be submerged in fat.
A Flavorful Coating for Baked Chicken Wings
The coating is made with flour, paprika, garlic salt, pepper and cayenne, and the wings are cooked in a little butter to crisp them up and stop them sticking to the baking dish. Swap the cayenne pepper for Hungarian paprika if you want, or the garlic salt for regular salt and a pinch of garlic powder, and the flavor of our baked chicken wings will be very similar.
This baked chicken wings recipe can be doubled or tripled easily enough if you want to feed a crowd rather than just make a snack or meal for a couple of people. The chicken wings refrigerate well and they even stay crispy so you can enjoy them cold the next day with a salad perhaps, or take some to work with you.
Easy and Sure to Be Popular
This easy baked chicken wings recipe is one you will find yourself making often because the chicken is so flavorful and it comes out moist and juicy. Also, this is a good recipe if you are watching your figure because it's healthier than fried chicken.
Continue reading →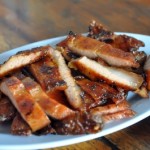 Pork tenderloin suits flavors like fruit, apple or even ginger, which is why we are using ginger in this roasted pork recipe. Along with thyme, the ginger gives the pork a really good flavor, and after the pork is cooked, we are giving it a couple of minutes under the broiler just to crisp up the top and caramelize the preserves, adding a mouthwatering sweetness and crunch. This ginger roasted pork recipe is sure not to disappoint.
This is wonderful served with mashed potatoes and perhaps some roasted vegetables. You might want to arrange some chopped veggies around the pork and roast them together. Leftover pork can be served with potato salad and some baby salad leaves the following day perhaps, or used to make sandwiches.
Swap the Ginger for Another Flavor if You Want
If you prefer to use another kind of preserves rather than the ginger, then that would be OK. Try some kind of dark berry such as blackcurrant or black cherry, or even apple preserves. The thyme can be omitted if you don't have any or else why not try marjoram instead?
An Important Tip for your Ginger Roasted Pork
It is important to let the pork rest for 10 minutes when you take it out of the oven. This allows the juices to redistribute in the meat and makes for a better, juicier result. This recipe is really easy and you will love how the pork tastes. Pork is cheap, tasty and full of flavor. It makes a great change from the quick and easy pasta, pizza and chicken recipes you might often find yourself making mid-week for lack of other inspiration.
Continue reading →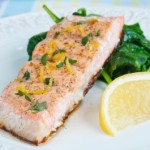 This is an incredibly easy recipe and a great way to prepare salmon. Here we are adding lemon and lime juice to the fish, along with lemon and lime zest if you like. You could stick to either lemon or lime or, like I prefer to do, use some of each for a more interesting flavor in this lemon and lime salmon recipe. Add the zest too if you want, to add more citrus flavor to the salmon and also to add a decorative touch.
Last time I made this lemon and lime salmon recipe, I sprinkled some Old Bay seasoning over the salmon. I wasn't sure whether my husband would like it because he hates celery and celery seed is a major ingredient in Old Bay but he did so that worked out well! I love Old Bay with crab cakes and other seafood dishes, and actually it's great with salmon as well, especially with lemon and lime salmon.
For Lemon and Lime Salmon, Remember: Fresh is Best!
If you only have bottled lemon and lime juice, use that for the lemon and lime salmon, but honestly it pays to use the fresh stuff because it really is better, plus you can serve some lemon and lime wedges on the side too which always looks nice. Serve this with spinach, snow peas or broccoli, and perhaps some mashed potato too or a potato salad if you prefer. You might even prefer a different grain such as couscous or quinoa.
Continue reading →
Other Posts You Might Like