Monthly Archives:
September 2015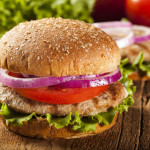 Making a change from your usual burgers perhaps, these boast the lighter flavor of turkey. We are adding lemon and oregano for flavor, and stuffing the oven baked turkey burgers with feta cheese for a wonderful tang.
The mint-cucumber dressing with these oven baked turkey burgers adds a Mediterranean touch, and you just need to combine equal parts of yogurt and grated cucumber to make it, adding in some fresh mint too. Oven baking these burgers is simple although you may pan-fry them if you prefer, or even pop them on the barbecue if it's fired up already. If you wish to prepare the patties in advance you can just leave them in the refrigerator until it's time for dinner.
How to Serve Oven Baked Turkey Burgers
Serve these oven baked turkey burgers with a simple salad, with some grilled or sauteed veggies, or with coleslaw, potato salad, corn on the cob, or anything else you are in the mood for. Whoever knew oven baked turkey burgers could be so flavor-packed and delicious? This recipe makes 4 of them, so you can double it if there's a crowd of you. I haven't tried this with ground chicken but that would probably be good too. Continue reading →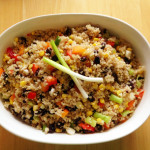 Quinoa is quickly becoming a popular food in America and throughout the world. The fast spread of this low-fat superfood grain has led to people wondering how to cook it at home. Chances are you've probably eaten it at a restaurant or at a friend's house. Now you're wanting to know how to cook this amazingly tasty food for you and your family and you want to know how to cook quinoa on the stove.
The good news is that quinoa (pronounced keen-wah) is really easy to cook at home. It's certainly no more difficult to cook than rice or buckwheat, which is good news for all of you that want a taste of this superfood without having to pay the high prices restaurants usually charge for it.
Prepare the Quinoa First
The first thing that you need to do is soak your quinoa in a large bowl of water for 15 minutes. The outside coating of quinoa has a bitter substance called saponin. This is the plant's way of ensuring that birds don't steal its precious nutrients. The bitter taste makes birds think twice about chowing down on it. Drain and rinse the quinoa using a fine mesh strainer after it has been soaked. You'll want to do this once or twice for a minute or two. This is the final process of getting rid of the saponins.
Some More Hot Content For You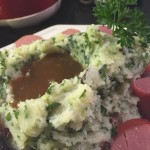 Dutch kale stamppot is a dish I make often, first because my husband is Dutch and grew up with it, and second because it's hot, comforting and delicious! Perhaps you have tried other Dutch recipes such as our slavink recipe, or maybe you are new to this cuisine. Either way, you will find Dutch kale stamppot with sausage very simple to prepare.
You will need mashing potatoes (I use low GI Carisma potatoes because my husband is diabetic) along with kale. Those are the main two ingredients in kale stamppot, known in Holland as boerenkool stamppot.
In addition, I recommend some smoked sausage, known locally as rookworst. This has a similar texture to a thick frankfurter. Use another kind of sausage if you prefer, or even franks if that's all you can get where you are, but look out for the typical Dutch rookworst sausage, because I can't imagine a better match than stamppot and rookworst! Yes, the sausage really makes the Dutch kale stamppot what it is.
Some crispy bacon makes a nice garnish too, although that's optional in this Dutch kale stamppot recipe. The potatoes and kale are drained and mashed with butter, salt, pepper and a splash of vinegar if you like. I like to add raisins too but that's optional. Continue reading →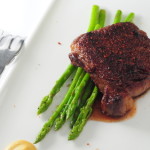 Steak is a popular protein on low carb diets because it is nutritious, filling and versatile. You can marinate it, use a spice rub or sauce, grill, barbecue or pan-fry it, or prepare it in another way. Plain steak and vegetables can become a bit boring and tedious though, which is why knowing how to make an easy low carb steak marinade recipe can breathe new life into your evening meal, adding tasty, spicy accents.
The following low carb steak marinade recipe is made with basil, onion, garlic, salt, black pepper, red pepper flakes, balsamic vinegar, and olive oil. You will need to let the steak soak in the marinade to soak up all the wonderful flavors. If you wish to tweak the recipe, swapping the balsamic vinegar for red wine vinegar, the onion powder for minced fresh onion or the red pepper flakes for a few drops of Tabasco sauce, that is fine.
Marinating Times for Low Carb Steak Marinade
We recommend about 4 hours as a good amount of marinating time, but overnight is also good. If you're marinating a fine cut of steak such as strip steak or filet mignon, half an hour is sufficient, while tougher cuts like flank, brisket or skirt steak can be left in the mixture overnight.
Serve the finished steak with low carb side dishes such as creamed spinach or bacon-wrapped avocado unless you want to try a low carb potato dish, in which case Carisma potatoes might tempt your taste buds. This low carb steak marinade is sure to impress you. Continue reading →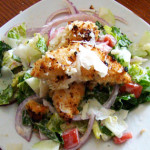 Sometimes the best salads are those which team contrasting ingredients. Take this one, for example. The crispy warm chicken contrasts with the cool kale salad perfectly. I often used mixed salad leaves instead of kale, but my husband loves kale so I use that whenever I can. This crispy chicken on kale salad is so good!
The Perfect Contrast
The chicken is coated in a tasty panko and parmesan mixture and baked in the oven until it is golden brown and crispy, then you can slice it and serve it on top of the tangy honey-mustard dressed salad. This crispy chicken on kale salad sounds good but tastes even better.
This is filling, nutritious and really satisfying. Panko, or Japanese breadcrumbs, are perfect for everything from shrimp to chicken, to add a really crispy coating. We are using Italian dressing to help the coating stick to the chicken, but use a beaten egg if you don't have the Italian dressing, since that does the same job.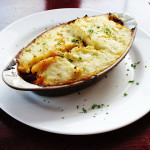 A lot of people find this British recipe for shepherd's pie perfect for the colder months, and I fall into that group. Really, is there anything more comforting or delicious than shepherd's pie when the nights are getting cooler?
Shepherd's pie is often confused with cottage pie, but shepherd's pie is made with ground lamb not ground beef. Think about it – shepherds have sheep not cows! If you want to use ground beef, then that's also tasty but it's technically cottage pie. Our British recipe for shepherd's pie is made with lamb.
We are making this in the British style, using bay leaves, thyme and Worcestershire sauce for flavor, along with meaty stock, an anchovy (that might sound like a strange ingredient but honestly it really complements the dish) and onion. The result is a fantastic British recipe for shepherd's pie dish which the whole family will go crazy for. This is nice served by itself or you can have some carrots, broccoli, peas or another vegetable on the side. Continue reading →
Other Posts You Might Like