Monthly Archives:
October 2015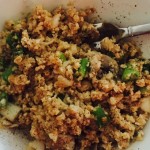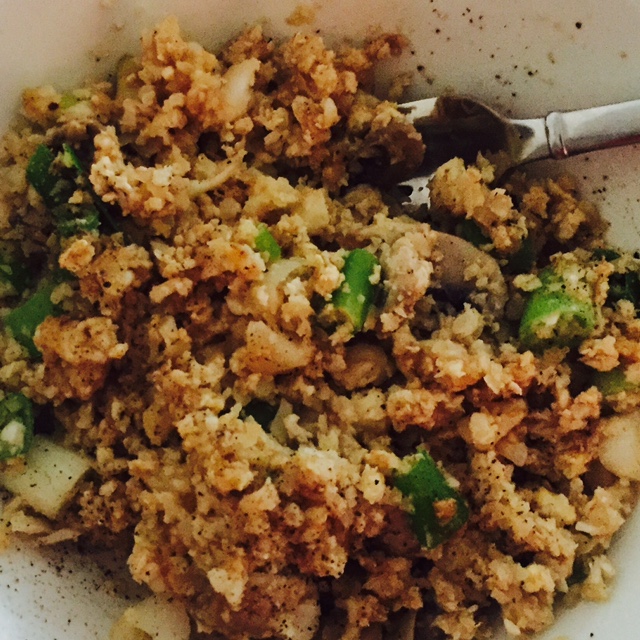 Using cauliflower instead of rice is a great idea if you are looking to cut calories, carbs, or you simply don't want to have rice but you want something similar in texture. Try this egg fried cauli  rice recipe and you will soon see what all the fuss is about!
Pop some cauliflower florets in the food processor, press the button, and a couple of seconds later you will have something resembling rice, which can be transformed into egg fried 'rice' or even something like our yummy Mexican cauli rice recipe (opens in new link) which is low in calories and tastes gorgeous.
Always a Great Meal
I made this egg fried cauli  rice recipe for lunch today and found it quick and easy. This pan-fried cauliflower rice is delicious and you can add anything you like in there. I just used green onion, mushrooms, soy sauce, egg and a dash of sesame oil along with the cauli rice but you may add anything else in there.
Perhaps you have some leftover cooked chicken or shrimp to use up, in which case throw them in and warm them up for a couple of minutes. Did you open a can of corn kernels or peas yesterday? Add a spoonful of those into the cauli-rice mix if you want. Continue reading →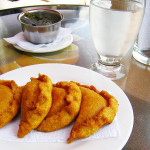 There are easy 3 ingredient recipes for every occasion, season and palate. Perhaps you are in the mood to make a hearty meat dinner or something fancy with fish. It could be that you are looking for easy 3 ingredient recipes for the crockpot because you are going to be out all day and you know you'll get home late and want to eat dinner and fall into a comfy chair in front of the TV with something already made.
Or what about making three ingredient sauces or dips for your meat, fish or chips? Some of our drinks recipes are sure to tempt you too. There are recipes for every skill level, whether you have barely set food in the kitchen before or whether you like to rustle up exciting treats for your family on a daily basis.
Some of these easy 3 ingredient recipes might be good with a grinding of salt and pepper over, or with some mayonnaise on the side or another embellishment, but if that is the case I will suggest it in the matching recipe. They are great as they are, or you can always add more, to personalize the meal exactly how you like it. Continue reading →
Some More Hot Content For You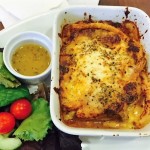 This Greek lamb pasta bake with feta is a delicious dish, pairing pasta with ground lamb, feta cheese and other Greek flavors. It is similar to pastitsio, Greece's answer to lasagna, and you will find it really delicious and warming.
Serve this Greek lamb pasta bake with feta with a simple salad on the side and a balsamic and extra-virgin olive oil dressing, or else just enjoy it by itself. If you're into carbs, a slice of lightly toasted baguette bread would go well with this Greek lamb pasta bake with feta too. There are so many pasta bake recipes to choose from, and the great thing about such a dish is you can use pretty much any kind of ground meat, any kind of cheese, and then choose your own herbs and spices to complement the flavors you have chosen to use.
Greek Lamb Pasta Bake with Feta – What Kind of Pasta?
You can use any kind of pasta for this Greek lamb pasta bake with feta. I often use penne pasta but recently discovered maccheroncelli which is a long, tubular pasta that is great with heavy sauces or in casseroles. Another similar type is perciatelle or you can use macaroni, penne, spaghetti… whatever you like really. Continue reading →
Knowing how to make cauliflower rice is very handy whether you are looking for a low-carb substitute for rice, you are trying to cut down your calories, or you simply want to use up a cauliflower or sneak some added nutrients into your meal. Try this Mexican cauli rice dish for yourself and you'll be amazed how good it is.
This Mexican cauliflower rice recipe is simple to prepare, and it is something you can tweak to your heart's content. The first thing you need to do of course is transform your raw cauliflower into rice-sized pieces, and the easiest way to do this is to put it in the food processor with a blade attachment and whiz it for a few seconds.
How to Make Cauliflower Rice
If you don't have a food processor though, you can do it in the blender or else use a box grater to do it by hand. You can use the whole cauliflower apart from the leaves and the woody part right in the center. Don't use thawed cauliflower for Mexican cauli rice because it is too mushy to separate into the rice-shaped bits. Continue reading →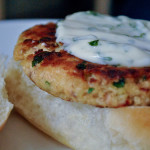 Whip up some of these easy salmon patties with breadcrumbs and you have a quick and easy evening meal for the whole family. I use canned salmon to make these easy salmon patties but you could use tuna instead or even crab. Just ensure it is drained well before incorporating with the other ingredients. Drain the salmon in a sieve and then combine it with a beaten egg, some onion and breadcrumbs, and that is all you need to add to make easy salmon patties with breadcrumbs.
If you want to add extra ingredients though, go ahead and consider herbs, garlic, or anything else you wish to throw in there. I use a food processor to combine the ingredients.
When making hamburgers (with meat) you need to take care not to over-mix because the burgers can become tough but with canned salmon it doesn't matter, and you will only need a few quick pulses in the food processor to combine the ingredients anyway. If you don't have one, you can simply stir or mash the ingredients together, and the same applies if you prefer a chunkier texture in your easy salmon patties with breadcrumbs. Continue reading →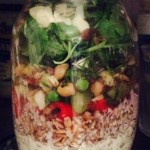 Mason jars have many uses, such as canning, storing grains, shaking cocktails, and more, but one of the best ways to use them, and something very popular right now, is making mason jar salad recipes. There are plenty of layered mason jar salad ideas to consider. You have the dressing at the bottom and then vegetables, then other ingredients and finally your lettuce or salad greens. Keep the jar upright and you will keep the greens away from the dressing until you tip the whole delicious lot on to a plate at lunchtime.
This type of salad lasts for days in the refrigerator (depending on what you put in there) so you can make all your weekday lunches on Sunday night! If you are using perishable proteins like chicken, eggs or avocado, you can add the final ingredient the evening before taking the salad with you instead of adding it days ahead. Choose from a wide variety of layered mason jar salad ideas to get the taste and texture you crave.
Layered Mason Jar Salad Ideas – What to Put in There
Greens, cucumber, many dressings etc are fine to be used a few days ahead and the salad will still taste great. Knowing how to prepare mason jar salads for the week will save you lots of time and ensure you always have a healthy lunch to enjoy.
As for the mason jar salad order, you should pack the heaviest, nonabsorbent items first, and end up with the lightest ones. As long as you don't tip the jar over, the delicate salad greens will be protected from the dressing and heavier ingredients until you are ready to eat the salad. And consider different layered mason jar salad ideas for every day of the week to keep things fresh,\.
Other Posts You Might Like