Monthly Archives:
November 2015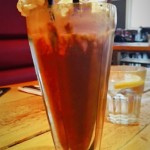 I first tried this gorgeous peanut butter wolf cocktail at Ruby Burgers in Queen Street, Exeter, currently my favorite American diner style restaurant in England! Although I don't know the exact recipe they use, I have a copycat recipe for peanut butter wolf cocktail here which tastes very similar if you wish to recreate the flavor of this cocktail in your own home.
It's not the healthiest beverage but hey, festive times are a-coming and it's always worth having a cocktail recipe like this up your sleeve! And consider trying my copycat version of their hoisin duck brioche too!
Delicious Ingredients for Peanut Butter Wolf Cocktail
We are using chocolate ice cream, malted milk powder, peanut butter and milk as the main ingredients in this peanut butter wolf cocktail, adding a splash of bourbon (you can double the amount to make it more boozy if you wish) and also adding ice to get it cold and thick. Swap the malted milk powder for a tablespoon of Horlicks if you like (actually that's always a good ingredient if you want to convert a basic ice cream shake into a malt shake). Continue reading →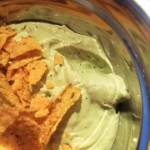 Dips are always fun to make, especially if you have a food processor and can whip them up in seconds! Although sometimes a hot dip is good, such as this hot and creamy crab dip or even our tasty artichoke dip, cool and creamy dips are also good. Try our Greek yogurt avocado dip if you like cool, creamy dips for your chips or crudites.
When I made this particular recipe I enjoyed it with Doritos, but you could serve this with crackers, vegetable crudites, melba toast, baguette bread slices, corn chips, potato chips, or anything else you want to dip in there. I made this in literally 3 minutes and the flavor was amazing. I wasn't planning to eat all of this Greek yogurt avocado dip but, uh, well you know how it is!
What You Need to Make Greek YogurtAavocado Dip
You will need some Greek yogurt, an avocado, some lime juice, and salt and black pepper to taste. If you want, you can swap the Greek yogurt for sour cream or use half and half. I've made it both ways, and both are good. Serve this as a Greek yogurt avocado dressing over salad if you want. If you prefer a thinner consistency, add a splash of milk (only a little bit because you don't want it too thin). Some cilantro in the Greek yogurt avocado dip is also nice, or you could put a small pinch of garlic powder in there. Even some hot sauce for a special zing! Continue reading →
Some More Hot Content For You
Other Posts You Might Like