Monthly Archives:
December 2015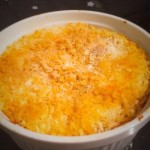 So what do you do when you have leftover mashed potatoes? It's a waste to throw them out, but who wants to reheat them and risk cold lumps or dried out mash? Let me come to your rescue with my best leftover mashed potatoes recipe ideas.
Through experimenting I've come up with a really good way to use up leftover mashed potato, and this recipe is easy to make and really good. It goes with everything! I made the original mashed potatoes using half Carisma and half sweet potato (my husband's diabetic so we avoid regular mash) but as usual I made too much!
One of the Best Leftover Mashed Potatoes Recipe Ideas
I mashed a little sour cream into the leftovers, then spread them in a baking dish, topped with parmesan and panko breadcrumbs, and baked in the oven until hot, and until the panko was golden brown. The flavor is really good. The potatoes are piping hot and the texture stays the same. It doesn't taste like reheated leftovers. Trust me, this is one of the best leftover mashed potatoes recipe dishes you can make.
There are other things to do with leftover mashed potatoes, such as combining them with leftover vegetables, covering in flour and pan-frying in oil until crispy, but this crispy panko mashed potatoes dish is especially good.
The following best leftover mashed potatoes recipe doesn't mention quantities because I don't know how much leftover mash you have, but just use a little sour cream then add parmesan and panko to cover in a thin layer. If the panko browns too fast, wrap some foil around the baking dish. If it doesn't brown enough give it a couple minutes under the broiler at the end.
Continue reading →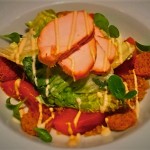 This easy chicken and peach salad takes mere minutes to put together and it's a great way to use up leftover cooked chicken. I've made it with chicken breast but you could use other cooked chicken pieces or some deli chicken slices. You could even use rotisserie chicken to make this (perhaps, still warm – yum!)
This easy chicken and peach salad is made on a bed of iceberg lettuce, but of course you can switch the iceberg for any variety. Baby salad leaves would be good or chopped romaine. I like to add some lamb's lettuce or a contrasting variety as well. Then you have the chicken on top, plus some peach for juicy sweetness, and then some crispy, crunchy croutons for a contrasting savory flavor and different texture.
Easy Chicken and Peach Salad Dressing
The easy chicken and peach salad dressing is an interpretation on Marie Rose sauce or thousand island dressing. The whisky in our easy chicken and peach salad dressing is optional (but throw some in if you have it) or you can use brandy. Actually this sauce is normally served with seafood recipes such as prawn cocktail but it goes just as well with chicken thanks to the chicken's neutral, simple taste.  Continue reading →
Some More Hot Content For You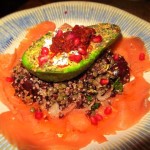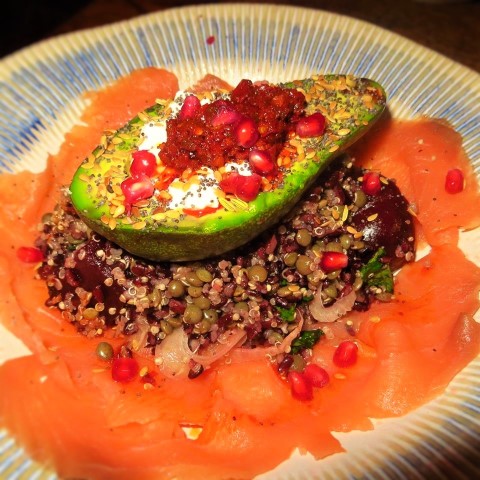 My husband and I had lunch at the Jamie Oliver restaurant in Cardiff last year and it was really good! I had the avocado superfood salad with smoked salmon and it really made an impression. I loved all those flavors and it looked gorgeous too. I wanted to recreate it so I came up with this Jamie Oliver superfood salad copycat recipe. It's not identical but pretty close!
What's in It?
The Jamie Oliver superfood salad copycat salad is made with avocado, beets, grains, kale, toasted seeds, and a tasty harissa and lemon dressing. On top of that you have avocado, pomegranate and poppy seeds. The following recipe is a copycat attempt, in case you wish to recreate some of this wonderful meal, but I can't say it is totally accurate since I'm just going by what I remember.
In the restaurant you can order free-range chicken or smoked salmon on the side, or some feta cheese if you want. I am all for tweaking recipes so take the following Jamie Oliver superfood salad copycat recipe and tweak it to your heart's content. Consider adding walnuts, olives, capers, cucumber, grated carrot, baby spinach, or anything else. Consider this recipe as a starting point and lovingly make this recipe your own. Continue reading →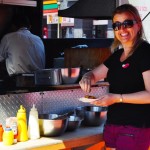 I think it's fair to say Mexican food has to be one of the most misunderstood cuisines of all. People who aren't familiar with it assume it's all tortillas, beef and chilies, while those who eat at fast food outlets might believe those dishes are more authentic than they are. Eating authentic Mexican food in Mexico isn't difficult but there are lots of tourist places you ought to avoid if you want to be eating the real deal.
And then you have Tex-Mex, Cali-Mex and all the other hybrids and regional variations, so it's hardly surprising knowing what is authentic Mexican food and what is not can be confusing!
Tasty Tacos
Let's start with tacos. These are an authentic Mexican food, right? Many people are used to the bright yellow U-shaped fried kind filled with meat, copious amounts of cheese, sour cream and jalapeños, but head down south and enjoy authentic tacos.
Those are one of my favorite Mexican treats, and I love ordering mine from the taco vans on the street for a really authentic experience. Continue reading →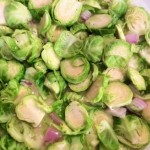 I admit I used to hate Brussels sprouts as a child, largely thanks to the way they were presented in an over-boiled, mushy heap (apologies to my mother if she's reading this) but seriously, sprouts are not only healthy, they can be yummy too, as long as you cook them right! So, find out how to cook Brussels sprouts like a pro and make the best Brussels sprouts side dish of all.
In the old days, this vegetable used to be boiled to soggy death in water, then plonked on the plate alongside the meat or poultry of choice, and kids everywhere (myself included) would leave them on the plate until they were cold, hoping they would just… disappear or something! No wonder sprouts have a bad rep when people everywhere just boil them.
The Magic of Pan-Frying
Now the first time I enjoyed sprouts pan-fried or sauteed was a real eye-opener. This little green vegetable, which may be compared to a miniature green cabbage, can be sliced and cooked with wonderful ingredients like red wine or red wine vinegar, walnuts, parmesan and nutmeg, and these ingredients help to bring out a brand new side to them. This inspired me on how to make the best Brussels sprouts side dish. Continue reading →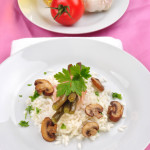 This easy mushroom risotto with truffle oil recipe combines rice with mushrooms, and you can use any kind of mushrooms you want. Last time I used button mushrooms, but you can also use assorted wild mushrooms if you want, or another kind. We are also using dried mushrooms in the mushroom risotto with truffle oil, which you will reconstitute before proceeding with the recipe.
Different Types of Risotto
There are lots of different type of risotto, including shrimp, chicken and vegetable types. I like asparagus risotto with plenty of parmesan. Everyone has their own favorite. I like to use arborio rice to make mushroom risotto with truffle oil but you may use carnaroli or another risotto rice if you prefer.
Mushroom Risotto with Truffle Oil Tips
This is a simple recipe which makes enough for 4 entree-sized servings. The key to a great mushroom risotto with truffle oil is adding a little liquid and letting it soak into the rice and disappear before adding more. Keep doing that and your risotto should have that authentic rich and creamy texture that the dish is known for.
Serve with extra parmesan on the side (freshly grated of course) of this mushroom risotto with truffle oil and a offer mill of black pepper to grind over it. If you want to serve a side dish, consider a simple mixed baby leaf salad with vinaigrette. Make this mushroom risotto with truffle oil recipe with vegetable stock if you want a vegetarian result. Continue reading →
Other Posts You Might Like