Monthly Archives:
January 2016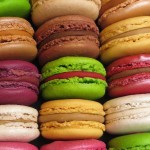 A macaron is a French meringue-based treat, made with powdered sugar, white sugar, egg white, almond and food coloring. These delicious little bites are often composed of two macarons sandwiched together with buttercream, jam or ganache, and you can get many different flavors. You can even make your own easy French macaron recipe. Don't confuse macarons (with one O) with macaroons (with two O's) – the latter are heavy, coconut cookies.
Macarons are been around for hundreds of years, and they are believed to date back to 8 AD. Italian pastry chefs accompanying Catherine de Medici in 1533 when she married Henry II of France, brought the recipe with them. 1792 was when these confections started to become famous, when a pair of Carmelite nuns sought asylum in Nancy, France, and they baked and sold macarons to fund their housing.
No fillings or flavors were used in these early macaron recipes so our easy French macaron recipe is a bit different to the original. The fillings came about in the 1830s. There are 2 different ways of making macarons, the French way and the Italian way, and it depends how the meringue is prepared. Continue reading →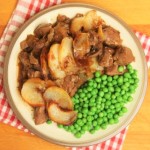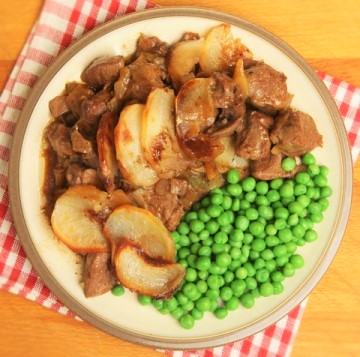 This Lancashire hotpot with beef is a wonderfully warming dinner, and it is so easy to make. Beef (or lamb) and potatoes come together with a red wine based sauce to make this hearty dish. Served with peas or another green vegetable, this makes the perfect cold weather dinner for the whole family to enjoy. Lancashire hotpot with beef leftovers warm up nicely for lunch the next day.
As well as the beef and potatoes, we are using carrots (if you like) along with onion, beef stock, red wine, and some thyme to add a nice earthy, herby flavor. This is a good recipe for the cooler months when you crave something that is really going to 'stick to your ribs' and warm you up nicely.
History of Lancashire Hotpot with Beef Recipe
The original recipe would have used dripping or lard instead of the vegetable oil, so use that if you prefer. The recipe dates back to the days of heavy industrialization in Lancashire, England. Although lamb or mutton would have been the meat of choice back then, beef also works fine if you prefer to use it.
Turnip and leeks often feature as well as the meat, potatoes and carrots. Sometimes bacon is even used as the meat (or you can add some ham or bacon in addition) and some people like to make a pastry topping before baking the Lancashire hotpot with beef. Any of these variations are fine.
Some More Hot Content For You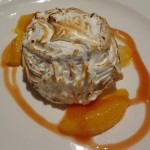 This baked Alaska recipe with caramel sauce is one of my favorite desserts, teaming delicious, refreshing ice cream with perfect meringue. Here we are serving the baked Alaska with caramel sauce to make the dessert even more decadent. This dessert is served cold, and the meringue completely covers the ice cream inside, making it look like a big iceberg, hence the name.
Although you can make individual baked Alaska desserts, we like to make one big ones, using a small ready-made chocolate sponge cake, topping that with 2 kinds of ice cream, and then adding the sweet, sticky meringue mixture. I bet you can't wait to try this baked Alaska recipe with caramel sauce.
You can use another kind of ice cream if you want, although the vanilla and caramel flavors do go nicely here. Sometimes I make this with vanilla, strawberry and chocolate ice cream for a classic baked Alaska flavor, but anything you want to use is good. Continue reading →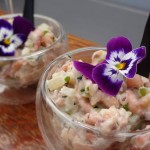 This Old Bay shrimp and apple salad is a gorgeous recipe. It looks really nice served in little glasses with edible flowers as a garnish, but it can also be served over lettuce or baby salad leaves if you prefer. This Old Bay shrimp and apple salad is a nice way to begin any kind of meal, and it is especially good during the summer when you don't want to cook.
We are using shrimp, and you can use little ones or chop larger ones. Make sure they are peeled and deveined first. Canned or thawed shrimp are fine here. You will also need some red apple and onion for crunch. The dressing for our Old Bay shrimp and apple salad is made with mayonnaise, Worcestershire sauce, Old Bay seasoning and lemon juice.
Old Bay Shrimp and Apple Salad Tweaks
If you want, you can add other ingredients to the Old Bay shrimp and apple salad mix. We suggest diced celery, chopped walnuts or diced cheddar cheese. You might even want to add a little fresh dill weed or chopped chives. The recipe is nice as it is, so you might not want to add anything else to it. Also take care not to overwhelm the delicate flavors by adding too many other flavors to the mix.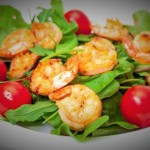 Shrimp is a great addition to salad recipes. It offers a subtle, light flavor and goes well with many other salad ingredients. A base of salad leaves or spinach can be topped with hot, warm or chilled cooked shrimp along with other things like pineapple chunks or mandarin segments for sweetness, walnuts or cashews for crunch, cherry tomatoes for color and anything else you want to add to your healthy easy shrimp salad recipe.
You can cook shrimp in various ways, such as deep-frying, stir-frying, boiling, baking or grilling. If you want to pan-fry the shrimp, they will only take a couple of minutes, as will boiling or grilling, although if you want to grill or bake them, you will need to wait for the grill or oven to heat up first. Then cook them to perfection for your healthy easy shrimp salad recipe.
How Do You Know When Shrimp is Cooked?
Shrimp starts off a grayish color and turns pink when it is ready. When you see this color change it means your shrimp is done.
A healthy easy shrimp salad recipe belongs in various cuisines. You might like to keep the ingredients very simple and add some ranch or caesar dressing for an American flavor, marinate the shrimp in soy sauce to give them an Asian flavor, or even saute them with curry powder and other spices then serve them with a yogurt-based dressing for an Indian taste on your plate. Continue reading →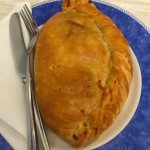 One of the most famous dishes to come from Cornwall, England (well apart from tea and scones of course) is the Cornish pasty. This delicious snack can be enjoyed hot, warm or chilled, and the beef and vegetable filling complements the flaky pastry perfectly. Knowing the traditional recipe for Cornish pasties means you can prepare this delicacy for your family at home.
Traditional Recipe for Cornish Pasties Dough
We are making the pastry for our Cornish pasty (pronounced PAH-stee) recipe as well as preparing the filling. For the pastry you will need flour, butter, egg yolks, salt and baking powder. It helps to have a food processor to prepare the dough, unless you want to do it by hand and use a lot of 'elbow grease'! The dough is then rolled out to your desired thickness and used to make rounds which are then filled with the filling. Then the dough for this traditional recipe for Cornish pasties is complete.
We are keeping things traditional for the filling, using beef, potatoes, onion, rutabaga (swede), salt and black pepper. Don't be tempted to put extras in there. This pie is best when the original recipe is used and don't worry – it will boast plenty of flavor. Continue reading →
Other Posts You Might Like