Monthly Archives:
February 2016
Perhaps you are familiar with Thai tea, or maybe this drink is a new one to you. Whichever is the case, we are going to look a little closer at this beverage and find out some more about it. What is Thai tea exactly? Well let's have a look.
First of all, not all Thai teas are created equal – some have orange food coloring, others have no food coloring. Some are made with cardamom, vanilla and anise, some with just one or two of those. Chai tea is an Indian tea similar to Thai tea but not the same. Again, there are various recipes for that too.
How to Drink Thai Tea
Some people like theirs with Half and Half while others prefer condensed or evaporated milk, and many people like to add plenty of sugar or sweetener to the finished drink. Thai tea can be served over ice for a refreshing summer drink (and it is commonly known as 'Thai iced tea') or you can enjoy it hot. Personally I like it hot with a splash of 2% milk, but I'm English so perhaps that's why!
The first time I tried Thai tea was in a restaurant in Bedford. I had it cold and, wow, it was so good! I'm not usually into sweet tea or coffee (at all) but this one was sweet and the balance was perfect. If you want to experiment with Thai tea recipes, try some in a Thai restaurant first to see whether you like it (it's quite different from Chinese tea, black tea, green tea, jasmine tea etc) then choose from loose Thai tea or Thai teabag sachets. I prefer the latter, since it's just easier.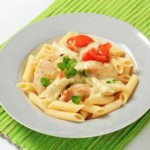 There is so much you can do with pasta, and also so many kinds to choose from. White or whole wheat pasta, penne, spaghetti, pasta twists, linguine… the list goes on. You can make hot recipes such as baked pasta dishes, or chilled ones like a salad. You can serve it as an entree or side dish, and there are many new pasta recipes to try.
Pasta is economical and filling, and there are plenty of wonderful Italian recipes using it. Try the big noodles to make lasagna, long pasta like linguine or spaghetti to serve with a meaty sauce, or pasta shapes to make pasta salad or to cling to a thick sauce.
Quick and Easy Pasta Recipes
If you want to make a pasta recipe in a hurry, simply cook a handful of dried pasta (per person) in boiling water until done (follow the instructions on the package) then drain in a colander, and toss with either pesto, cream cheese, sour cream, tomato sauce, or another sauce, adding in some cooked protein (shrimp, chicken etc) and diced cooked veggies. You can use leftovers or cook them fresh.
You can even add chopped veggies to the pasta during the final 3 minutes of cooking. Consider olives, anchovies, cheese, nuts, or anything else you like, along with a pinch of dried oregano or basil, and perhaps some salt and black pepper too. Continue reading →
Some More Hot Content For You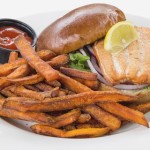 Sweet potato fries are always good and they pair well with many a snack – with sandwiches, burgers, ribs, or even just some ketchup to dip them in! However, many of us have the problem of homemade sweet potato fries being, well, not crispy enough. That's why you need to know the secret of crispy sweet potato fries.
I've never had real success with my oven baked sweet potato fries but what I have discovered is a great recipe to get them super-crispy using a deep fryer and I am sharing my recipe with you below.
Why Use Sweet Potatoes for Fries
The reason I use sweet potato fries is my husband is diabetic and white potatoes tend to send his blood sugar soaring. Carisma potatoes (the diabetic-friendly potato) don't fry that great (although they mash like a dream!)
Feel free to tweak the spices you are using. Also, if you don't have soda water just use plain tap water. I have done that and it doesn't make a lot of difference to your crispy sweet potato fries.
The batter gives the fries amazing crispness and the seasonings taste amazing in these as well. Serve these crispy sweet potato fries hot alongside your favorite meal and wait for all those compliments to come your way! Continue reading →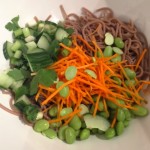 I love all kinds of noodles but soba noodles are my favorite. The word 'soba' means 'buckwheat' in Japanese and it also refers to thin, buckwheat noodles. In Japan the word refers to any thin noodles. These can be served hot or cold, with a dipping sauce or in soup or you could make an easy soba salad. Buckwheat can be harvested 4 times a year because it takes 3 months to reach maturity and be ready for harvesting.
Soba noodles are sold at railway stations in Japan, and they also feature on the menus in high-end restaurants, making them a versatile component in a variety of dishes, not just easy soba salad recipes.
Soba noodles are often drained and chilled in the summer, or served hot with a soy dashi broth in the colder months. Easy soba salad is a popular summertime treat. They might be served with soba tsuyu, a type of dipping sauce, on the side, and maybe bits of dried nori seaweed on top.
The diner will use chopsticks to pick up some noodles and dip them in the sauce. Green onions and wasabi might be mixed into the sauce. Hot broth changes their consistency, which is why a lot of people prefer to have them cold. In Japan, the water in which the noodles were cooked is often drunk after the noodles have been eaten, with the leftover sauce mixed in for flavor. Continue reading →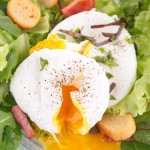 Perfect poached eggs are a tasty idea for breakfast, perhaps with buttered toast and some bacon or sausage. They can also be served as a garnish or side dish with meat. You might be wondering how to poach an egg like a pro in the microwave, how long to poach eggs or even how long to poach quail eggs since they are so much smaller.
The most typical way to poach an egg is in a pan of water on the stove, although we are going to look at microwave poaching as well. Bring a pan of water to a boil and add a pinch of sea salt.
Now crack an egg into a cup, then pour it into the water. Repeat with however many eggs you are poaching. They will start to cook right away and you will see them turn from clear to white. If you prefer to use silicon egg cups instead of just dropping the eggs into the water, do that. Now you know how to poach an egg like a pro! Continue reading →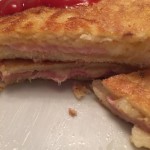 French toast, also known as eggy bread, makes a great breakfast. The bread is usually dipped in beaten eggs and then pan-fried until golden brown. This recipe takes the classic French toast to the next level, however, by adding ham and cheese to the mix. This is known as a Monte Cristo sandwich, and can be pan-fried or deep-fried. Ham and cheese French toast is something kids love, and so do the grownups!
Serve ham and cheese French toast with some ketchup for breakfast, brunch or a hot snack at any time, and enjoy the wonderful flavors. This is a snack which is sure to keep you feeling satisfied until your next meal. Serve these sandwiches hot from the pan and enjoy the wonderful crispy outside and the gooey cheese inside.
What Bread for Ham and Cheese French Toast?
You can use any kind of bread for ham and cheese French toast, perhaps baguette or ciabatta, or even regular sliced bread. It is best to use day-old bread because very fresh bread is more delicate and can tear. Use ready-sliced ham and cheese to save time. Cheddar is good here, or you can use any other type of melting cheese you want. Emmental or Gruyere are really good in this Monte Cristo recipe as well. Continue reading →
Other Posts You Might Like