Monthly Archives:
March 2016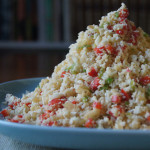 Cauliflower rice, also known as cauli rice, is a low-calorie, low-carb alternative to regular rice. You can make it with a food processor or, if you don't have one, a cheese grater. There are different ways to cook cauliflower rice recipes too, such as on the stove, in the oven, or even in the microwave. Although cauliflower obviously doesn't share the exact same flavor as rice, you can get the appearance and texture very close.
It is well worth knowing how to make cauliflower rice recipes, even if you are not trying to reduce your carb or calorie intake. Cauliflower is rich in protein, thiamin, niacin, riboflavin, phosphorus, magnesium, vitamins C, K, B6, potassium, manganese and pantothenic acid. It is very low in cholesterol and saturated fat.
Whether you are looking for a paleo cauliflower rice, Mexican cauliflower rice or coconut cauliflower rice recipe, or something else, there are certainly a lot of different recipes to choose from, both mild and spicy, traditional and exotic, vegetarian, vegan and anything else you can think of.
Continue reading →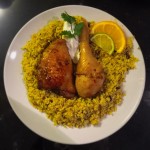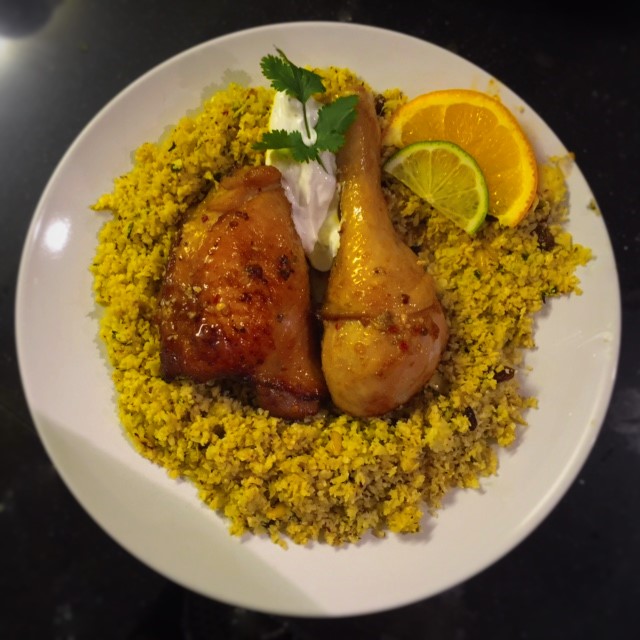 Cauliflower rice, or cauli rice as it is affectionately  known, is a wonderful substitute for rice, offering a mere fraction of the calories and carbs or rice, yet offering a very similar texture and a neutral flavor. You can do so much with it and there are plenty of cauliflower rice recipes to choose from. This cauli rice with orange, lime and cilantro recipe is easy to prepare and it's yummy!
I like to use a medium or strong-flavored sauce to disguise the cauliflower flavor – not that cauliflower has much of a taste at all, but just to make it as rice-like as possible. Try Chinese rice with cauliflower instead of rice, or consider Mexican cauli rice or Italian flavors.
It is easy to prepare this cauli rice with orange, lime and cilantro recipe if you have a food processor. Simply break a fresh cauliflower into florets and whiz them in the food processor until rice grain-sized. If you don't have a food processor that is okay, just use a cheese grater instead. It will take longer and you will get a similar result. Continue reading →
Some More Hot Content For You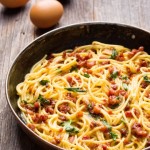 This is a classic Italian dish made with spaghetti, bacon and eggs. There are different variations – some people add cream or cream cheese, some will add parsley or another herb, and others will use whole wheat spaghetti over white spaghetti. However you prefer it, an easy spaghetti carbonara recipe is well worth adding to your culinary repertoire.
The following recipe is really simple, even if you are a newbie in the kitchen, and the flavor is amazing. This is good served with mixed salad leaves dressed with vinaigrette. Learning how to make spaghetti carbonara is a great idea if you want to serve something impressive but only have 2 pots on the stove.
When I made this easy spaghetti carbonara, I chose to add some cream cheese. It wasn't necessary (I mean, it would've been good without it) but I wanted some creaminess in there. The authentic spaghetti carbonara recipe is made without the addition of cream or cream cheese, but if you want to add some, well it's your dish! I also added turkey because I had some to use up and that was great in there. Continue reading →
These are fantastic for Halloween, and suitable for the kids and grownups too. The desserts are served in little jars and you can tie some black ribbon around them to add that festive feel. Why not try this Halloween candy corn brûlée pots this Halloween?
The recipe is made in stages. You will be making several layers, then assembling the Halloween candy crème brûlée pots at the end and using a kitchen torch to get the sugar topping nice and crispy. If you don't have a kitchen torch just omit the last part.
Halloween Candy Corn Brûlée pots Make Great Halloween Fare
Halloween is a great time to experiment in the kitchen. You can rustle up all kinds of wonderful treats both sweet and savory, and these Halloween candy corn brûlée pots are certain to steal the show regardless of whatever else you have on your spook-tacular table.
Continue reading →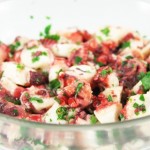 Last night I decided to make seafood so I grabbed some raw squid (calamari) tubes and also 2 cooked octopus legs. I had an idea of how to cook them but wasn't sure how to reheat the octopus without it going tough. I really wanted an octopus and squid stir fry though, so I went ahead with it.
On the package it said to give it a couple of minutes in the microwave but I wasn't keen on that idea. Instead I prepared a stir-fry type dish with the squid, then added the octopus at the end and just stirred it into the rest of the mixture until it was warmed through. It came out really well and octopus and squid stir fry is something I want to make again.
How to Reheat Octopus
The key here is reheating it gently so it doesn't toughen. That means you should get it warm rather than piping hot else you risk that meat toughening up, and let's face it, nobody wants chewy seafood. Of course, the octopus can also be served cold, as part of a salad perhaps. Continue reading →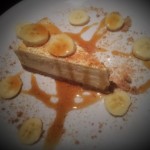 There are many types of cheesecake to choose from – chocolate, caramel, strawberry… the list goes on. Banana cheesecake is especially good though, and better still it is easy to make. This dessert is wonderful after any kind of main dish and you will probably want seconds because it's so good!
Our recipe uses vanilla wafer cookies and butter to make the crust, then the main layer is made with mashed bananas, sugar, cornstarch, eggs, cream and vanilla. The banana cheesecake is baked briefly in a hot oven then finished off in a cooler oven. When the middle is nearly set but still a little jiggly it is done.
How to Serve this Banana Cheesecake
Serve this with a few banana slices if you like. If you are cutting the banana more than a few minutes before serving the cheesecake, coat the slices in lime or lemon juice else they will turn brown.
Continue reading →
Other Posts You Might Like