Monthly Archives:
April 2016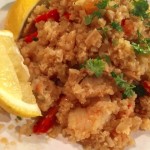 When I worked in Gran Canaria I used to eat paella a lot. In fact I made friends with a local chef who used to make a special batch for me minus the peas (my pet food hate!) This rice-based delicacy was served with half a baguette, plenty of alioli, or ai oli (or garlic mayo) and perhaps a sangria on the side. At that time I had never even heard of a low carb paella using cauli rice because I was enjoying the real thing too much to deviate.
Try as I might, I could never tire of this wonderful Spanish dish. Fast forward a decade and I still love that flavor but my husband is diabetic and rice is a no-no. So I wondered at this point whether cauli rice would work, since it is great for making other cauliflower rice recipes like egg fried cauli rice and lots of other cauli rice recipes.
This is why I tried my hand at a low carb paella using cauli rice a couple of evenings ago. I thought I would add chicken and seafood, along with chicken broth, smoked paprika and saffron to get that authentic flavor, and considering the main ingredient was swapped for a paella rice substitute I have to say it worked really well! Continue reading →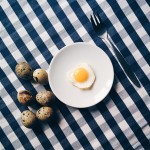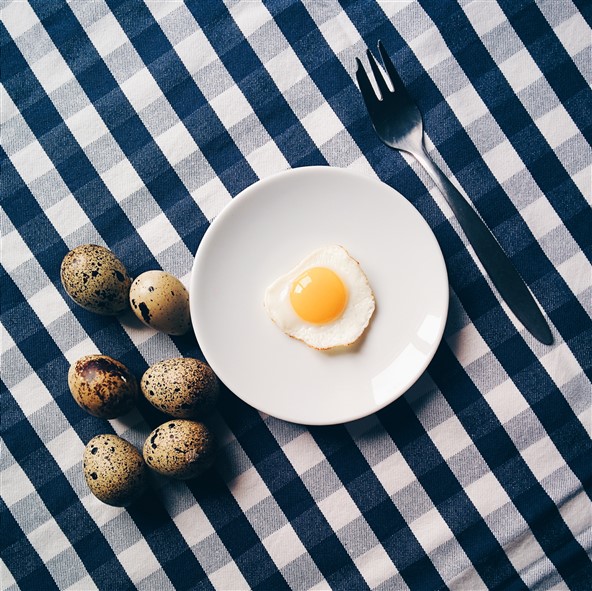 A quail egg can be compared to a chicken egg except of course it's a lot smaller! Because of this size, quail eggs make a nice garnish, an elegant garnish even, for all kinds of meat, poultry, fish or vegetable-based dishes. As you might imagine, it doesn't take as long to cook this tiny egg as it would to cook a chicken egg. But knowing how to cook quail eggs is, of course, vital.
How Long to Cook Quail Eggs?
These pretty little speckled eggs will be soft-boiled in 2 1/2 minutes, medium-boiled in 3 minutes or hard-boiled in 4 minutes. Compare that to chicken's eggs which can take up to 15 minutes to hard-boil and you will see the obvious difference.
So how are you going to serve these? You could pick something traditional like scrambled eggs or an omelet but just think of how many quail eggs you'll need! Better still, consider a nice steak dinner or some tacos or burritos, then have the quail eggs as a beautiful garnish. That would be the best way to serve them. Unless someone you know has a quail and therefore a glut of these to use up, save them for an elegant garnish, for the very best results and of course the most impressive ones.
Continue reading →
Some More Hot Content For You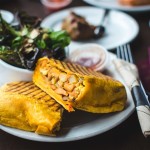 A beloved Mexican and Tex-Mex food, a burrito makes a great lunch, dinner or snack. And this is the best breakfast burrito recipe I ever tried! One modern trend is all about presenting this hearty delight first thing in the morning and calling it a breakfast burrito. So you can have your breakfast all rolled up neatly burrito-style. A breakfast burrito recipe will contain typical breakfast ingredients like potatoes, bacon, eggs, mushrooms, whatever else you like. These fillings will be hot and cooked, enclosed in a soft flour tortilla.
Burritos are wrapped or folded to enclose the filling, unlike a taco which is usually folded in half around the filling. Some people like to steam or lightly grill the tortilla to softed it, so it wraps around the filling more easily. Order a regular burrito in Mexico and you can expect meat and refried beans to be your typical filling. Head north of the border into the US though and you will find a wider variety of fillings like rice, beans, lettuce, salsa, cheese, sour cream, guacamole and, where breakfast burritos are concerned, even bacon, eggs and hash browns – hey, why not!
The word burrito translates from the Spanish to mean 'little donkey' and it is thought the name comes from the look of the bedrolls and packs donkeys used to carry. Try this best breakfast burrito recipe when a bowl of cereal simply isn't enough to prepare you for the day ahead. Continue reading →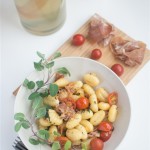 Gnocchi makes a change from pasta or pizza but is just as Italian. So if you are in the mood for Italian food but not something too, well, obvious, consider gnocchi! This dish, which comprises potato gnocchi, cherry tomatoes and mozzarella, is also known as gnocchi alla sorrentina. Gourmet gnocchi makes such a nice dinner. It's the perfect balance between satisfying and delicate.
I like to add prosciutto to the dish but you could add serrano ham or regular ham instead (the thinly shaved kind) or else just leave it out, for a vegetarian result. You could even get creative here, adding shredded cooked chicken or similar, as a way of using up leftovers from last night's meal.
What is Gnocchi Exactly?
Gnocchi is like a little dumpling made of potato and flour. You can make your own or grab a package from the pasta and rice aisle in the grocery store. Obviously it's far easier just to grab some ready-made. If you add plenty of fresh ingredients you can restore a homemade flavor to the dish. We are adding cheese, tomatoes and ham, and this adds plenty of flavor and color, and it's also really easy to make this simple Italian staple into a gourmet gnocchi meal ready to knock your partner's socks off with big, bold flavors!
Serve this with some crusty bread, preferably ciabatta or another kind of Italian bread if you can get it, along with butter. Add a baby leaf salad and some kind of basic dressing like extra-virgin olive oil and red wine vinegar or balsamic vinegar, and you have a delicious entree which everyone will love. This certainly makes an exciting change from the usual pasta recipes. Continue reading →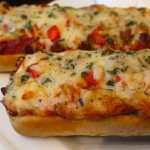 Pizza comes frozen or from the pizza delivery place or from your local Italian restaurant. But wait, what about the best pizza? Well that would be the kind you make yourself at home! Honest, it's so quick and easy to make pizza yourself and you don't even have to make the dough. This homemade pizza on French bread will have the kids (and grownups) beating down the kitchen door, it smells so good!
The quickest pizza recipe probably has to be this tortilla pizza but next up you have baguette pizza or French bread pizza, which is French bread, French stick or baguette bread (however you call it) topped with tomato sauce and pizza toppings to make the most amazing appetizer or main dish.
Why Use French Bread as a Pizza Crust
French bread makes a great pizza crust since it is naturally crispy on the outside and soft in the middle. It really is so delicious! Top with your favorite sauce and toppings and you will find just anything goes. Get as inventive as you wish with a homemade pizza on French bread.
In addition to French bread being crispo and tasty, it holds the sauce and toppings really well, so the next time you fancy Italian food but not spaghetti carbonara or traditional pizza, consider this French bread pizza recipe and rustle up something quick, easy and above all… tasty! I like shrimp on mine, or maybe tuna or another kind of seafood. I just like seafood pizza. Oh, and smoked salmon – that is good too!
Continue reading →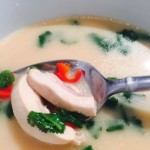 Yesterday I decided to get a Thai massage. I suffer from a stiff neck and shoulders. For some reason, I hold all my tension in there! I love a good hot oil massage but the Thai massage is, well slightly different. More 'painful' but today I can move really freely and feel great! The woman was literally walking up my legs and back, digging her knees and elbows into me and making me yelp! However, 'no pain no gain' as they say, and today I can honestly say I feel great after it. And yes, all that gave me the inspiration to make this authentic Thai chicken soup recipe.
Thai Food Inspiration
While I was having this massage, I was listening to Thai music, gazing around the room at Buddha statues, candles and Thai pictures, and afterwards sipping a Thai tea. So I guess I got a craving for Thai food! For this reason I decided to make tom kha gai, or Thai chicken soup, for lunch once I got home. I had most of the ingredients already, I just needed to grab some chicken and cilantro.
I found this authentic Thai chicke soup recipe quick and easy to put together and the flavor was wonderful. Making the chicken broth before sieving the 'bits' out and using it to make the actual soup is recommended. Just begin with all the ingredients laid out, plus one pot, one sieve and a serving bowl and spoon, and you will find this an absolute breeze to prepare.
Other Posts You Might Like