Monthly Archives:
May 2016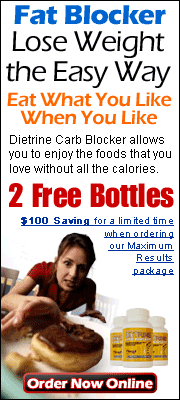 Dieting isn't always easy. If it was, we would all be slim, right? The problem with a lot of diets is you have to deprive yourself of your favorite foods (you know, all those ones that taste good) and feel hungry in order to shed a pound or two, if you're lucky. So what about carb blockers – everything you need to know about these might just convince you to give them a try but honestly, do they really work?
Reducing the intake of carbs is a popular way of lowering weight, and you can try diets such as Atkins to show you how to keep your carbs very low.
The problem with diets like this is they eliminate (at least in the interim phase) healthy carbs such as sweet potatoes and strawberries as well as the bad ones like ice cream and soda.
White rice, white pasta, processed foods, pastries and high-sugar sodas are largely responsible for obesity, at least to a degree.
Nobody ever got fat eating too many strawberries. Well, not unless they top them with mountains of ice cream anyway. Continue reading →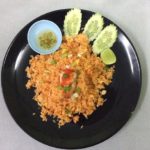 This is a wonderful side dish to have with chicken, pork or another kind of meat, or you could enjoy it by itself for lunch or a light evening meal. Thai fried rice with egg is similar to the Chinese egg fried rice you might be more familiar with. We are just including typical Thai flavors instead of Chinese ones.
This only takes about 5 minutes to make because you are warming up the rice, cooking the vegetables to al dente (which doesn't take long) and cooking shrimp (which doesn't take long either!) If you prefer to use chicken or another protein, shredded cooked chicken can be tossed in at the end with the green onions, and just warmed through. You can also omit the chicken for a vegetarian version of the dish.
What Else is in Thai Fried Rice with Egg?
Known as khao phat in Thai (since khao means rice and phat means stir-frying) this dish is often made with shrimp, chicken or crab, along with onion, garlic and perhaps tomatoes as well.
Traditionally Thai fried rice is made with Thai jasmine rice, but you can use any kind of leftover cooked rice to make it. Fish sauce and soy sauce are typical flavorings, and we also love a little oyster sauce in the mix. A pinch of sugar is good if you want to add sweetness. Continue reading →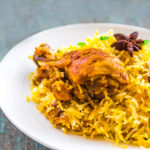 This tasty Indian dish, chicken biryani with drumsticks, offers an incredible flavor and it is not difficult to prepare. I had my first authentic Indian biryani when I was backpacking around India and the flavor really blew me away.
This recipe originated in the Indian subcontinent or Persia, and it is enjoyed all over Central and South Asia, as well as in the Middle East. Rice, spices and meat and/or vegetables are the main ingredients.
Biryani may be compared to pulao rice but biryani is usually cooked with layered meat and rice and pulao is not layered at all. Chicken biryani with drumsticks is usually a main dish while pulao tends to be more of a side dish.
How Biryani Gets its Flavor
Popular ingredients in an Indian biryani recipe include clarified butter (known as ghee), coriander, cinnamon, cardamon, cloves, ginger, garlic, onions, and nutmeg, but every recipe is different. Saffon can be added to the dish, and some will use turmeric or yellow food coloring to color the rice. Continue reading →
Some More Hot Content For You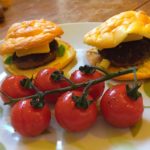 There is low carb bread and there is this very low carb bread recipe. If you've been doing Atkins or low carbing for a while, you will have tried some of the more 'eggy' or 'dense' breads and while they are passable (just!) they aren't exactly a good bread substitute.
Some low carbers will forgo the bread entirely, choosing to wrap their burger or sandwich in a large lettuce leaf instead and while there is nothing wrong with that, sometimes it's nice to have something a bit chewier and more bready, even if it isn't going to be that high-carb processed stuff you used to eat before.
There are various names for the very low carb bread recipe I am talking about – revolution rolls, cloud bread, oopsie bread, each having a slightly different recipe and preparation technique.
Here I am sharing what I found works best of all, and that's a bread which is easy to make, uses clean ingredients (ie, not processed) and is low in carbs but offers a nice taste and chewy bread-ish texture. Continue reading →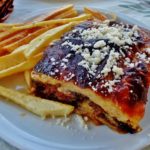 I have to say this moussaka with potatoes and eggplant is one of my absolute favorite dishes. Moussaka is popular in countries of the former Ottoman empire. There are lots of regional and local variations. This dish might be made with potatoes or eggplant, or both, and usually with ground lamb too.
Moussaka is eaten cold in Arabic countries, sauteed and served casserole style in Turkey, and layered and served hot in the Balkans. A lot of moussaka variations have an egg-thickened milk sauce on top, or a bechamel (flour-based) sauce.
Origin of the Word Moussaka
The word moussaka comes from mousakás, a Greek word, which came from the Turkish musakka and the Arabic musaqqa'ah, meaning chilled. The dish is usually based on ground meat, sauteed eggplant and tomato.
The Greek version has meat, eggplant and a bechamel sauce and it is baked in the oven. It is thought the Greek version dates back to the 1920s. The sliced eggplant layer on the bottom is topped with a ground lamb and tomato layer, and then you also have onion, garlic, allspice, cinnamon and black pepper in there for flavor. On top is a bechamel sauce layer. Continue reading →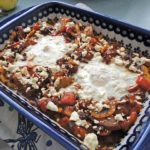 Shakshuka is a Middle Eastern tomato, bell pepper and egg dish. Sometimes it is spelt shakshouka. This Middle Eastern shakshuka recipe actually originated in Northern Africa and there are many different variations on the basic theme.
The feta cheese is not a traditional ingredient, for example, but I love to add it because the creamy tang goes so well with the dish. Leave it out if you prefer though.
How to Serve a Middle Eastern Shakshuka Recipe
It is often served for breakfast in Israel with challah or pita on the side. The dish is also good for brunch or lunch. I like it with pita bread, homemade hummus and other Middle Eastern/Israeli/Arabic dishes.
The sauce is made first and that's easy to prepare on the stove, and then the eggs are gently cracked into the sauce. Finally the skillet goes into the oven so the shakshuka can finish cooking. It is then served hot, with some kind of bread on the side to mop up all the tasty juices.
Good for You Too!
This shakshuka recipe is a healthy dish, boasting the protein form the eggs, the lycopene and antioxidants from the tomatoes, and the vitamin-C from the bell pepper. If you want to make this more substantial add some small lamb meatballs to the sauce. You can also swap the bell pepper for eggplant or grill the peppers first for a richer flavor. Continue reading →
Other Posts You Might Like