Monthly Archives:
April 2017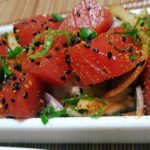 Poke (pronounced po-kay, let's get that out of the way first!) is currently a huge craze here in Houston, and actually nationwide. There are poke restaurants springing up all over the place as this tasty way of serving seafood takes off. Talking of 'springing up' there is a new poke restaurant in Spring, just north of Houston and south of The Woodlands. Spring is part of the Houston-Sugar Land-Woodlands metropolitan area. Hawaiian Poke Co, Spring, is one of the newcomers to this seafood lovers' arena.
This poke restaurant opened just a few weeks back, occupying Howie's Tiki bar until 9pm when Howie's opens. Hawaiian Poke Co serves traditional poke, Hawaiian fusion food and other tasty treats during the daytime and early evening, and then you can stay on for the cocktails and cool Tiki atmosphere.
I'm quite a newbie to poke, although I've loved sashimi for years. I like my sashimi very, very cold and very, very thinly cut – typically Japanese. But poke is not prepared like that. Instead you can expect larger chunks of fish and different flavors than sushi dishes typically offer. Poke isn't the same as sushi or sashimi and you need to try it for yourself to enjoy what this delicacy really has to offer.
Head to an authentic restaurant offering classic poke and they will take pride in using fresh (not thawed) Hawaiian-caught tuna to make their poke. Hawaiian Poke Co uses only the finest fish, since that is the main ingredient in poke, and it's a shame not to use the best if you want to get the best tasting poke. Continue reading →
Other Posts You Might Like