Monthly Archives:
May 2017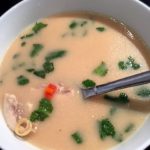 This delicious Thai tom kha gai soup recipe is made with 10 ingredients only plus a few optional extras for serving. We are using chicken and mushrooms to make this, along with typical Thai ingredients like galangal, lemongrass, lime, coriander, coconut, fish sauce and palm sugar to make it.
This is a tasty, filling Thai chicken soup recipe and it's also therapeutic if you're under the weather or suffering from a cold or the flu. The chicken and vegetables are nourishing while the steam from the soup helps with decongestion.
As for the garnish, we like to present this traditional tom kha gai soup recipe with cilantro, chilies, lime leaves and lemongrass but feel free to omit one or all of those, as you prefer.
How to Serve Our Tom Kha Gai Soup Recipe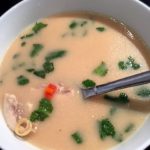 This makes a great lunch or evening meal, perhaps served with something crunchy as an appetizer. Egg rolls or spring rolls would be fine, or you might like to have something seafood-based to begin the meal instead. Because this is a spicy soup, consider following up with something creamy to cool the mouth, perhaps mousse or ice cream.
While the Spice is Nice in Thai Chicken Soup… Tweak as Needed
Feel free to alter the amount of spice in this tom kha gai soup recipe. Not everyone likes the chilies although they are popular in many Asian cuisines so those cultures are more accustomed to them.
A lot of traditional Thai recipes are quite spicy but when making your own you are in charge of what goes in there, so alter the recipe as you see fit. If you are a fan of Thai recipes, try our Thai fried rice or Pad Thai dishes. Continue reading →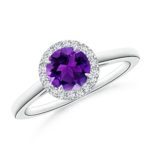 Amethyst is a beautiful stone and a great choice for an engagement ring. I've found 10 stunning amethyst engagement rings which you are free to drool over! Not everyone wants a classic diamond solitaire. Some women prefer something more unique, which resonates with their personality more than a classic diamond.
If you find amethyst magical, mystical or just beautiful consider amethyst engagement ring ideas and see which style resonates with what you personally love. Amethyst is usually a purple color but you can also get a green variety which is even more unusual.
You can pair amethyst with white, yellow or rose gold, or even silver or another metal if you prefer that, choose from an amethyst solitaire or something else. Many other semi-precious and precious gems pair nicely with amethyst and you can find all kinds of settings. There is literally something for everybody when it comes to amethyst engagement rings.
Being drawn to amethyst is something a lot of us can appreciate, because this gorgeous purple stone is so beautiful. Choose an amethyst engagement ring and let this wonderful piece take pride of place on your finger. Are you shopping for your potential fiancee? She can't fail to be flattered and pleased with this exquisite choice. Continue reading →
Some More Hot Content For You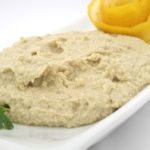 You can make a perfectly delicious hummus recipe no tahini in a couple of minutes. In fact a hummus recipe without tahini is just as good as the traditional kind. However you choose to enjoy your hummus – served as a dip with breadsticks or veggie crudites, or paired with homemade falafel in pita bread, you will love this version.
As well as the chickpeas, which are also known as garbanzo beans, you are going to need oil, garlic, lemon, cumin and salt. Those ingredients will help you get the right hummus recipe no tahini texture along with the perfect flavor. You might want to thin it with a bit more water and/or add more salt to get the flavor just right.
Two tablespoons of this delicious hummus recipe no tahini equates to 70 calories. If you still want to use tahini just add 2 tablespoons of it to the mixture in the food processor, and the delicious result is all yours to enjoy. Making several dips? Why not try our Greek yogurt avocado dip as well, or a tasty crab dip? Serve them all at once as a trio along with your favorite crackers or crudites. You can't fail to impress! Continue reading →
Other Posts You Might Like