Food and Drink Articles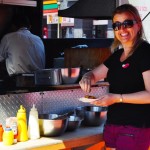 I think it's fair to say Mexican food has to be one of the most misunderstood cuisines of all. People who aren't familiar with it assume it's all tortillas, beef and chilies, while those who eat at fast food outlets might believe those dishes are more authentic than they are. Eating authentic Mexican food in Mexico isn't difficult but there are lots of tourist places you ought to avoid if you want to be eating the real deal.
And then you have Tex-Mex, Cali-Mex and all the other hybrids and regional variations, so it's hardly surprising knowing what is authentic Mexican food and what is not can be confusing!
Tasty Tacos
Let's start with tacos. These are an authentic Mexican food, right? Many people are used to the bright yellow U-shaped fried kind filled with meat, copious amounts of cheese, sour cream and jalapeños, but head down south and enjoy authentic tacos.
Those are one of my favorite Mexican treats, and I love ordering mine from the taco vans on the street for a really authentic experience. Continue reading →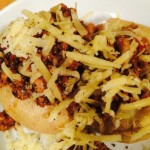 To sum up the answer to 'what is Tex-Mex food', Tex-Mex cuisine refers to primarily American dishes found in the state of Texas. This cuisine is a blend of American and Mexican foods. Some of these recipes might not be the same as the authentic Mexican version but it is still referred to as 'Mexican' in Texas. People in other states sometimes refer to Tex-Mex as 'Southwestern' food.
Tex-Mex is thought by some people to be the oldest original cuisine in the US. It was named in 1875 and began when the Texas-Mexican Railway was called Tex-Mex for short. This term was also used for Mexicans who were born in the state of Texas (they were also known as Tejanos). Actually more than 60% of the population of Texas has ancestors who were born south of the border, so it is no surprise that Tex-Mex recipes gained popularity so fast.
Written records of Tex-Mex food date back to the 1940s when Mexican and Spanish recipes blended with Anglo food, and the first Tex-Mex restaurant appeared in a part of the Southwest region with plenty of Mexican residents. Gourmet Tex-Mex dates back to the 1970s and was especially popular with the younger generation. So, what is Tex-Mex food? Now you know. Continue reading →
Some More Hot Content For You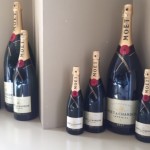 Although there are lots of types of sparkling white wine to choose from (cava, prosecco etc) it is fair to say nothing is the same as champagne. This sparkling white wine is made from chardonnay grapes in the Champagne region in France and is produced in a specific way. It is worth knowing how to enjoy champagne since its fullest so you can treasure every sip of this exquisite drink.
The rules of champagne making demand secondary fermentation of the champagne wine in the bottle to create the carbonation. The main grapes used to make it are white chardonnay, pinot meunier and black pinot noir, although these vary. A 'blanc de blancs' champagne, for example, only contains the chardonnay grape.
This wonderful fizz has been associated with royalty since the 17th century and the leading champagne manufacturers tried hard to associate their product with royalty and nobility with their packaging and advertising, which also brought it into the hearts of the emerging middle class. Continue reading →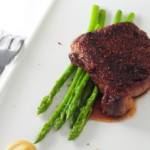 Low carb cooking and following a low carb diet is not just for diabetics and those who have problems digesting carbohydrates, but for anyone who wants to drop weight and eat tasty food while still maintaining a great shape and not feeling hungry or deprived.
Although low carb cooking sounds easy, it takes a while to get used to if you are used to eating bread, pasta and potatoes as part of your daily diet, as many of us are.
As is the case with most diets, the focus should be on eating food 'from the farm not the factory' which means minimize the amount of prepackaged food you eat and make sure you get plenty of fresh meat, fish and vegetables. Prepackaged foods often have sugar and chemicals lurking in them, so choose fresh wherever possible.
Low Carb Cooking – A New Lifestyle
Low carb eating is not a temporary diet either, but a complete shift in the way you eat. If you lose weight low-carbing and then resume eating the way you did before, of course you are going to gain all the weight back. Continue reading →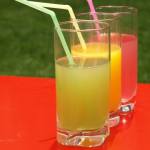 It is a fact that we are becoming more and more concerned about what we put into our bodies, the more we get to know about health issues. We are what we eat (and drink!) and we know that cooking often damages nutrients and kills healthy enzymes. This is why healthy juicing recipes are all the rage these days.
However, eating raw fruit and vegetables is not always an appetizing prospect, which is one reason healthy juicing recipes are becoming so popular.
Do you really want to sit down and eat a handful of raw kale, 2 apples, a raw beet and 2 carrots, or would you prefer to whiz these ingredients up and make a nutrient-rich drink which tastes good? Yes, healthy juicing recipes are way more appealing.
Everyone has a different palate so if you prefer your juice sweet, semisweet or savory, or you have specific fruits or veggies you dislike, or whatever requirements you have, you can find the perfect healthy juicing recipes for you – those you love to make and drink. Continue reading →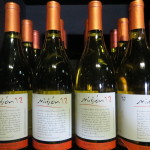 It is hard to think of a party or festive gathering without wine being part of the proceedings, so you might be curious about the history of wine. It is even known as the 'elixir of happiness' which is why people sometimes think it was born right when man was, but of course it wasn't. So who came up with the idea of fermenting fruit in the first place?
It might interest you to know the history of wine goes back to ancient Egypt, and that was 2500 BC. Wine might even have been used before that. According to the evidence found, wine goes back to the ancient civilizations in Egypt.
It is probable that early man discovered what fermentation did to fruits, and especially grapes because they are high in sugar and therefore idea for fermenting. Excavations have uncovered ancient fermenting pools and even wineries, which makes it clear wine has been around for a long time. Continue reading →
Other Posts You Might Like