Wonton Articles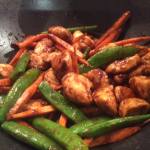 American Chinese food is a fusion cuisine, and was designed to make authentic Chinese food more acceptable to Western palates. Chinese eateries began to appear in the 1800s in San Francisco, and they first catered to Chinese immigrants, and then to miners and railroad workers. This is the history of American Chinese cuisine.
Local ingredients were used and cooks adapted Chinese recipes to suit the Western taste. Chinese people were excluded from many jobs at this time by lack of fluency in English or by racial discrimination, so many worked in Chinese restaurants or Chinese laundries.
Traditional vs. Westernized Chinese Food
Traditional Chinese cuisine emphasizes vegetables in the entrees rather than serving them as side dishes. Traditional Asian vegetables like kai-lan and boy choy are used plentifully. Deep-frying, pan-frying and stir-frying are used in American Chinese cuisine, and some ingredients are not used in the authentic dishes. Continue reading →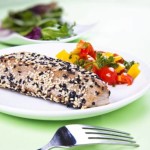 Sesame is a flowering plant and it is naturalized and cultivated for its edible seeds. Sesame seeds are believed to be the oldest oilseed crop and has been domesticated for more than 5000 years. The plant is drought-tolerant, making it a 'survivor crop' – capable of growing where most other crops would fail.
In 2010, more than 3.84 million metric tons of sesame seeds were harvested in the world, the largest producer of which was Myanmar. India exported the most and Japan was the biggest importer.
Sesame has one of the highest oil contents of any seed. This rich, nutty-tasting ingredient is used in many different cuisines, although it triggers an allergy in some people, like other nuts and seeds. Continue reading →
Some More Hot Content For You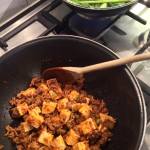 Tofu is an ingredient which is made by coagulating soy milk and then pressing the resulting curds into blocks. It is used in various East and Southeast Asian cuisines. Tofu can be fresh or processed, and its subtle flavor suits a variety of savory and sweet recipes. It is often marinated or seasoned before use. If you're wondering what is tofu exactly, you might also be interested in its history.
Tofu dates back nearly 2000 years to ancient China and during the Nara period its production technique was introduced into Korea and Japan. Tofu is low in calories, featuring a lot of protein but not much fat. It is also high in iron and depending on how it is made, it can also be rich in magnesium and calcium, making it a great health food.
Fresh tofu is usually sold immersed in water to keep it moist. You can get silken tofu which is very soft, firm and extra-firm tofu which can be cooked without falling apart, dried, processed, and pickled tofu. There are also various sweet varieties. Silken tofu can be used to make desserts, smoothies, and delicate foods. It is often added to Chinese soup recipes in tiny cubes and eaten with a spoon since the very soft kind is nearly impossible to pick up with chopsticks, unlike firm and extra-firm tofu. Learning more about what is tofu exactly means you will need to know about the different varieties and which to choose for which dish. Continue reading →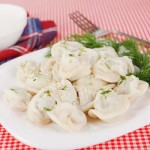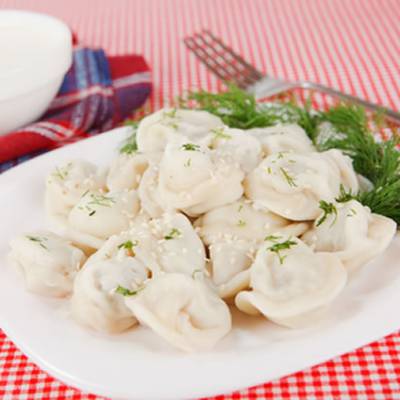 After making a number of steamed wonton recipes, there will come a time when you wish to create your own wonton fillings. Although you can use pretty much any kind of meat, poultry or fish in your wonton filling, it is important to grind or chop it as finely as you can. You need your ingredients to be very small for wonton fillings, so you can mix everything together better. Anything which is not cut into small enough pieces means you risk the wonton wrapper coming apart while they're being cooked and then the filling will leak out which obviously you don't want to happen.
Create Your Own Wonton Fillings: What to Use
Throw some finely chopped or minced vegetables into your wok and cook them over a high heat. It is important to get as much of the water content out as possible, so squeeze the greens. Add ginger and green onions for a nice Asian taste and add your meat. Stir-fry for a few minutes, then add salt, pepper, soy sauce, sesame oil, Shaoxing rice wine, some cilantro, and a little pinch of white sugar or artificial sweetener.
You might have to add a little water if the filling is too crumbly. Let the filling sit for half an hour, then use it to fill your wonton skins and cook them however you like. Continue reading →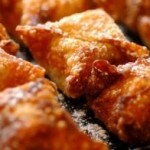 Although stir-frying is more popular in Chinese cuisine than deep-frying, it is worth learning both. Discover how to deep-fry like a Chinese chef and it will open up many new possibilities of Chinese dishes you can prepare.
You can either use a wok or a deep-fat fryer for deep-frying. If you are using a wok, slide the food in carefully, as you will not want spattering if you are going to professionally deep-fry like a Chinese chef. Add the ingredients in small amounts and do not crowd the wok, else you might get spillage or spattering, or the temperature might drop too fast.
Most recipes will suggest that you heat to oil to about 365 degrees F, although you can cook large items at a lower temperature. The temperature drops when you add food, especially if you are adding frozen food. Peanut oil has a high smoking point and therefore is a great choice for deep-fried Chinese recipes. Corn oil, canola oil and other vegetable oils are fine, but do not use sesame oil because the smoking point is too low. Olive oil is too expensive for deep-frying, considering how much you would need. Continue reading →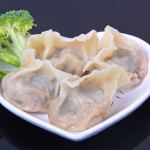 Dim sum, which translates to mean 'to dot your heart' refers to small dishes eaten as snacks. These can be baked, deep-fried, steamed or braised, and they are presented well and delicious too. Examples of dim sum include har gao, steamed shrimp dumplings in a rice flour pastry, char siu bao, which are roast pork-filled steamed buns, lor bak ko, which is turnip cake, and woo kok, which is shrimp with Chinese mushrooms. A lot of dim sum restaurants also offer congee porridge, soups, steamed green vegetables and roasted meats.
The serving size is small and you usually get three or four pieces in one dish. Dim sum is eaten with a cup of tea, a bit like how we might have cookies with a glass of milk or the Spanish might opt for hot or chilled tapas with their beer in the afternoon. Dim sum is ordered family style so everyone can share the delicious little snacks and taste as many different kinds as possible. Continue reading →
Other Posts You Might Like