Wonton Articles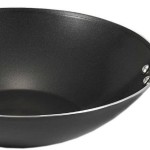 Some Chinese utensils are the same as Western ones, but not all. To make the best Chinese recipes you will need various pots and pans, ladles and spoons or spatulas. Yes, investing in Chinese kitchen essentials is going to be a good idea if you want to rustle up authentic Chinese recipes. A good-quality wok is also a staple, and you might like to get a bamboo steamer too since you can make steamed wontons in there, or even cook vegetables or chicken. A bamboo steamer can be yours for just $4 or $5.
The texture of the bamboo allows steam to circulate and evaporate so you do not get a lot of moisture stuck on the lid. Also, you can steam more than one layer of food at a time by stacking the steamers on top of one another. The food which requires the least steaming goes on top. Just rinse a bamboo steamer with water. Never use detergent, else the steamer will absorb the soap flavor and the next recipe you make in it will taste like soap. That isn't what you want from your Chinese kitchen essentials.
Other Handy Kitchen Utensils
A Chinese spatula is something else you might wish to get, and this long-handled, shovel-like blade spatula is for wok stir-frying. Certainly something to add to your selection of Chinese kitchen essentials. The spatula blade edge fits the shape of the wok and this is more sturdy than Western spatulas, so you can remove food from the wok as well as toss and stir large quantities of ingredients together. A Chinese wire strainer is a flat, wide, wire-mesh strainer with a long bamboo handle. Use this to remove deep-fried foods form hot oil or to get noodles out of hot water. Continue reading →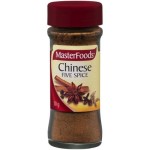 Learning how to season your Chinese recipes is essential if you want them to be successful. Chinese seasonings can liven up plain dishes. The seasonings used in Chinese recipes create the special flavors which differentiate the regional styles. Sesame oil, oyster sauce, chicken broth and soy sauce are the most commonly used seasonings in Chinese cuisine.
These Chinese seasonings can be added before, during or after cooking, depending on the recipe. If you are serving a dish with rice, the seasoning should be heavier than if you were serving it alone.
Savory dipping sauces are often served with Chinese recipes, and the most popular Chinese seasonings in sauce form are plum, mustard and chili. A little piece of meat, poultry, seafood or fish is picked up with chopsticks and dipping into the little blob of dipping sauce you have put on your plate. Egg rolls and spring rolls are lovely with a dipping sauce, but there are lots more recipes which also work well with them, such as steamed beef wontons.
Chinese Seasonings: Top Tips for Meat and Fish
Fresh meat is almost always marinated in Chinese cuisine, to infuse it with flavor. Chinese seasonings are really popular when flavoring meats. If the marinade you are using calls for cornstarch then add it last and it will act as a binder. Cut meat into uniform pieces to promote even cooking and always cut it across the grain for the most tender results. Continue reading →
Some More Hot Content For You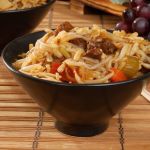 Beef in Chinese cuisine. Yes it's there, just not the most popular choice, at least in authentic Chinese cuisine. Beef is not used nearly as much as pork in Chinese cuisine, so when the Chinese talk about 'meat' they are usually referring to pork. Beef is used quite a bit in Szechuan cuisine, probably because there are more oxen in that region. Steamed beef is coated with cornstarch to make a gravy, while stir-fried beef is cooked until chewy.
Beef is not as versatile as pork, for example they are not good for making a beef version of pork meatballs, which is why beef is not so popular. You will not find beef in Chinese cuisine if you're looking at meatballs or similar. Beef can be eaten rare though, unlike pork, so you can cook it to rare if you prefer. This is not usually done in China though. The Chinese often pick sirloin or tenderloin for beef stir-fry recipes.
For a stew they will choose shank or shin in big cubes. They do not go for other pieces of meat because the longer tissues toughen more while stewing. Beef cubes or shreds should be marinated or well-dried before going into a hot wok, so the meat pores seal and the beef stays juicy. Continue reading →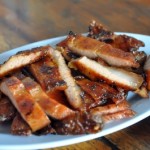 Chinese roast pork, roast belly of pork, BBQ spare ribs, pork meatballs, sweet and sour pork… these are just some of the famous Chinese recipes with pork we know and love in the West. Once you grind or mince the pork, you can use it to make a pork wontons recipe, but pork is often chopped or shredded or even served whole in other classic Chinese dishes. Because pork is so common in China, the Chinese word for pork ('yuk' in Cantonese or 'rou' in Mandarin) is meat. Different recipes require different cuts of pork, depending on the cooking method and other ingredients in the dish.
Chinese Recipes with Pork: Red-Cooked Meat
So let's take a closer look at Chinese recipes with pork. One popular Chinese pork recipe is red-cooked meat. This name comes from the fact that the soy sauce gives the pork a reddish hue. Use fresh bacon, fresh ham or fresh pork shoulder for a red-cooked meat recipe and leave the skin on. Many Chinese believe the skin is the yummiest part of the meat.
Although fresh ham or shoulder or pork is normally cooked whole, fresh bacon is usually cut into 1 or 2 inch cubes with skin on. Pork chop is not used to make red-cooked meat because the tissues of the meat are too long and tight for this type of cooking. Salted or dried sea food and vegetables are also added to this recipe. Continue reading →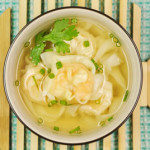 So let's assume you enjoy wonton soup and you have made a couple of different kinds already. What now? How do you play around with wonton soup recipes to come up with your own unique types? How do you come up with ideas for wonton soup if you want to tweak the recipe a little?
First of all, you will need to be creative but you also have a lot of leeway when it comes to choosing flavors and ingredients because you can use pretty much any kind of meat, poultry, fish, seafood or vegetables for making wonton soup. The broth itself should be clear but you can add garnishes or flavors to it.
Ideas for Wonton Soup: Wonton Broth Tips
Wontons would not work in a creamy soup, so keep the broth light and fresh-flavored for the best results. If you can make your own broth or bouillon that is always best. Store-bought broth can be alright but it is usually packed with chemicals and preservatives, so the next time you roast meat, why not boil up the carcass or bones with some carrot, onion, garlic and parsley? This is one of the best ideas for wonton soup and starting with tasty broth never hurts! Continue reading →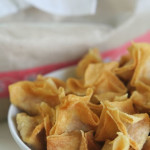 Easy wonton recipes should find a place in your meal, or at least appetizer, rotation. Whether you fancy making wonton soup, crunchy fried wontons, sensational steamed wontons or even healthy baked ones, there are plenty of easy wonton recipes for you to choose from. These feature all your favorite ingredients from chicken to duck or pork, nutritious veggies, exciting herbs and spices, and even fruit or cheese.
There are wonton recipes for ever season, occasion and palate, and wontons can make amazing comfort food, a well-deserved snack, or even a complete meal. There are homemade easy wonton recipes for everyone to enjoy.
Easy Wonton Recipes: Wontons for Kids and Grownups
Kids as well as adults love easy wonton recipes and you can make kid-friendly sweet ones with mashed banana and chocolate, or with applesauce and a pinch each of sugar and cinnamon. Serve your hot, crispy dessert wontons with vanilla ice cream or whipped cream and watch the smiles appear on your kids' faces. Kids also love savory wontons, especially if you get them involved in the preparation. Continue reading →
Other Posts You Might Like