Recipes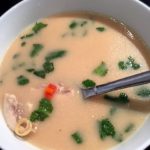 This delicious Thai tom kha gai soup recipe is made with 10 ingredients only plus a few optional extras for serving. We are using chicken and mushrooms to make this, along with typical Thai ingredients like galangal, lemongrass, lime, coriander, coconut, fish sauce and palm sugar to make it.
This is a tasty, filling Thai chicken soup recipe and it's also therapeutic if you're under the weather or suffering from a cold or the flu. The chicken and vegetables are nourishing while the steam from the soup helps with decongestion.
As for the garnish, we like to present this traditional tom kha gai soup recipe with cilantro, chilies, lime leaves and lemongrass but feel free to omit one or all of those, as you prefer.
How to Serve Our Tom Kha Gai Soup Recipe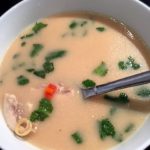 This makes a great lunch or evening meal, perhaps served with something crunchy as an appetizer. Egg rolls or spring rolls would be fine, or you might like to have something seafood-based to begin the meal instead. Because this is a spicy soup, consider following up with something creamy to cool the mouth, perhaps mousse or ice cream.
While the Spice is Nice in Thai Chicken Soup… Tweak as Needed
Feel free to alter the amount of spice in this tom kha gai soup recipe. Not everyone likes the chilies although they are popular in many Asian cuisines so those cultures are more accustomed to them.
A lot of traditional Thai recipes are quite spicy but when making your own you are in charge of what goes in there, so alter the recipe as you see fit. If you are a fan of Thai recipes, try our Thai fried rice or Pad Thai dishes. Continue reading →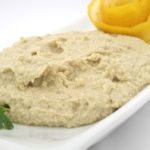 You can make a perfectly delicious hummus recipe no tahini in a couple of minutes. In fact a hummus recipe without tahini is just as good as the traditional kind. However you choose to enjoy your hummus – served as a dip with breadsticks or veggie crudites, or paired with homemade falafel in pita bread, you will love this version.
As well as the chickpeas, which are also known as garbanzo beans, you are going to need oil, garlic, lemon, cumin and salt. Those ingredients will help you get the right hummus recipe no tahini texture along with the perfect flavor. You might want to thin it with a bit more water and/or add more salt to get the flavor just right.
Two tablespoons of this delicious hummus recipe no tahini equates to 70 calories. If you still want to use tahini just add 2 tablespoons of it to the mixture in the food processor, and the delicious result is all yours to enjoy. Making several dips? Why not try our Greek yogurt avocado dip as well, or a tasty crab dip? Serve them all at once as a trio along with your favorite crackers or crudites. You can't fail to impress! Continue reading →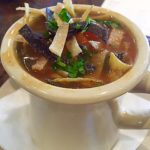 Chicken tortilla soup is one of my favorite soups. I love everything about it – the juicy chicken, the tomato-ey broth, the crisp tortillas on top, the cheese, just… everything! I like to keep my soup recipes simple, so you will see the following is as streamlined as I could make it. Grab the ingredients you need and make this. I promise, whether you want a light lunch or simple supper, you're going to love it. There are lots of different chicken tortilla soup with Rotel tomatoes recipes to try but I happen to like this one just because it is so easy.
What You Need to Make It
Along with the cooked chicken and Rotel tomatoes you will need refried beans, chicken broth, corn and either some fried tortilla strips or broken tortilla chips, whichever you have.
If I am jazzing this up, I might add a scoop of sour cream and some avocado on top, and I like to add a good amount of shredded Mexican blend cheese as well. Those additions to the basic recipe make all the difference, but they are purely optional. So just add what you want to have.
This chicken tortilla soup with Rotel tomatoes makes a great meal and it's surprisingly filling too. There are crockpot chicken tortilla soup recipes too, but honestly if you're using leftover shredded chicken you might as well simply mix the ingredients together in a pan and cook the soup in a matter of minutes. Continue reading →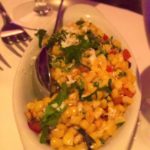 Corn is always good especially when you cook the fresh kind and slice it off the cob in sweet, juicy slices. I love this Monterey style sweet corn recipe as a side dish because it seems to complement just about everything from chicken or seafood to steak or game meats.
Why You Should Make This Monterey Style Sweet Corn Recipe
This dish is easy to prepare, attractively bright colored and is sure to appeal to even the youngest members of the family – those who are normally picky about vegetable-based sides!
I find about a tablespoon of jalapeno enough to give the the Monterey style sweet corn a bit of a bite, but of course some people prefer to add more while others want to omit all traces of spice from their food, so you be the judge here and adapt it to suit your own palate.
If you need to rustle this up in a hurry, you could use well-drained canned corn but honestly that doesn't really do this south of the border inspired dish justice, so get some fresh ears of corn and make it from scratch. That way you will have a real explosion of flavor in your mouth with every mouthful.
Continue reading →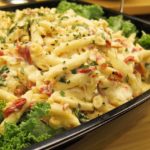 Pasta salad is always a winning dish. It is cheap to make, you can use leftover cooked pasta or cook some in about 10 minutes, and there are all kinds of flavors you can add to this easy pasta salad with parmesan cheese.
In this recipe we are keeping with the Italian theme (although you might like to look at our Indian pasta salad for a wonderful fusion idea!) by incorporating parmesan cheese and sun-dried tomatoes.
Dressing Tweaks
Although the tangy red wine vinegar dressing is good, sometimes I prefer to just use mayo for a super-simple dressing which boasts a lovely creaminess everyone is going to love. You can add other flavors to the mayo too, like mustard, spices or dried or fresh herbs, as you like.
Use white pasta for the best result – perhaps penne, shells or another favorite. For pasta salad, avoid the long kinds like spaghetti or linguine, and go for something that's easy to pick up on the fork or scoop up in a spoon.
This recipe can be made quickly and easy, and it is an excellent pairing for everything from grilled chicken to burgers, steaks or even fish. Why not make a big batch for your next barbecue event or party? Continue reading →
I first tried this amazing corn pie in Chile and immediately fell in love with it. The ingredients might sound a little strange but it's really good, I promise! Some people use beef while others use chicken. The corn topping on this pastel de choclo recipe is crisp, sticky and sweet and the eggs, black olives and other ingredients lend authenticity.
Side Dish Options
What is a good side dish for our pastel de choclo? Well, I like it with a simple tomato, garlic and onions salad on the side, or you might want to steam some broccoli or another favorite vegetable instead. This keeps well in the refrigerator for a few days and is easy to reheat in the microwave.
What Kind of Corn to Use
Although some people prefer to use fresh corn when making a pastel de choclo recipe, I usually just use the canned kind which is fine in this corn pie as long as you drain it properly. Feel free to adjust the amount of sugar. It helps with the caramelization but my husband is diabetic so I usually use half sugar and half sweetener. Continue reading →