Recipes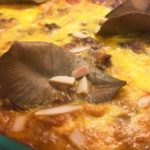 This easy bobotie recipe can be made with your choice of ground beef or lamb. A combination would also work. The dish is popular in South Africa. It is comparable to meatloaf or lasagna, but it is spiced and the topping is a savory egg-based custard.
I've made it several times and always love how the gently spiced meat layer contrasts with the rich and creamy topping. Served with yellow rice and/or a fresh green salad, this dish is something that never gets old. I like to make extra because it heats up well the following day for lunch.
If you've made meatloaf, lasagna or a similar ground meat dish, you will recognize several steps in this easy bobotie recipe. Even if you're relatively new to it, there is still nothing difficult about making this delicious South African dish. It isn't spicy so you can even make it for the kids. You might prefer to use a mild curry powder rather than a spicy one though, in that case. Continue reading →
Salmon is a powerhouse of nutrition. This salmon in mustard cream sauce recipe is just one idea for incorporating this juicy fish into a recipe. Wild-caught salmon boasts sweetness as well as a fatty touch which balances things out beautifully for the perfect mouth-feel.
This would be beautiful with any kind of potatoes – mashed, boiled (with dill weed!) or crispy and roasted, along with your favorite green vegetable. Broccoli, zucchini (courgette) and green beans are definite contenders. Personally I love grilled green asparagus, so consider that as well.
If you want to double up on the sauce it would make a fine vegetarian dip for chips, bread or veggie crudites. If you are serving this with mashed potatoes, simply ladle some of the extra sauce over those too. We are going to broil (UK: cook under the grill) the salmon for optimum results, and you will find the other ingredients add plenty of appeal to the overall flavor. Continue reading →
Some More Hot Content For You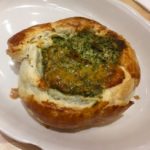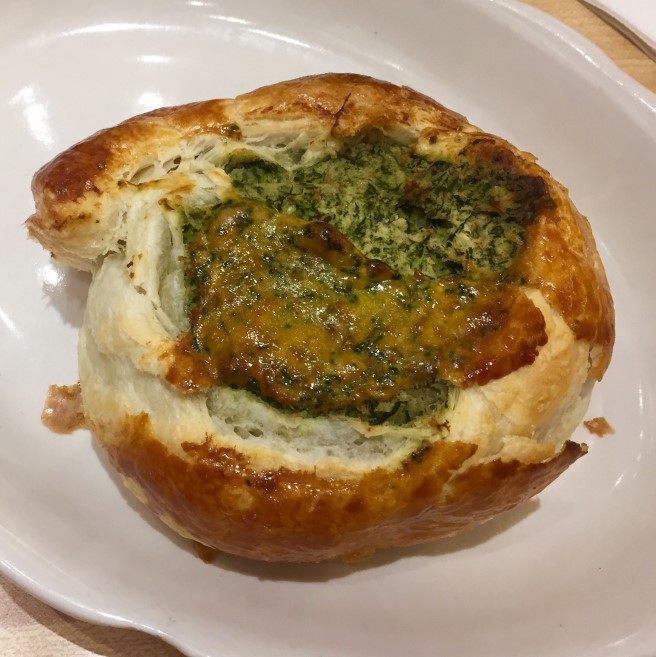 I first tried spinach potato knishes (pronounced kuh-NISH-es) at Kenny and Ziggy's in Houston TX, and wow was this some spectacular comfort food. I'm British so I am used to Cornish pasties (a tasty pastry-enclosed meat and potato recipe from the southwest corner of England) and I also enjoy pastry-wrapped or pastry-enclosed vegetable recipes for lunch or as snacks.
What are knishes, I asked myself, perusing the menu. Google to the rescue and I read the description. My mouth began to water and I thought wow I have to order these! So, now you're asking what are knishes exactly? Well this tasty Jewish recipe is a savory pie. Knishes can be filled with potatoes, meat, sauerkraut, kasha, cheese, onions, spinach or a combination of these. Knishes may be baked, grilled or fried. The flavor remains similar but the spinach potato knishes texture varies depending on the cooking method employed.
Spinach potato knishes, which like the others are vegetarian knishes, can be compared to other pastry appetizers or baked dumpling type dishes, such as empanadas from Mexico, pasties from the UK, calzone from Italy or pirozhki from Russia. You can also compare the format and flavor to Jamaican patties, southeast Asian curry puffs, South and Central Asian samosas, Middle Eastern fatayers and Portuguese rissols.
Continue reading →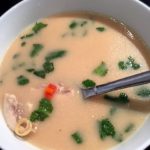 This delicious Thai tom kha gai soup recipe is made with 10 ingredients only plus a few optional extras for serving. We are using chicken and mushrooms to make this, along with typical Thai ingredients like galangal, lemongrass, lime, coriander, coconut, fish sauce and palm sugar to make it.
This is a tasty, filling Thai chicken soup recipe and it's also therapeutic if you're under the weather or suffering from a cold or the flu. The chicken and vegetables are nourishing while the steam from the soup helps with decongestion.
As for the garnish, we like to present this traditional tom kha gai soup recipe with cilantro, chilies, lime leaves and lemongrass but feel free to omit one or all of those, as you prefer.
How to Serve Our Tom Kha Gai Soup Recipe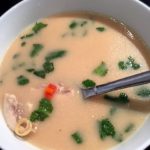 This makes a great lunch or evening meal, perhaps served with something crunchy as an appetizer. Egg rolls or spring rolls would be fine, or you might like to have something seafood-based to begin the meal instead. Because this is a spicy soup, consider following up with something creamy to cool the mouth, perhaps mousse or ice cream.
While the Spice is Nice in Thai Chicken Soup… Tweak as Needed
Feel free to alter the amount of spice in this tom kha gai soup recipe. Not everyone likes the chilies although they are popular in many Asian cuisines so those cultures are more accustomed to them.
A lot of traditional Thai recipes are quite spicy but when making your own you are in charge of what goes in there, so alter the recipe as you see fit. If you are a fan of Thai recipes, try our Thai fried rice or Pad Thai dishes. Continue reading →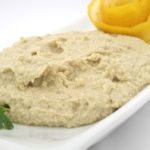 You can make a perfectly delicious hummus recipe no tahini in a couple of minutes. In fact a hummus recipe without tahini is just as good as the traditional kind. However you choose to enjoy your hummus – served as a dip with breadsticks or veggie crudites, or paired with homemade falafel in pita bread, you will love this version.
As well as the chickpeas, which are also known as garbanzo beans, you are going to need oil, garlic, lemon, cumin and salt. Those ingredients will help you get the right hummus recipe no tahini texture along with the perfect flavor. You might want to thin it with a bit more water and/or add more salt to get the flavor just right.
Two tablespoons of this delicious hummus recipe no tahini equates to 70 calories. If you still want to use tahini just add 2 tablespoons of it to the mixture in the food processor, and the delicious result is all yours to enjoy. Making several dips? Why not try our Greek yogurt avocado dip as well, or a tasty crab dip? Serve them all at once as a trio along with your favorite crackers or crudites. You can't fail to impress! Continue reading →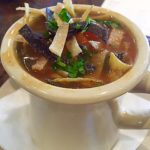 Chicken tortilla soup is one of my favorite soups. I love everything about it – the juicy chicken, the tomato-ey broth, the crisp tortillas on top, the cheese, just… everything! I like to keep my soup recipes simple, so you will see the following is as streamlined as I could make it. Grab the ingredients you need and make this. I promise, whether you want a light lunch or simple supper, you're going to love it. There are lots of different chicken tortilla soup with Rotel tomatoes recipes to try but I happen to like this one just because it is so easy.
What You Need to Make It
Along with the cooked chicken and Rotel tomatoes you will need refried beans, chicken broth, corn and either some fried tortilla strips or broken tortilla chips, whichever you have.
If I am jazzing this up, I might add a scoop of sour cream and some avocado on top, and I like to add a good amount of shredded Mexican blend cheese as well. Those additions to the basic recipe make all the difference, but they are purely optional. So just add what you want to have.
This chicken tortilla soup with Rotel tomatoes makes a great meal and it's surprisingly filling too. There are crockpot chicken tortilla soup recipes too, but honestly if you're using leftover shredded chicken you might as well simply mix the ingredients together in a pan and cook the soup in a matter of minutes. Continue reading →
Other Posts You Might Like