Fish Appetizers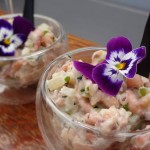 This Old Bay shrimp and apple salad is a gorgeous recipe. It looks really nice served in little glasses with edible flowers as a garnish, but it can also be served over lettuce or baby salad leaves if you prefer. This Old Bay shrimp and apple salad is a nice way to begin any kind of meal, and it is especially good during the summer when you don't want to cook.
We are using shrimp, and you can use little ones or chop larger ones. Make sure they are peeled and deveined first. Canned or thawed shrimp are fine here. You will also need some red apple and onion for crunch. The dressing for our Old Bay shrimp and apple salad is made with mayonnaise, Worcestershire sauce, Old Bay seasoning and lemon juice.
Old Bay Shrimp and Apple Salad Tweaks
If you want, you can add other ingredients to the Old Bay shrimp and apple salad mix. We suggest diced celery, chopped walnuts or diced cheddar cheese. You might even want to add a little fresh dill weed or chopped chives. The recipe is nice as it is, so you might not want to add anything else to it. Also take care not to overwhelm the delicate flavors by adding too many other flavors to the mix.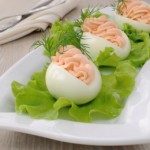 How pretty do these salmon pate stuffed eggs look? This recipe takes deviled eggs to the next level, by combining the egg yolk with salmon, lemon and creamy ingredients to make a pale pink, delicious-tasting appetizer. One or two egg halves per person is a good estimate although some people won't be able to stop munching on these lovely little snacks.
There are different ways to prepare these salmon pate stuffed eggs. You can make them the traditional way by slicing the eggs in half lengthwise or you could remove a wedge from the top (like in the picture) for a different look.
How to Add the Salmon Pate Stuffed Eggs Filling
The salmon pate stuffed eggs filling is better piped in with a piping bag (or a plastic bag with the corner cut off) but if you don't have one or you don't want to pipe, you can simply spoon the filling in. Chill the salmon deviled eggs for half an hour then serve them perhaps with some snipped chives on top or with some fresh herb sprigs. Maybe add some lemon wedges to the platter too.
This tasty snack is easy to prepare and you can make them ahead, making them ideal buffet food or party snacks. If you're making them any more than half an hour ahead though, cover them with plastic wrap before popping them in the refrigerator. Be careful not to wrap them too tight – you won't want to ruin your carefully piped filling.
Continue reading →
Some More Hot Content For You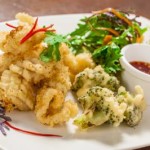 Most people love to cozy up and relax during the colder months. There's something about the winter weather that brings people together and gathering around some hearty and easy winter appetizer ideas is a great way to spend that time with friends and family.
In the winter, it's best to serve warm foods, but don't let that overwhelm you. There are plenty of ways to present a great spread without slaving away in the kitchen for hours. You don't have to tell anyone how easy the winter appetizer ideas were to prepare!
One simple strategy for an appetizer sure to impress is to do fondue. Fondue can be easily customized to your party's theme or guests' needs and the communal nature of the dish works well in group settings. A popular type of fondue is cheese fondue. You can mix a variety of herbs and spices in with the cheeses to give unique flavors and serve pieces of bread, meats, and vegetables for dipping.
Continue reading →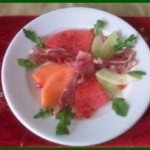 One of the things that brings people together is the enjoyment of food. There are few things better than gathering around a table on a summer evening to snack and relax with friends. And there are easy summer appetizer ideas for all palates and occasions, so you won't be stuck for choice.
What makes appetizers so appealing when compared to full meals? Appetizers are usually bite size, making them easy to eat while socializing, and a table full of different options is far more exciting than committing to just one meal or flavor.
Many summer appetizer ideas are not only easy to eat, but also easy to prepare. Cold appetizers are especially effortless since they can look artfully done with just some chopping, arranging, and intentionally placed fresh herbs. Even some cooked appetizers are of the set-it-and-forget-it variety. Throw some ingredients in the slow cooker and wait awhile or skewer a couple different meat and vegetable combinations for colorful kabobs that can go from barbeque to plate in a snap.
Continue reading →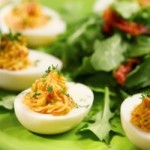 Starter recipes as they are called in the UK, or appetizer recipes as they are known in the US, are little snacks which are served before the main dish. There are easy starter recipe ideas to suit every occasion.
There are hot and cold starter recipes that everyone can prepare, no matter whether you happen to be a newbie in the kitchen or an experienced and seasoned chef.
So what are you planning to make as your New Year's Eve starter recipes? A parma ham and melon starter, prawn cocktail, cheeseballs, canapes or something else? Keep reading if you are still looking for New Year's Eve appetizer inspiration.
Easy Starter Recipe Ideas and Ingredients
You can use meat, poultry, fish, seafood or even vegetarian or vegan ingredients to make easy starter recipes and you do not have to spend a lot of time on them either.
Easily made starters are always welcomed at all kinds of occasions and you can choose from meaty starter recipes, seafood ones, vegetarian dishes or just a mixture of everything.
Continue reading →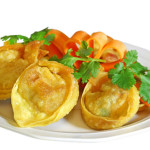 Crab and cream cheese are combined in this easy wonton recipe for a spectacular result. You will need softened cream cheese for these cream cheese wontons with crab so either leave the cream cheese at room temperature for a while or microwave it for 20 seconds.
Feel free to be creative with the wonton wrapper shape when making your cream cheese wontons with crab. You can make scrunched up wontons, triangles or any other shape you fancy. Just make sure they are well sealed so they hold together when they are being fried.
What Kind of Crabmeat to Use
Dungeness crabmeat is the best kind to use, but use whatever type of lump crabmeat you can get. Just make sure you drain it as well as you can, before mixing it with the other ingredients, since it will be packed in water or brine, and that will make your wontons soggy.
The ginger and green onions bring out the flavor of the crab and cream cheese, and plum sauce would be very nice for dipping these wontons into, else you can serve soy sauce, chili sauce or oyster sauce instead for dipping. These cream cheese wontons with crab are very simple to prepare and they only take a few minutes to fry to crispy perfection. Continue reading →
Other Posts You Might Like