Fish Appetizers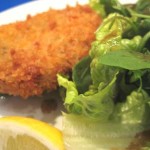 If you are looking for an easy tuna fishcake recipe, this one is simple to make and very tasty. The sweet potatoes add a Caribbean flavor and the canned tuna works very well in this fishcake recipe. For fish cakes tuna is always a good choice because it is tasty. Canned tuna is better than fresh tuna for fish cake recipes because it is more moist.
Fresh or Canned Fish for a Tuna Fishcake Recipe?
Salmon is often used to make fishcakes, both the fresh kind and the canned kind, but tuna is also popular. When making fishcakes it is usually better to use either leftover cooked fish (if it needs to be used up) or canned fish. Save the fresh filets for other recipes because fishcakes have other ingredients in them and canned fish is just as good in there. Continue reading →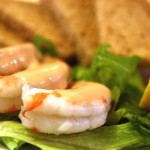 A classic starter recipe, prawn cocktail is delicious and often features as a starter on Christmas day or another special occasion. This salad uses Salad Cream (a British condiment) but you can use mayonnaise in this basic prawn cocktail recipe if you prefer.
Optional Tweaks
There are lots of different prawn cocktail recipes and you can add halved cherry tomatoes or thin cucumber slices if you want. As long as the prawns are well drained, this recipe keeps well in the fridge for a few hours before serving.
This is a very basic pawn cocktail recipe so if you are looking for something more elaborate, you might prefer to look at our classic prawn cocktail recipe instead. Continue reading →
Some More Hot Content For You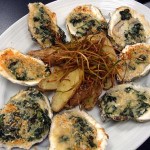 Oysters are great served either cold or warm like in this delicious seafood starter recipe. You can serve this as a canape or as a starter dish for a summer dinner. Oysters are not the cheapest type of seafood but they are special and you do not have to serve a lot to each diner. Make this oysters in chive sauce recipe and you won't regret it.
Oysters in Chive Sauce Recipe: Surprisingly Simple to Make
A lot of people think twice about making oysters recipes because they are thought to be difficult but actually the opposite is true. Oysters are easy to work with. In this recipe for oysters you simply make the sauce and grill the oysters for a couple of minutes. There is nothing more to it. So if you were looking for easy oyster recipes you've found one! Continue reading →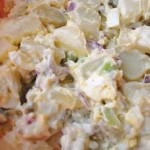 Fish and potatoes have been served together for centuries and dill complements both of them. Sour cream, mayonnaise and gherkins finish off this delicious fish starter recipe perfectly. This herring, potato and dill salad recipe is easy to make and suits any occasion.
Simple But a Nice Balance
There are not many ingredients in this tasty herring recipe and that is because they would be unnecessary. This is a perfectly balanced dish and one of our more interesting starter recipes. Herrings are delicious and if you want ideas for fish starters, this is well worth considering. Continue reading →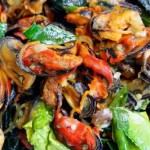 Fresh mussels have their own distinctive flavor and they don't need much added to them to bring out their natural taste. Mussels and cockles are great for making appetizers, or starter recipes. Mussels steamed are great, as are mussels cooked in other ways. One of the best ways to work with this seafood is to try out this Catalan mussels recipe.
Adding Flavor to the Mussels
In this Catalan mussels recipe, vinegar, lemon, oil and basil are used to add flavour and the natural mussel recipe taste shines through. This dish is best chilled overnight so allow plenty of time to do that. This is also a bonus if you are planning a number of recipes to make the following day because once this is made, it is made, meaning it is out the way and you can forget about it until serving.
The onions, vinegar, tomato and more used in this recipe for Catalan mussels is a classic combination and if you want to make starter recipes with mussels this is a very good recipe to opt for. Continue reading →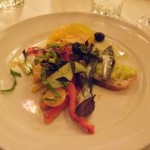 This anchovy and melon salad recipe is a simple and easy dish which tastes very good. The citrus and melon flavors go perfectly with the fish while the watercress sprigs make a pretty garnish. If you are low on time, why not have a go at this easy anchovy and melon salad recipe?
Aromatic Healthy Melon
Melon is so nice to use in a salad because it has a unique and very refreshing flavor. This simple anchovy and melon salad recipe is one of our more interesting starter recipes and it is especially nice to serve in the summer when you are looking for something refreshing. Continue reading →
Other Posts You Might Like