Fish Appetizers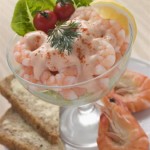 This classic prawn cocktail recipe combines succulent Atlantic prawns with a homemade Marie Rose sauce and more. Shell-on prawns are the best variety to use for both texture and flavor.
Classic Prawn Cocktail: Tips for the Prawns
You can make a nice risotto stock from the shells after peeling them too. Most Atlantic prawns are sold cooked and frozen and the best way to defrost them is to leave the in the fridge for several hours.
Don't defrost them in water because they will lose some of their flavour. When you peel them, you should split them almost in half through their backs and remove the bitter dark vein running through them. This is optional but it does improve their taste. Continue reading →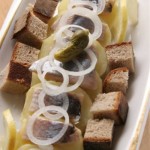 Mustard and white wine sauce goes beautifully with many types of fish and herring is no exception. The following hot herring starter recipe combines potatoes, herring, onion and mustard sauce for a full flavored starter recipe. The herring is flavored with lemon juice and grilled, the potatoes are boiled and the onion is served raw, to make a crunchy and piquant garnish.
How to Serve this Hot Herring Starter
This fish appetizer is suitable for a buffet table or a dinner party. Just serve it with a big serving spoon and let people help themselves. You can serve extra mustard sauce on the side if you like, as well as underneath the potato layer.
If you don't have any white wine, you could use white vinegar instead. The end flavor will be similar. Also, you can use Dijon mustard if you want to. English mustard is full-bodied and very hot and you might prefer the subtle flavor of Dijon mustard instead, for making the mustard sauce. Continue reading →
Some More Hot Content For You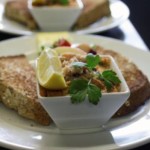 If you are in a hurry it's good to know that you can make this quick mackerel pate recipe in a matter of minutes. Smoked mackerel fillets are used for this pate as well as soft cheese, onions, lemon and tabasco. Serve this pate with melba toast or crackers and perhaps some grapes or basil leaves for garnish.
Homemade is Always Best
Buying pate from the shop is easy but homemade pate is always in a league of its own. In fact there is no comparison between the two. If you want to make a nice starter recipe for a dinner party then consider mackerel paté and you will be very tempted.
Soft cheese, spring onions and lemon work harmoniously with the mackerel and this quick mackerel pate recipe will have a good, firm texture as well as a pleasing flavor. You can make this in literally 3 minutes, but make it ahead so you have time to chill it. That way the flavors will all blend together. Continue reading →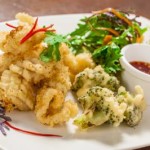 Many people enjoy Chinese recipes at least once a week, as the meals are simple to prepare and cook, making them quick and easy for everyone. Chinese appetizers can be enjoyed before a traditional Chinese meal, and many people enjoy this style before their normal main dish, Chinese or not. You might want to try this Chinese calamari Szechuan recipe and see how you find the spice and flavor.
There are various authentic flavors from China which you will already be familiar with, and you can get many Chinese ingredients from the regular grocery store, although an Asian grocery store is your best bet if you want to stock up on such ingredients.
Choosing the Right Chinese Appetizer
If you take the time to select the Chinese appetizer recipe wisely, you will be able to choose something which enhances your whole meal, starting it off in style and leaving people eager for the main dish to come out once their appetite has been whetted. This Chinese calamari Szechuan dish is certainly a great choice. Continue reading →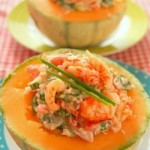 Traditional British Appetizers from all Over the UK
It's true that the UK is home to so many delicious traditional British appetizers. Whether you fancy reproducing the tasty dishes from English, Ireland, Scotland or Wales, there are lots of different recipes you can play around with, to make the most mouthwatering dishes for your friends or family.
From classic English prawn cocktail to Scottish seafood dishes, Irish onion rings with Guinness or Welsh rarebit, there are traditional british appetizers for all occasions. These starter recipes, as they are known in the UK, or appetizers as they are known in the US, offer something for every palate. Continue reading →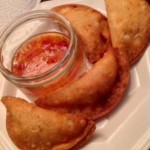 I had a problem a couple days back. I was in the mood for crispy wontons and having recently bought a deep fat fryer and knowing I had some wonton skins in the freezer, I didn't think anything could go wrong. However, the wonton wrappers were broken! I still fancied some crab rangoon wontons though. Can you use gyoza wrappers for wontons, I wondered. Would crab rangoon wontons made with gyoza wrappers actually work? Only one way to find out!
Making Wontons with Gyoza Skins
Gyoza wrappers are round not square and they are thicker than wonton wrappers. When I make gyoza I usually steam them or make potstickers so I was not sure how they would deep fry and couldn't find any info online, so I thought what the heck, I will give it a go!
To cut a long story short, the crab rangoon wontons made with gyoza wrappers were really good and my husband and I both really enjoyed them.
Different Shaped Wontons
Yes the gyoza wrapper is round so you will end up with half-moon shaped wontons, but who cares when they taste this good? These are very quick to prepare and they deep-fry to perfection in just a couple of  minutes. You could probably bake your crab rangoon wontons made with gyoza wrappers too, if you wanted to cut down on the fat, but sometimes deep-frying is unbeatable!
Continue reading →
Other Posts You Might Like