Appetizers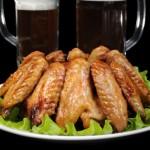 These baked chicken wings are so good. If you are in the mood for chicken wings but you don't want to fry them, try this recipe instead because they come out just as crispy as fried wings but are healthier because they aren't going to be submerged in fat.
A Flavorful Coating for Baked Chicken Wings
The coating is made with flour, paprika, garlic salt, pepper and cayenne, and the wings are cooked in a little butter to crisp them up and stop them sticking to the baking dish. Swap the cayenne pepper for Hungarian paprika if you want, or the garlic salt for regular salt and a pinch of garlic powder, and the flavor of our baked chicken wings will be very similar.
This baked chicken wings recipe can be doubled or tripled easily enough if you want to feed a crowd rather than just make a snack or meal for a couple of people. The chicken wings refrigerate well and they even stay crispy so you can enjoy them cold the next day with a salad perhaps, or take some to work with you.
Easy and Sure to Be Popular
This easy baked chicken wings recipe is one you will find yourself making often because the chicken is so flavorful and it comes out moist and juicy. Also, this is a good recipe if you are watching your figure because it's healthier than fried chicken.
Continue reading →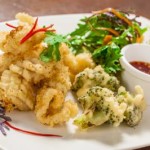 Most people love to cozy up and relax during the colder months. There's something about the winter weather that brings people together and gathering around some hearty and easy winter appetizer ideas is a great way to spend that time with friends and family.
In the winter, it's best to serve warm foods, but don't let that overwhelm you. There are plenty of ways to present a great spread without slaving away in the kitchen for hours. You don't have to tell anyone how easy the winter appetizer ideas were to prepare!
One simple strategy for an appetizer sure to impress is to do fondue. Fondue can be easily customized to your party's theme or guests' needs and the communal nature of the dish works well in group settings. A popular type of fondue is cheese fondue. You can mix a variety of herbs and spices in with the cheeses to give unique flavors and serve pieces of bread, meats, and vegetables for dipping.
Continue reading →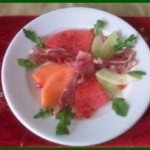 One of the things that brings people together is the enjoyment of food. There are few things better than gathering around a table on a summer evening to snack and relax with friends. And there are easy summer appetizer ideas for all palates and occasions, so you won't be stuck for choice.
What makes appetizers so appealing when compared to full meals? Appetizers are usually bite size, making them easy to eat while socializing, and a table full of different options is far more exciting than committing to just one meal or flavor.
Many summer appetizer ideas are not only easy to eat, but also easy to prepare. Cold appetizers are especially effortless since they can look artfully done with just some chopping, arranging, and intentionally placed fresh herbs. Even some cooked appetizers are of the set-it-and-forget-it variety. Throw some ingredients in the slow cooker and wait awhile or skewer a couple different meat and vegetable combinations for colorful kabobs that can go from barbeque to plate in a snap.
Continue reading →
This potato pierogi recipe is one of my favorites, but what are pierogi exactly? Well, pierogi are unleavened dough dumplings which are boiled and then fried or baked in butter. They can be stuffed with potatoes, ground meat, fruit, cheese, sauerkraut, or something else. Pierogi are normally half moon shape but they can also be triangular or rectangular.
Not to be confused with pirog (Russian pies) or pirozhki (Russian stuffed fried buns), pierogi are small enough to be served several at a time, which is why the plural of the word is used when talking about them. These little snacks are popular in Russia, Ukraine, the Czech Republic, Lithuania, and some parts of Poland. A potato pierogi recipe is simple to make and they taste fresh and satisfying.
They can be compared to tortellini, wontons, Chinese dumplings, or anything made by stuffing a skin or wrapper made of dough then cooking it with the filling inside. There is something magical about these and many kids fondly remember Grandma making a huge batch of them and maybe being allowed to help. Like other dumpling type recipes the more you make this potato pierogi recipe the easier and quicker you will be able to get them done.
What Do You Need to Make a Potato Pierogi Recipe?
In our potato pierogi recipe the pierogi are filled with a cheesy potato mixture which is really delicious. The dough is simple to make. For that we use egg yolks, potatoes, flour, shortening and cream of tartar. Once the dough is rolled out and cut into circles, you can add the filling, seal them and boil them in water.
Continue reading →
These chicken potstickers are so good. One is never enough. Ten is too many. Well maybe. They're just so tasty you'll want to keep popping them into your mouthy! Potstickers are an Asian delight, and these little snacks are usually filled with meat and vegetables, along with Chinese seasonings. Pork is often used, but here we are using chicken instead.
This chicken potstickers recipe is very simple to make and the potstickers make fantastic appetizers, whether you want to serve hot snacks with drinks, or a first course before your entree at dinner.
You can use turkey if you prefer it to chicken. Along with the poultry these potstickers include cabbage and green onions, along with ginger, sesame oil and garlic for flavor. First you make the filling for these chicken potstickers and then you will be dividing the filling between the gyoza or wonton wrappers to make the potstickers. They are then fried and then steamed, to give them the golden brown crust on the bottom and soft finish on top, the qualities they are famed for.
Continue reading →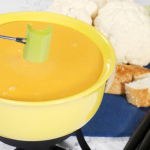 Cheese fondue is an amazing dish made with melted cheeses and other ingredients, and served with chunks of bread for dipping. Making fondue is really simple, and largely just a matter of adding your ingredients to a fondue dish and letting them melt and blend.
Some fondue sets use a flame while others are electric. You can also get different kinds, so if you like to make chocolate fondue or meat fondue, you might like to collect the fondue kits, since the thick earthenware cheese fondue bowl isn't the one needed to make meat or chocolate fondue.
Our recipe for cheese fondue is very simple to make and you will love the authentic cheese flavors. Serve this with baguette bread cut into pieces and everyone will really enjoy your homemade Swiss fondue. You might like to serve other items for dipping too, such as chopped celery, button mushrooms, or even fruit chunks.
Continue reading →