Appetizers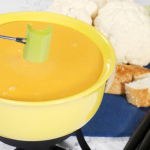 Cheese fondue is an amazing dish made with melted cheeses and other ingredients, and served with chunks of bread for dipping. Making fondue is really simple, and largely just a matter of adding your ingredients to a fondue dish and letting them melt and blend.
Some fondue sets use a flame while others are electric. You can also get different kinds, so if you like to make chocolate fondue or meat fondue, you might like to collect the fondue kits, since the thick earthenware cheese fondue bowl isn't the one needed to make meat or chocolate fondue.
Our recipe for cheese fondue is very simple to make and you will love the authentic cheese flavors. Serve this with baguette bread cut into pieces and everyone will really enjoy your homemade Swiss fondue. You might like to serve other items for dipping too, such as chopped celery, button mushrooms, or even fruit chunks.
Continue reading →
A bruschetta recipe is one of the best Italian appetizers. It is made by rubbing garlic over grilled bread, then adding olive oil, tomatoes, salt and pepper.
Some types of bruschetta recipe might also include cured meat, cheese, tomatoes, beans, or vegetables. The best-known bruschetta recipe outside Italy features fresh tomato, garlic and onion, fresh basil, and mozzarella.
So Many Bruschetta Recipe Options
A great bruschetta recipe is found on Italian restaurant menus all over the world, and there are hundreds of different ways to make it, which is why restaurant bruschetta ranges from bland to wonderful, depending who is making it. Make your own, following our recipe, and you can be guaranteed of an amazing result.
Continue reading →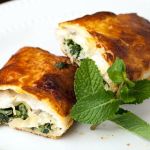 This amazing Greek dish is famed not only in Greece but anywhere in the world there are Greek people or Greek restaurants. I personally love Spanakopita Greek spinach pie and one slice is never enough! The joy of Spanakopita Greek spinach pie is that it is made with phyllo pastry. Adding melted butter between the pastry layers makes it really flaky and tasty. The filling is spinach, egg, 2 kinds of cheese, onion and parsley, and the flavor is simply amazing.
You can either make triangular servings or one large Spanakopita Greek spinach pie which is cut into slices. The method is the same but the large pie will take about twice the time to bake as the individual portions, so the choice is yours which to make. Although phyllo (also spelt filo) dough is more common, some recipes will tell you to make a flour and water crust instead which offers a heavier texture.
This type of dough is made in the Greek islands. Some recipes call for salty, white, fresh cheese to be used instead of the feta, and we usually add parmesan too, for a nice tangy contrast.
Continue reading →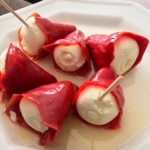 These stuffed mini peppers with goat cheese make an incredible appetizer and my husband and I both love them. Where we live we can buy them in different varieties – some are sweet while others are spicy.
One store uses the pointy end of spicy chilies as their 'mini' peppers while others use mini sweet peppers, mostly red but sometimes green or yellow.
Green is more savory while yellow (and orange to a lesser extent) is sweeter. Whichever peppers you use in this stuffed mini peppers with goat cheese recipe, the flavor of these little bites is going to be fantastic. See what they sell in your local food market and decide whether you want a sweet, semi-spicy or piquant result, or you could make some of each.
Plenty of Tempting Choices
Making your own stuffed mini peppers with goat cheese over buying them saves you money, plus you get to decide what result you want – spicy, medium or mild, as well as what color peppers you want, plus whether to use only goat cheese for the filling, or to combine the goat cheese with sour cream and/or cream cheese. There are a lot of options here actually!
Continue reading →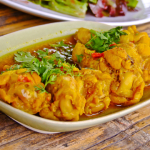 Elegant appetizer recipe ideas are becoming more popular than ever before, as people begin to experiment more in the kitchen. You need to choose an appetizer that will impress your guests with your knowledge of food, and the distinct choice of flavors used to make the dishes. There are many different recipes to choose from, regardless of the occasion, and your budget. Take Chinese tea smoked chicken for example – this is certainly elegant as well as unusual.
Presentation and Good Ingredients are Vital
If you use a good recipe for your appetizer, you can achieve an exciting, elegant appearance with very basic ingredients. Expensive ingredients can be used but you will be surprised what you can achieve with more affordable options. Miniature appetizers always appear to be elegant, and can ensure that your guests want more of the delicate flavors.
These Chinese lettuce cups with their heavenly chicken mixture on top offer the perfect appetizer before a main dish. Served warm they are simply fantastic and you're sure to enjoy the aromatic flavor of this Chinese tea smoked chicken recipe. Feel free to leave out any of the ingredients you do not like or consider swapping the chicken thighs for breasts if you want, or even duck breast if you prefer that.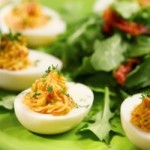 Starter recipes as they are called in the UK, or appetizer recipes as they are known in the US, are little snacks which are served before the main dish. There are easy starter recipe ideas to suit every occasion.
There are hot and cold starter recipes that everyone can prepare, no matter whether you happen to be a newbie in the kitchen or an experienced and seasoned chef.
So what are you planning to make as your New Year's Eve starter recipes? A parma ham and melon starter, prawn cocktail, cheeseballs, canapes or something else? Keep reading if you are still looking for New Year's Eve appetizer inspiration.
Easy Starter Recipe Ideas and Ingredients
You can use meat, poultry, fish, seafood or even vegetarian or vegan ingredients to make easy starter recipes and you do not have to spend a lot of time on them either.
Easily made starters are always welcomed at all kinds of occasions and you can choose from meaty starter recipes, seafood ones, vegetarian dishes or just a mixture of everything.
Continue reading →