Vegetarian Appetizers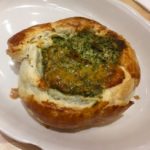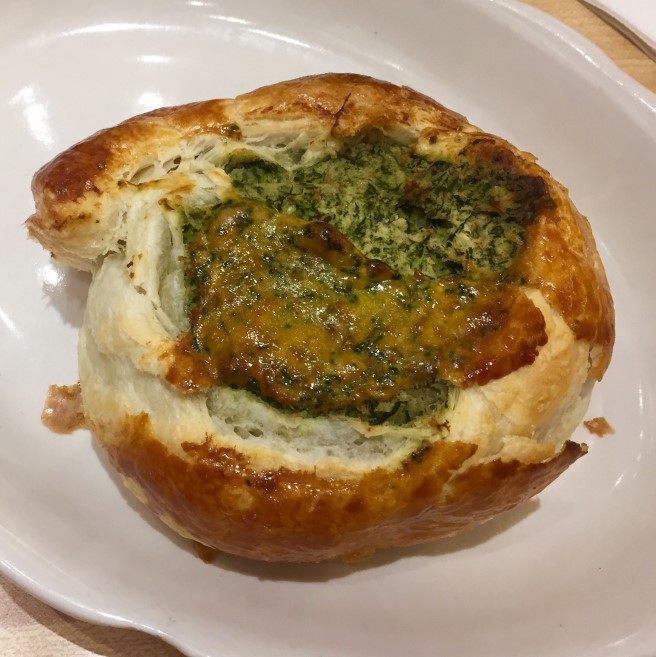 I first tried spinach potato knishes (pronounced kuh-NISH-es) at Kenny and Ziggy's in Houston TX, and wow was this some spectacular comfort food. I'm British so I am used to Cornish pasties (a tasty pastry-enclosed meat and potato recipe from the southwest corner of England) and I also enjoy pastry-wrapped or pastry-enclosed vegetable recipes for lunch or as snacks.
What are knishes, I asked myself, perusing the menu. Google to the rescue and I read the description. My mouth began to water and I thought wow I have to order these! So, now you're asking what are knishes exactly? Well this tasty Jewish recipe is a savory pie. Knishes can be filled with potatoes, meat, sauerkraut, kasha, cheese, onions, spinach or a combination of these. Knishes may be baked, grilled or fried. The flavor remains similar but the spinach potato knishes texture varies depending on the cooking method employed.
Spinach potato knishes, which like the others are vegetarian knishes, can be compared to other pastry appetizers or baked dumpling type dishes, such as empanadas from Mexico, pasties from the UK, calzone from Italy or pirozhki from Russia. You can also compare the format and flavor to Jamaican patties, southeast Asian curry puffs, South and Central Asian samosas, Middle Eastern fatayers and Portuguese rissols.
Continue reading →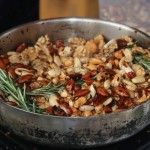 If you are looking for an amazing snack, consider this honey roasted nuts with rosemary recipe. You can use any kind of nuts you want, maybe just walnuts or cashews, or a selection of your favorites. Just choose plain ones, not the spiced, salted or already-roasted kind.
Walnuts work really well in this honey roasted nuts with rosemary recipe, or you might want to use different ones so people can take a peek and pick out their favorite ones. Make a big batch of this (perhaps double the recipe) if you have a crowd coming over, because the roasted nuts keep for up to a week in an airtight container.
The first thing to do when making honey roasted nuts with rosemary is roast the nuts in the oven, just to bring out their flavor and get them extra-crunchy. While they are roasting you can melt the butter with the honey, oil, salt and rosemary in the microwave, then toss the nuts with the honey mixture and then roast them again in the oven.
Some More Hot Content For You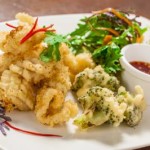 Most people love to cozy up and relax during the colder months. There's something about the winter weather that brings people together and gathering around some hearty and easy winter appetizer ideas is a great way to spend that time with friends and family.
In the winter, it's best to serve warm foods, but don't let that overwhelm you. There are plenty of ways to present a great spread without slaving away in the kitchen for hours. You don't have to tell anyone how easy the winter appetizer ideas were to prepare!
One simple strategy for an appetizer sure to impress is to do fondue. Fondue can be easily customized to your party's theme or guests' needs and the communal nature of the dish works well in group settings. A popular type of fondue is cheese fondue. You can mix a variety of herbs and spices in with the cheeses to give unique flavors and serve pieces of bread, meats, and vegetables for dipping.
Continue reading →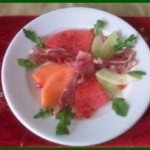 One of the things that brings people together is the enjoyment of food. There are few things better than gathering around a table on a summer evening to snack and relax with friends. And there are easy summer appetizer ideas for all palates and occasions, so you won't be stuck for choice.
What makes appetizers so appealing when compared to full meals? Appetizers are usually bite size, making them easy to eat while socializing, and a table full of different options is far more exciting than committing to just one meal or flavor.
Many summer appetizer ideas are not only easy to eat, but also easy to prepare. Cold appetizers are especially effortless since they can look artfully done with just some chopping, arranging, and intentionally placed fresh herbs. Even some cooked appetizers are of the set-it-and-forget-it variety. Throw some ingredients in the slow cooker and wait awhile or skewer a couple different meat and vegetable combinations for colorful kabobs that can go from barbeque to plate in a snap.
Continue reading →
This potato pierogi recipe is one of my favorites, but what are pierogi exactly? Well, pierogi are unleavened dough dumplings which are boiled and then fried or baked in butter. They can be stuffed with potatoes, ground meat, fruit, cheese, sauerkraut, or something else. Pierogi are normally half moon shape but they can also be triangular or rectangular.
Not to be confused with pirog (Russian pies) or pirozhki (Russian stuffed fried buns), pierogi are small enough to be served several at a time, which is why the plural of the word is used when talking about them. These little snacks are popular in Russia, Ukraine, the Czech Republic, Lithuania, and some parts of Poland. A potato pierogi recipe is simple to make and they taste fresh and satisfying.
They can be compared to tortellini, wontons, Chinese dumplings, or anything made by stuffing a skin or wrapper made of dough then cooking it with the filling inside. There is something magical about these and many kids fondly remember Grandma making a huge batch of them and maybe being allowed to help. Like other dumpling type recipes the more you make this potato pierogi recipe the easier and quicker you will be able to get them done.
What Do You Need to Make a Potato Pierogi Recipe?
In our potato pierogi recipe the pierogi are filled with a cheesy potato mixture which is really delicious. The dough is simple to make. For that we use egg yolks, potatoes, flour, shortening and cream of tartar. Once the dough is rolled out and cut into circles, you can add the filling, seal them and boil them in water.
Continue reading →
A bruschetta recipe is one of the best Italian appetizers. It is made by rubbing garlic over grilled bread, then adding olive oil, tomatoes, salt and pepper.
Some types of bruschetta recipe might also include cured meat, cheese, tomatoes, beans, or vegetables. The best-known bruschetta recipe outside Italy features fresh tomato, garlic and onion, fresh basil, and mozzarella.
So Many Bruschetta Recipe Options
A great bruschetta recipe is found on Italian restaurant menus all over the world, and there are hundreds of different ways to make it, which is why restaurant bruschetta ranges from bland to wonderful, depending who is making it. Make your own, following our recipe, and you can be guaranteed of an amazing result.
Continue reading →
Other Posts You Might Like