Vegetarian Appetizers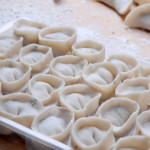 Making your own wonton noodle recipe, or wonton wrappers, from scratch is not difficult. Although there are different wonton wrapper recipes, this is perhaps the simplest and it offers a very good result. Yes you can buy them from the store but should you?
Of course that very much depends on the results you are looking for. If you want to take the time to learn how to make wonton wrappers then it is well worth making them. You will get a fresher taste and you will also get lots of kudos from everyone enjoying your homemade wontons if they learn you not only filled and cooked the wontons but learned how to make wonton skins and made the whole dish from scratch. Impress everyone with a wonton noodle recipe!
Chill the dough before adding the filling – you will find it easier to handle. Also, you might wish to double the wonton noodle recipe since these freeze well and you might as well make plenty. Wonton making is something that you improve with the more you do it. That applies to making wonton wrappers from scratch and also to stuffing them and ending up with results that look professional.
Take your time with our wonton noodle recipe and don't rush making these. Don't be disappointed if the results aren't as perfect as you'd hoped either. Just repeat the wonton noodle recipe a few times and you will get better results every time. Continue reading →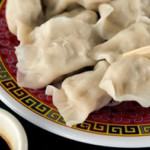 Steaming wontons is one of the very best ways to cook them because you do not have to cook them in oil or fat, and steaming them means the wonton wrapper will be lovely and soft. Steamed vegetable wontons can be added to wonton soup or served as they are, with a flavorful dipping sauce, as an appetizer, snack or side dish.
The following recipe for steamed vegetable wontons shows you how to make a tasty wonton filling with various veggies, as well as some soy sauce for a simple yet mouthwatering flavor. The vegetables are cooked briefly with the soy sauce, then this mixture goes into the wonton skins and the wontons are steamed until they are done.
The Perfect Sauce for Steamed Vegetable Wontons
This recipe also shows you how to make a nice sauce by sautéing garlic with chilies and green onions, and you can drizzle this over the steamed vegetable wontons or serve it on the side as a dipping sauce. Learning how to steam wontons is really easy and the best way to make this dish is to use a bamboo steamer basket. You can pick one up for a few dollars from any Asian food store and use them for making dumplings, steamed wontons, and even for steaming chicken, fish or other vegetables. Steamer baskets come in a variety of sizes and you can also stack them to steam multiple dishes at once. Continue reading →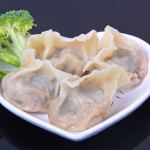 This recipe combines broccoli, green onion, carrot, garlic and Asian condiments for a vegetarian-friendly wonton recipe. The wontons are steamed so you do not have to use any fat in the recipe either. If you are looking for something healthy and nutritious, which is easy enough for a beginner home cook to put together then you might be interested in this steamed vegetable wontons with broccoli recipe, especially if you like steamed dumplings.
Wontons can be deep-fried, steamed, cooked in a soup or baked, but steaming gives them a lovely texture and cooks them gently. Make sure the filling is well mashed up before adding it and don't overstuff the wonton wrappers else they won't hold together.
Learning how to steam food and, more precisely, how to make a steamed vegetable wontons with broccoli recipe, is very simple. The cheapest and easiest way to steam your wontons is perhaps to get a bamboo steamer. You can find these at any Asian food store and they come in different sizes. Although you can stack them, you will only need one to make a batch of steamed wontons and that will only cost $5 or so. This recipe shows you how to make the best steamed wontons, and you can use different types of vegetables if you would rather. Continue reading →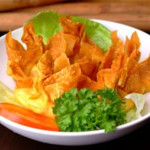 Cream cheese wontons recipes are so easy to make. All you need apart from the oil for frying are some wonton skins and cream cheese. I usually use Philadelphia cream cheese but you can use any kind you like. You could even use one of the flavored kinds, like herb cream cheese or tomato and basil cream cheese for your cream cheese wontons recipes, but the plain kind works just fine too.
You can fold the wontons up however you want when making cream cheese wonton recipes, perhaps pulling two of the pointed tips towards each other, then the other two. Alternatively you could scrunch the tops to make a "moneybag" shape or simply fold the wontons into triangles. Learning how to wrap wontons is very easy and there are more wonton designs you can use if you are feeling especially creative.
Cream Cheese Wonton Recipes: Easy Enough for Any Cook
Cream cheese wonton recipes would be good for a beginner – someone who has never made these little dumplings before. Because there are so few ingredients it just gives you a nice taster of how simple the process is. Once you have tasted some cream cheese wonton recipes you will definitely want to make other wonton recipes too. These hot, crispy wontons are perfect as an appetizer or snack. You could make them if you have friends coming over or if you just want to eat something delicious while you watch a movie or the game. Continue reading →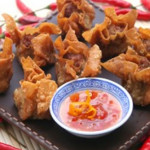 This easy appetizer recipe combines cheese wontons with homemade hot sauce. You could use store-bought hot sauce but where's the fun in that?
Now cheese is certainly not a Chinese staple, which is why it is never seen on the menu in authentic Chinese food restaurants, but wonton skins go so well with cheese that not including a few cheese wontons recipes would be sinful! Yes these cheese wontons with homemade hot sauce do include dairy, which isn't found in much Chinese cuisine or Asian cuisine in general, but try it and see. It works nicely.
Which Cheese to Use
This cheese wontons with homemade hot sauce recipe calls for Monterey Jack cheese, but use whichever cheese you like. A sharp Cheddar would be good. Mozzarella would give a stringy texture and soft taste. Even brie cheese could be good with this one. It is important to let these wontons cool for 10 or 15 minutes before serving them. The cheese will still be melted but it will not be molten and mouth-burning! When people eat beef wontons or pork wontons or another type of wontons when the filling is solid or tightly packed, that is one thing, but biting into a hot cheese wonton means you might get cheese dripping down your lip or chin, and that can burn. Continue reading →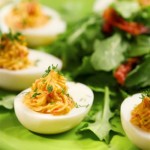 Deviled eggs make a nice dish before any main course or you can serve them at a buffet or party. Curried deviled eggs are especially nice and the curry flavor goes really well with the egg taste. You can add a bit of sweet relish or minced sun-dried tomatoes too if you want to.
You might also want to add a couple of drops of Tabasco sauce or a bit of Dijon mustard to spice this deviled eggs recipe up. If you prefer plain deviled eggs, just leave out the curry powder and green onions. Most people will prefer the eggs slightly curried though.
More Tips for Curried Deviled Eggs
If you don't have a piping bag to pipe the egg yolk filling back into the egg whites you can spoon it in, but obviously it looks more attractive if you pipe the filling in. It's not tricky like decorating a cake – as long as you aim for the space in the egg white where the egg yolk was, you will be fine! Continue reading →