Vegetarian Appetizers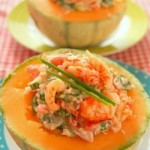 Traditional British Appetizers from all Over the UK
It's true that the UK is home to so many delicious traditional British appetizers. Whether you fancy reproducing the tasty dishes from English, Ireland, Scotland or Wales, there are lots of different recipes you can play around with, to make the most mouthwatering dishes for your friends or family.
From classic English prawn cocktail to Scottish seafood dishes, Irish onion rings with Guinness or Welsh rarebit, there are traditional british appetizers for all occasions. These starter recipes, as they are known in the UK, or appetizers as they are known in the US, offer something for every palate. Continue reading →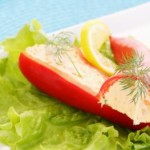 These cream cheese stuffed sweet peppers are gorgeous and I often make them as a side dish. I like to use the long pointy red peppers, both because of their nice, sweet flavor, and also because of how they lie flat on the plate and don't fall over. You can use bell peppers if you want, or even chilies if you have a taste for them. Roast these in the oven or broil them if you prefer. Keep an eye on them. You will be able to see when they are done.
Tweak if You Wish
It is perfectly possible to tweak this cream cheese stuffed sweet peppers recipe based on what you have. I have made these with just the peppers and the cream cheese before because I didn't have any sour cream. You can also add minced garlic, minced green onion or anything else you fancy. If you are making these as an accompaniment for Mexican food, perhaps add some chopped cilantro or a pinch of chili powder to the filling mixture.
Canapes (KAH-nah-pays) for a party, which are also known as hors d'oevres, are little snacks which are served with drinks, either by themselves or before the sit-down meal is ready. These canapes for a party can be very simple and might be something spread on crackers or melba toast, or even a stuffed cherry tomato or deviled egg.
The best canapes for a party are those which can be eaten with the fingers, so people can just pick them up without making their fingers messy. Also, they should be able to be eaten in one or two bites, and you shouldn't need cutlery. A canape in one hand and a drink in the other is fine. Add cutlery and it becomes too much.
In the following canapes for a party recipe we are using crackers along with two different toppings. Although this might look like a very easy canape recipe, and indeed it is, it might be the case that you are simply looking for canape ideas, in which case why not consider these? Arranging them on a nice platter and finishing them off with some fresh herb sprigs will add sufficient elegance.
Continue reading →