Bread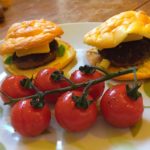 There is low carb bread and there is this very low carb bread recipe. If you've been doing Atkins or low carbing for a while, you will have tried some of the more 'eggy' or 'dense' breads and while they are passable (just!) they aren't exactly a good bread substitute.
Some low carbers will forgo the bread entirely, choosing to wrap their burger or sandwich in a large lettuce leaf instead and while there is nothing wrong with that, sometimes it's nice to have something a bit chewier and more bready, even if it isn't going to be that high-carb processed stuff you used to eat before.
There are various names for the very low carb bread recipe I am talking about – revolution rolls, cloud bread, oopsie bread, each having a slightly different recipe and preparation technique.
Here I am sharing what I found works best of all, and that's a bread which is easy to make, uses clean ingredients (ie, not processed) and is low in carbs but offers a nice taste and chewy bread-ish texture. Continue reading →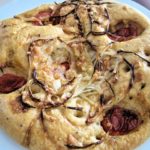 Focaccia is a tasty Italian bread which complements all kinds of dishes. Although you can buy it from the bakery or grocery store, making your own easy tomato and onion focaccia loaf is worthwhile because let's face it – you can't beat freshly baked bread! And this one is certainly no exception.
How to Serve Focaccia
You can serve this easy tomato and onion focaccia as an appetizer, either alone or with dips like sour cream dip or onion dip, or else have it with your main dish. If you are having beef, chicken or similar in a sauce, focaccia bread can be used to scoop up every last drop of those yummy meat juices, making it a worthwhile accompaniment to any Italian meal.
This recipe is simple to follow. Grab some yeast, flour, salt, oil, onion, tomato and oregano to make it, and allow an hour or so time for the dough to rise. This baked Italian bread is similar to pizza dough and is often served with appetizers or tapas in Italian cuisine.
Why Focaccia Rises More
Focaccia uses more yeast than pizza dough though, so it rises more. Serve this easy tomato and onion focaccia flat bread with your appetizers, alone with aperitifs, with dips (fusion style) or alongside your Italian inspired meat or fish dish, and you're sure to have a winner on your hands. Continue reading →
Some More Hot Content For You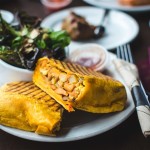 A beloved Mexican and Tex-Mex food, a burrito makes a great lunch, dinner or snack. And this is the best breakfast burrito recipe I ever tried! One modern trend is all about presenting this hearty delight first thing in the morning and calling it a breakfast burrito. So you can have your breakfast all rolled up neatly burrito-style. A breakfast burrito recipe will contain typical breakfast ingredients like potatoes, bacon, eggs, mushrooms, whatever else you like. These fillings will be hot and cooked, enclosed in a soft flour tortilla.
Burritos are wrapped or folded to enclose the filling, unlike a taco which is usually folded in half around the filling. Some people like to steam or lightly grill the tortilla to softed it, so it wraps around the filling more easily. Order a regular burrito in Mexico and you can expect meat and refried beans to be your typical filling. Head north of the border into the US though and you will find a wider variety of fillings like rice, beans, lettuce, salsa, cheese, sour cream, guacamole and, where breakfast burritos are concerned, even bacon, eggs and hash browns – hey, why not!
The word burrito translates from the Spanish to mean 'little donkey' and it is thought the name comes from the look of the bedrolls and packs donkeys used to carry. Try this best breakfast burrito recipe when a bowl of cereal simply isn't enough to prepare you for the day ahead. Continue reading →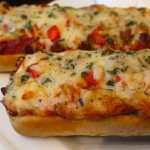 Pizza comes frozen or from the pizza delivery place or from your local Italian restaurant. But wait, what about the best pizza? Well that would be the kind you make yourself at home! Honest, it's so quick and easy to make pizza yourself and you don't even have to make the dough. This homemade pizza on French bread will have the kids (and grownups) beating down the kitchen door, it smells so good!
The quickest pizza recipe probably has to be this tortilla pizza but next up you have baguette pizza or French bread pizza, which is French bread, French stick or baguette bread (however you call it) topped with tomato sauce and pizza toppings to make the most amazing appetizer or main dish.
Why Use French Bread as a Pizza Crust
French bread makes a great pizza crust since it is naturally crispy on the outside and soft in the middle. It really is so delicious! Top with your favorite sauce and toppings and you will find just anything goes. Get as inventive as you wish with a homemade pizza on French bread.
In addition to French bread being crispo and tasty, it holds the sauce and toppings really well, so the next time you fancy Italian food but not spaghetti carbonara or traditional pizza, consider this French bread pizza recipe and rustle up something quick, easy and above all… tasty! I like shrimp on mine, or maybe tuna or another kind of seafood. I just like seafood pizza. Oh, and smoked salmon – that is good too!
Continue reading →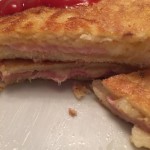 French toast, also known as eggy bread, makes a great breakfast. The bread is usually dipped in beaten eggs and then pan-fried until golden brown. This recipe takes the classic French toast to the next level, however, by adding ham and cheese to the mix. This is known as a Monte Cristo sandwich, and can be pan-fried or deep-fried. Ham and cheese French toast is something kids love, and so do the grownups!
Serve ham and cheese French toast with some ketchup for breakfast, brunch or a hot snack at any time, and enjoy the wonderful flavors. This is a snack which is sure to keep you feeling satisfied until your next meal. Serve these sandwiches hot from the pan and enjoy the wonderful crispy outside and the gooey cheese inside.
What Bread for Ham and Cheese French Toast?
You can use any kind of bread for ham and cheese French toast, perhaps baguette or ciabatta, or even regular sliced bread. It is best to use day-old bread because very fresh bread is more delicate and can tear. Use ready-sliced ham and cheese to save time. Cheddar is good here, or you can use any other type of melting cheese you want. Emmental or Gruyere are really good in this Monte Cristo recipe as well. Continue reading →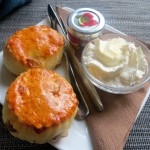 Being from Devon, in southwest England, it goes without saying I am fond of English scones and know a good traditional English scones recipe. Served with clotted cream and then jam on top (or jam and then clotted cream if you are from Cornwall rather than Devon), these wonderfully delicious little treats are best served with a pot of strong tea.
English Scones vs. American Scones
British scones are not the same as American ones which have more butter in the mix compared to flour than the British ones. This is why the traditional English scones recipe differs. Because butter is usually added before the cream and jam, less butter is used in the batter. The same is true about the amount of sugar. A British scone is either plain or made with raisins. I have also made savory cheese and mustard ones (and those are amazing served warm with butter on top).
A typical English cream tea is something you will find all over the country, especially in touristy areas, and you can expect to get a pot of tea with milk and sugar on the side, a freshly baked scone, some butter, clotted cream (certainly not whipped or squirty cream!) and jam. Knowing a traditional English scones recipe means you can host your own tea parties though.
Although one scone might not sound very filling, trust me – this is a calorific treat which is pretty heavy! You might think you can eat two, but not many people can! Continue reading →
Other Posts You Might Like