Bread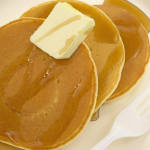 If you love the flavor and texture of IHOP pancakes you are not alone. These delicious, fluffy treats make a wonderful breakfast, teamed with maple syrup or another type of syrup if you are kind of hungry, or eggs, bacon and the whole enchilada if you have a raging appetite! I wanted to make copycat IHOP pancakes so I could prepare them at home.
Perhaps you are in the mood for this authentic IHOP pancakes recipe but you don't really want to get in the car and drive, in which case try the following recipe because the texture and flavor will be just like the IHOP pancakes you know and love.
Copycat IHOP Pancakes – Beautiful Lazy Brunch Idea
Make these copycat IHOP pancakes on a lazy Saturday or Sunday morning for the whole family, and they will all be really impressed, I promise you! Breakfast or brunch… anytime is great for this recipe. Feel free to double or triple this recipe if you are feeding a crowd. You can make as many copycat IHOP pancakes at the same time as your skillet allows. If you only have a small one then either serve some and keep cooking the rest or keep them warm in a warm oven until the whole lot are cooked.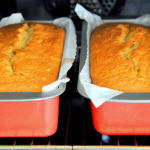 This incredibly easy banana bread with applesauce recipe is made by combining bananas with applesauce, eggs, vanilla and flour. Some sugar, baking soda, baking powder and salt also go into the mix. Making this is very straightforward because you just have to combine the ingredients in a bowl, transfer the resulting mixture into a greased loaf pan, and then you can bake it until done.
Easy Banana Bread with Applesauce: Such a Tempting Snack
Served hot with butter and honey, this makes the most amazing snack, and it is a great comfort food. Homemade banana bread appeals to all the family from the youngest to the most senior, and there are all kinds of tweaks you can apply, such as adding chocolate chips, walnuts or raisins.
The applesauce increases the sweetness without having to use extra sugar, and it also helps keep the bread moist and dense, which good banana bread should be. Make this easy banana bread with applesauce loaf for the kids and they'll be sure to enjoy it.
Continue reading →
Some More Hot Content For You
A bruschetta recipe is one of the best Italian appetizers. It is made by rubbing garlic over grilled bread, then adding olive oil, tomatoes, salt and pepper.
Some types of bruschetta recipe might also include cured meat, cheese, tomatoes, beans, or vegetables. The best-known bruschetta recipe outside Italy features fresh tomato, garlic and onion, fresh basil, and mozzarella.
So Many Bruschetta Recipe Options
A great bruschetta recipe is found on Italian restaurant menus all over the world, and there are hundreds of different ways to make it, which is why restaurant bruschetta ranges from bland to wonderful, depending who is making it. Make your own, following our recipe, and you can be guaranteed of an amazing result.
Continue reading →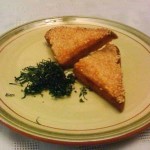 Chinese prawn toast, or Chinese shrimp toast, is very popular and makes a tasty hot starter. You don't have to serve Chinese food as the main course since this Chinese prawn toast recipe goes nicely as an appetizer before a Thai main course, Indian main course or anything else you like.
How Does a Chinese Prawn Toast Recipe Taste?
These little appetizers often have sesame seeds on but that is not essential. The toasts should be crispy without being burned, and taste fishy without being too fishy. Prawn toasts usually feature on Chinese restaurant menus because their wonderful crunch makes them very appetizing. Continue reading →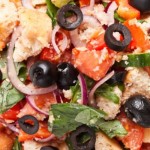 This Tuscan bread salad is a wonderful summer starter recipe because there is no cooking involved. It is best to make this colourful Tuscan bread starter using Italian bread but you can use another type if you have some to use up. Sourdough bread, pita bread and wholemeal bread all work well.
Tuscan Bread Salad: Preparing the Bread
Tear the bread up to make big chunks or shred it like breadcrumbs, whichever you prefer. You can get creative with this easy salad recipe and add your own touches to it.
This is a bread salad not a crouton salad so you don't need to fry or toast the bread. This vegetarian starter recipe is called "panzanella" in Italian and it is a great way to use up stale bread, as well as a healthy starter recipe if you like to use plenty of fresh produce. Continue reading →
Other Posts You Might Like