Cheese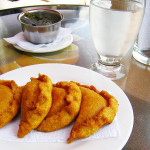 There are easy 3 ingredient recipes for every occasion, season and palate. Perhaps you are in the mood to make a hearty meat dinner or something fancy with fish. It could be that you are looking for easy 3 ingredient recipes for the crockpot because you are going to be out all day and you know you'll get home late and want to eat dinner and fall into a comfy chair in front of the TV with something already made.
Or what about making three ingredient sauces or dips for your meat, fish or chips? Some of our drinks recipes are sure to tempt you too. There are recipes for every skill level, whether you have barely set food in the kitchen before or whether you like to rustle up exciting treats for your family on a daily basis.
Some of these easy 3 ingredient recipes might be good with a grinding of salt and pepper over, or with some mayonnaise on the side or another embellishment, but if that is the case I will suggest it in the matching recipe. They are great as they are, or you can always add more, to personalize the meal exactly how you like it. Continue reading →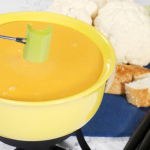 Cheese fondue is an amazing dish made with melted cheeses and other ingredients, and served with chunks of bread for dipping. Making fondue is really simple, and largely just a matter of adding your ingredients to a fondue dish and letting them melt and blend.
Some fondue sets use a flame while others are electric. You can also get different kinds, so if you like to make chocolate fondue or meat fondue, you might like to collect the fondue kits, since the thick earthenware cheese fondue bowl isn't the one needed to make meat or chocolate fondue.
Our recipe for cheese fondue is very simple to make and you will love the authentic cheese flavors. Serve this with baguette bread cut into pieces and everyone will really enjoy your homemade Swiss fondue. You might like to serve other items for dipping too, such as chopped celery, button mushrooms, or even fruit chunks.
Continue reading →
Some More Hot Content For You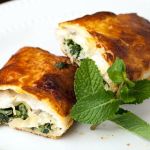 This amazing Greek dish is famed not only in Greece but anywhere in the world there are Greek people or Greek restaurants. I personally love Spanakopita Greek spinach pie and one slice is never enough! The joy of Spanakopita Greek spinach pie is that it is made with phyllo pastry. Adding melted butter between the pastry layers makes it really flaky and tasty. The filling is spinach, egg, 2 kinds of cheese, onion and parsley, and the flavor is simply amazing.
You can either make triangular servings or one large Spanakopita Greek spinach pie which is cut into slices. The method is the same but the large pie will take about twice the time to bake as the individual portions, so the choice is yours which to make. Although phyllo (also spelt filo) dough is more common, some recipes will tell you to make a flour and water crust instead which offers a heavier texture.
This type of dough is made in the Greek islands. Some recipes call for salty, white, fresh cheese to be used instead of the feta, and we usually add parmesan too, for a nice tangy contrast.
Continue reading →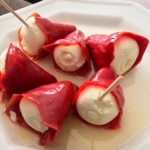 These stuffed mini peppers with goat cheese make an incredible appetizer and my husband and I both love them. Where we live we can buy them in different varieties – some are sweet while others are spicy.
One store uses the pointy end of spicy chilies as their 'mini' peppers while others use mini sweet peppers, mostly red but sometimes green or yellow.
Green is more savory while yellow (and orange to a lesser extent) is sweeter. Whichever peppers you use in this stuffed mini peppers with goat cheese recipe, the flavor of these little bites is going to be fantastic. See what they sell in your local food market and decide whether you want a sweet, semi-spicy or piquant result, or you could make some of each.
Plenty of Tempting Choices
Making your own stuffed mini peppers with goat cheese over buying them saves you money, plus you get to decide what result you want – spicy, medium or mild, as well as what color peppers you want, plus whether to use only goat cheese for the filling, or to combine the goat cheese with sour cream and/or cream cheese. There are a lot of options here actually!
Continue reading →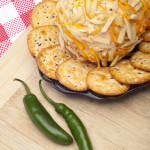 Find out how to make a delicious cheeseball by combining ingredients like cheese, garlic, cream cheese, nuts, bacon and other ingredients. Cheeseball recipes have been around for decades but they never lose their appeal!
So what do you serve with cheeseball recipes? Well they are great for dipping crackers, chips or bread slices and the softer ones are even good with softer ingredients. Take your pick but crackers are my preference.
Do You Serve Cheese Balls Chilled or Not?
Well you can leave your cheese ball at room temperature to soften it or keep it chilled until serving for extra firmness. But don't serve it too cold or you won't be able to scrape bits off with the crackers. Don't serve cheeseball recipes too warm either else they will melt!
They are a wonderful answer if you are looking for dinner party starter recipes or dinner party appetizers. You can make cheeseballs ahead and simply chill them until you are ready to serve the cheeseball along with whatever accompaniments you want.
Continue reading →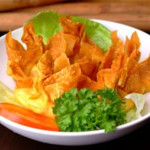 Cream cheese wontons recipes are so easy to make. All you need apart from the oil for frying are some wonton skins and cream cheese. I usually use Philadelphia cream cheese but you can use any kind you like. You could even use one of the flavored kinds, like herb cream cheese or tomato and basil cream cheese for your cream cheese wontons recipes, but the plain kind works just fine too.
You can fold the wontons up however you want when making cream cheese wonton recipes, perhaps pulling two of the pointed tips towards each other, then the other two. Alternatively you could scrunch the tops to make a "moneybag" shape or simply fold the wontons into triangles. Learning how to wrap wontons is very easy and there are more wonton designs you can use if you are feeling especially creative.
Cream Cheese Wonton Recipes: Easy Enough for Any Cook
Cream cheese wonton recipes would be good for a beginner – someone who has never made these little dumplings before. Because there are so few ingredients it just gives you a nice taster of how simple the process is. Once you have tasted some cream cheese wonton recipes you will definitely want to make other wonton recipes too. These hot, crispy wontons are perfect as an appetizer or snack. You could make them if you have friends coming over or if you just want to eat something delicious while you watch a movie or the game. Continue reading →
Other Posts You Might Like