Cheese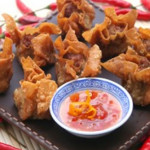 This easy appetizer recipe combines cheese wontons with homemade hot sauce. You could use store-bought hot sauce but where's the fun in that?
Now cheese is certainly not a Chinese staple, which is why it is never seen on the menu in authentic Chinese food restaurants, but wonton skins go so well with cheese that not including a few cheese wontons recipes would be sinful! Yes these cheese wontons with homemade hot sauce do include dairy, which isn't found in much Chinese cuisine or Asian cuisine in general, but try it and see. It works nicely.
Which Cheese to Use
This cheese wontons with homemade hot sauce recipe calls for Monterey Jack cheese, but use whichever cheese you like. A sharp Cheddar would be good. Mozzarella would give a stringy texture and soft taste. Even brie cheese could be good with this one. It is important to let these wontons cool for 10 or 15 minutes before serving them. The cheese will still be melted but it will not be molten and mouth-burning! When people eat beef wontons or pork wontons or another type of wontons when the filling is solid or tightly packed, that is one thing, but biting into a hot cheese wonton means you might get cheese dripping down your lip or chin, and that can burn. Continue reading →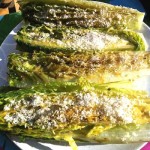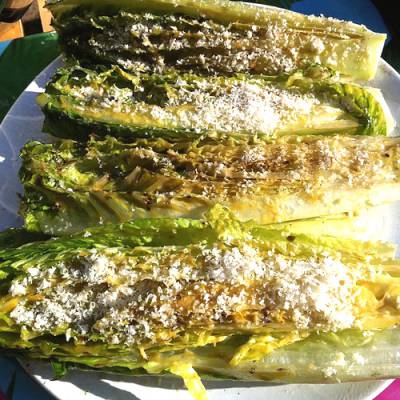 This grilled lettuce with goat cheese is a delicious starter recipe and is ideal for people who can't eat gluten. This might be a simple recipe but it tastes really good. You might not have cooked lettuce before but it is perfect in this delicious gluten free recipe.
Grilled Lettuce with Goat Cheese: Uh, Cooked Lettuce – Really?
Yes, you really can cook lettuce and not end up with a watery mess in the pan. That does not apply to all lettuce though and you will need to choose something which holds its shape quite well like Little Gem or Romaine.
The lettuce just needs to be heated up and crisped on the surface touching the pan. Try cooking it too long and you will end up with a watery mess. So you might be wondering just how hard this grilled lettuce with goat cheese recipe is. Actually it's easy! Just ensure you crisp the edges and don't overcook! Continue reading →
Some More Hot Content For You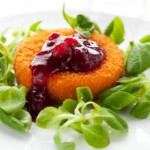 Camembert cheese is often featured as one of the cheeses on a cheeseboard, but there is more you can do with it. Similar to brie, this French cheese offers a ripe, creamy flavor, and it is also delicious served hot. Some people choose to fry the breaded Camembert in oil but you can also oven bake it if you want to cut the calories and fat content. Try this baked Camembert recipe for yourself to experience an amazing taste and texture.
How Many Will This Crispy Baked Camembert Recipe Serve?
This baked Camembert recipe will serve 2 if you want a filling starter or light main dish, or you can cut each cheese in half before you dip in the egg and breadcrumbs and serve each of 4 people a half-moon shaped cheese. Another idea is to cut the cheese into 4 or 6 smaller wedges and serve it that way. In the recipe we are keeping the cheeses whole though, just for visual appeal. Continue reading →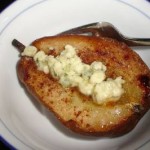 Doesn't the name of the recipe get your mouth watering already? Pears with Stilton and curd cheese – yum! Pears are often served with cheese because the flavors are so good together and in this recipe, both Stilton cheese and curd cheese are used. The yogurt and nutmeg add color, texture and flavor, and this is one of the best vegetarian starter recipes.
What is Stilton Like?
Stilton is an acquired taste to some people, especially if they are usually only found eating cheddar and the like, but it really is good. Stilton is a British blue cheese and it offers a lovely creaminess and slight salty taste. It's particularly good in this pears with Stilton and curd cheese recipe because of the contrast.
If you can't get it where you are, consider another kind of blue cheese. Danish blue is good but very salty, so bear that in mind if you don't want salty. Gorgonzola is also lovely. Just choose your favorite and it is sure to go nicely with this salad. Continue reading →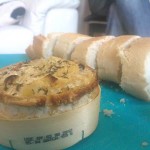 I love Camembert baked in its box! It's one snack I never get tired of. Cheese makes a great starter as well as an after-dinner dessert course. This Camembert appetizer recipe is similar to a cheese fondue and you can dip anything in it, including the bread, pickled vegetables and peppers mentioned here. Raw mushrooms are good for dipping, as are raw carrots and other crudites.
Camembert Baked in its Box: Simple to Make
You can buy Camembert in a box and simply put it in the oven, which is ideal for anyone who wants a simple fuss-free starter recipe which is going to work with both the vegetarians and carnivores around the table, offering the perfect feast for every palate.
Camembert is often served at room temperature with crackers and black grapes perhaps, as a French snack, but it melts so beautifully that everyone should try this recipe at least once. Continue reading →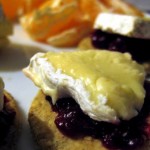 Fried Brie with hot cranberry sauce is a traditional starter and with this recipe, you can make it from start to finish in just a few minutes. Brie is a versatile cheese and is just as good served cold in a sandwich as served fried like this. Personally I'm not keen on cold Brie but I can't get enough of this fried Brie with hot cranberry sauce!
What is Brie Cheese?
Brie is a soft cow's milk cheese which is widely available. It's named after Brie, the French region where it originates from. Perhaps you have only had it cold, sliced, perhaps with French bread and grapes, but it is really good in this fried Brie with hot cranberry sauce recipe because it melts nicely.
This lovely starter recipe goes well before any kind of main dish, whether you are looking at roast chicken or beef, some kind of risotto or pasta dish, or even a stew. As long as it's not a cheesy main course this would make a very good first course. Continue reading →
Other Posts You Might Like