Cheese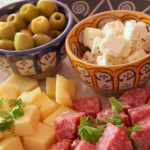 If you are looking for inspiration for quick and easy starter recipes, what about making a Mediterranean tapas platter? Tapas are great to nibble on and make a colourful and attractive starter recipe. For the best tapas recipe, choose a couple of different contrasting cheeses, some chorizo or salami, cherry tomatoes and olives. This mixture ensure you get plenty of color and diverse textures and flavors.
Mediterranean Tapas Platter: Tasty Tapas Tips
Choose any kind of olives you like for your Mediterranean tapas platter; black olives, green ones and stuffed ones are all good. Anchovies make nice tapas too, as do pickled onions, nuts, chopped ham and anything else that people can nibble at while enjoying a drink. If you are having a cocktail party and only serving starters instead of a main meal, Spanish style tapas are perfect because they are not too filling and you can offer a variety of different flavors without spending a long time in the kitchen. Continue reading →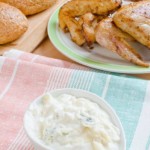 This creamy blue cheese dip blends blue cheese with cream, mayonnaise and milk, with some lemon to add brightness and garlic to complement the flavor. Serve this with chips or vegetable crudites, or consider it as a side for your next buffalo chicken recipe, since the creaminess is the perfect contrast for the heat of the hot sauce.
Creamy Blue Cheese Dip is So Easy to Make
Making this creamy blue cheese dip is really easy blue cheese dipping sauce is simply a question of adding the ingredients to the food processor and pressing the button. Give it a few seconds and your dip will be ready to serve. If you don't have a food processor use a blender. Continue reading →
Some More Hot Content For You
Other Posts You Might Like