Desserts
These are fantastic for Halloween, and suitable for the kids and grownups too. The desserts are served in little jars and you can tie some black ribbon around them to add that festive feel. Why not try this Halloween candy corn brûlée pots this Halloween?
The recipe is made in stages. You will be making several layers, then assembling the Halloween candy crème brûlée pots at the end and using a kitchen torch to get the sugar topping nice and crispy. If you don't have a kitchen torch just omit the last part.
Halloween Candy Corn Brûlée pots Make Great Halloween Fare
Halloween is a great time to experiment in the kitchen. You can rustle up all kinds of wonderful treats both sweet and savory, and these Halloween candy corn brûlée pots are certain to steal the show regardless of whatever else you have on your spook-tacular table.
Continue reading →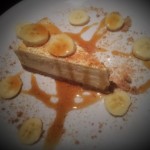 There are many types of cheesecake to choose from – chocolate, caramel, strawberry… the list goes on. Banana cheesecake is especially good though, and better still it is easy to make. This dessert is wonderful after any kind of main dish and you will probably want seconds because it's so good!
Our recipe uses vanilla wafer cookies and butter to make the crust, then the main layer is made with mashed bananas, sugar, cornstarch, eggs, cream and vanilla. The banana cheesecake is baked briefly in a hot oven then finished off in a cooler oven. When the middle is nearly set but still a little jiggly it is done.
How to Serve this Banana Cheesecake
Serve this with a few banana slices if you like. If you are cutting the banana more than a few minutes before serving the cheesecake, coat the slices in lime or lemon juice else they will turn brown.
Continue reading →
Some More Hot Content For You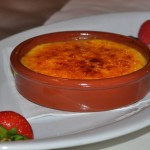 Learning to how many crème brûlée is easy, and this creamy, sweet dessert is very tasty after any kind of main dish. Crème brûlée, sometimes mis-spelt as crème brule, is also known as crema catalana, Trinity cream and burnt cream. But what is creme brulee exactly?
The rich custard base is topped with a hard caramel layer, and it is usually served at room temperature although it can also be served chilled if you want to make it ahead.
More about Crème Brûlée
Vanilla is the typical flavor for crème brûlée but there are other possibilities, including coconut, chocolate or coffee. This dessert dates back to at least the late 1600s. This dessert is similar to 'flan' which is a Spanish dessert served without the caramelized top.
This dessert is often served in individual ramekins and the top can be made separately and added, or else you can sprinkle sugar on the finished desserts, then use a cooking torch or broiler to caramelize it.
Our recipe only needs 5 ingredients. You will need egg, cream, white and brown sugar, and vanilla to make it, and this recipe is pretty easy to follow. Serve the dessert as it is or pair it with some fresh berries for a colorful contrast. We like it with fresh strawberries and even a sprig of fresh mint. When learning what is creme brulee and how to make it, you will also want to consider garnishes.
Continue reading →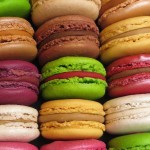 A macaron is a French meringue-based treat, made with powdered sugar, white sugar, egg white, almond and food coloring. These delicious little bites are often composed of two macarons sandwiched together with buttercream, jam or ganache, and you can get many different flavors. You can even make your own easy French macaron recipe. Don't confuse macarons (with one O) with macaroons (with two O's) – the latter are heavy, coconut cookies.
Macarons are been around for hundreds of years, and they are believed to date back to 8 AD. Italian pastry chefs accompanying Catherine de Medici in 1533 when she married Henry II of France, brought the recipe with them. 1792 was when these confections started to become famous, when a pair of Carmelite nuns sought asylum in Nancy, France, and they baked and sold macarons to fund their housing.
No fillings or flavors were used in these early macaron recipes so our easy French macaron recipe is a bit different to the original. The fillings came about in the 1830s. There are 2 different ways of making macarons, the French way and the Italian way, and it depends how the meringue is prepared. Continue reading →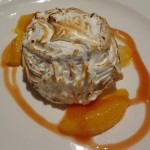 This baked Alaska recipe with caramel sauce is one of my favorite desserts, teaming delicious, refreshing ice cream with perfect meringue. Here we are serving the baked Alaska with caramel sauce to make the dessert even more decadent. This dessert is served cold, and the meringue completely covers the ice cream inside, making it look like a big iceberg, hence the name.
Although you can make individual baked Alaska desserts, we like to make one big ones, using a small ready-made chocolate sponge cake, topping that with 2 kinds of ice cream, and then adding the sweet, sticky meringue mixture. I bet you can't wait to try this baked Alaska recipe with caramel sauce.
You can use another kind of ice cream if you want, although the vanilla and caramel flavors do go nicely here. Sometimes I make this with vanilla, strawberry and chocolate ice cream for a classic baked Alaska flavor, but anything you want to use is good. Continue reading →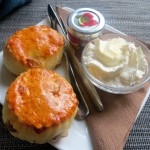 Being from Devon, in southwest England, it goes without saying I am fond of English scones and know a good traditional English scones recipe. Served with clotted cream and then jam on top (or jam and then clotted cream if you are from Cornwall rather than Devon), these wonderfully delicious little treats are best served with a pot of strong tea.
English Scones vs. American Scones
British scones are not the same as American ones which have more butter in the mix compared to flour than the British ones. This is why the traditional English scones recipe differs. Because butter is usually added before the cream and jam, less butter is used in the batter. The same is true about the amount of sugar. A British scone is either plain or made with raisins. I have also made savory cheese and mustard ones (and those are amazing served warm with butter on top).
A typical English cream tea is something you will find all over the country, especially in touristy areas, and you can expect to get a pot of tea with milk and sugar on the side, a freshly baked scone, some butter, clotted cream (certainly not whipped or squirty cream!) and jam. Knowing a traditional English scones recipe means you can host your own tea parties though.
Although one scone might not sound very filling, trust me – this is a calorific treat which is pretty heavy! You might think you can eat two, but not many people can! Continue reading →
Other Posts You Might Like