Desserts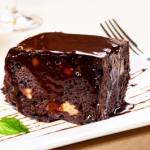 This is a rich and tasty chocolate walnut cake featuring all the best sweet flavors that go amazingly together. Chocolate cake is good, as is walnut cake, but combine the two and – bam! You have an incredible cake boasting the rich taste of chocolate and the distinctive crunch of walnut in every mouthful. This cake is easy to prepare and decorating it with the ganache is a breeze.
To make this flavorful cake you are going to need butter, chocolate, cocoa, coffee, eggs, sugar and walnuts. The frosting uses cream and dark chocolate along with some more walnuts to garnish the finished cake.
When to Make this Chocolate Walnut Cake
This chocolate walnut cake is suitable for all kinds of special occasions, such as a birthday or christening, or you might want to make it if you're in charge of the dessert part of a potluck buffet or simply because you want to try a brand new cake recipe.
Chocolate walnut cake recipes vary but this one is particularly straightforward so you should find it very easy. It's best if you have a mixer and microwave, but you can still make it (just with a bit more elbow grease) even if not.
Continue reading →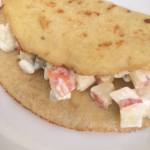 Whether you are looking for a tasty breakfast recipe, a quick snack or even a sweet treat when you get peckish in the evening, this easy banana pancakes recipe is ideal. You can combine the ingredients in a couple of minutes, then cook the pancakes in a skillet on the stove for a few minutes.
Serve them just as they are, drizzled with some syrup or perhaps will chopped fruit or berries as a filling. You can also tweak our recipe, perhaps adding some cinnamon or nutmeg or even a little brown sugar. The sweetness of the banana means you don't really need to add any sugar to the pancake batter, especially if you are going to serve it with syrup, but you know your palate best, so tweak it as you wish.
You can cook these in oil, butter or cooking spray, as you wish. Don't make them too thick, so unless you have a big skillet you might wish to divide the batter in 2 and cook 2 pancakes. Cook them on one side, then flip and cook the other side. The raw batter is very pale yellow, nearly white, and the finished pancakes are golden.
Continue reading →
Some More Hot Content For You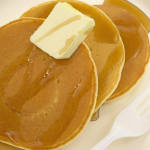 If you love the flavor and texture of IHOP pancakes you are not alone. These delicious, fluffy treats make a wonderful breakfast, teamed with maple syrup or another type of syrup if you are kind of hungry, or eggs, bacon and the whole enchilada if you have a raging appetite! I wanted to make copycat IHOP pancakes so I could prepare them at home.
Perhaps you are in the mood for this authentic IHOP pancakes recipe but you don't really want to get in the car and drive, in which case try the following recipe because the texture and flavor will be just like the IHOP pancakes you know and love.
Copycat IHOP Pancakes – Beautiful Lazy Brunch Idea
Make these copycat IHOP pancakes on a lazy Saturday or Sunday morning for the whole family, and they will all be really impressed, I promise you! Breakfast or brunch… anytime is great for this recipe. Feel free to double or triple this recipe if you are feeding a crowd. You can make as many copycat IHOP pancakes at the same time as your skillet allows. If you only have a small one then either serve some and keep cooking the rest or keep them warm in a warm oven until the whole lot are cooked.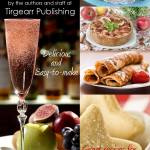 Summer is a great time for refreshing and fruit-based desserts and other tempting, light summer dessert ideas. If you want to linger a bit longer at the dinner table and savor something sweet while you do it there are plenty of choices. Most of the time you will want to serve something to either cool people down or showcase the wonderful summer fruits available during the warm months of the year.
A favorite summer dessert is ice cream. To make this common dish a little more special you can make it yourself. If you have an ice cream maker and a little bit of time you can create a special recipe for whatever you're craving that day, thinking up your own summer dessert ideas with ice cream.
If you don't have access to an ice cream maker an easy and healthy alternative is to make ice cream using frozen bananas. If you have a blender or food processor you can blend frozen bananas with any choice of mix-ins to create a delicious and surprisingly creamy dessert. A couple favorites are to mix in peanut butter, strawberries, or just a little vanilla extract and cinnamon before blending.
Continue reading →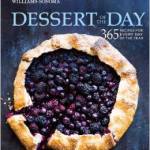 Winter is a wonderful time to try out some of the more rich dessert options available. In the warmer months, you won't want to spend much time in the kitchen and baking is definitely out of the question. Standing near an oven in the winter, though, might even be welcome and settling down with a nice piece of cheesecake is always a treat. That's why it pays to know some good winter dessert ideas.
Cheesecake is a great recipe to try out in the winter. The colder temperature lends to the setting process and leaving the cheesecake in the oven for an hour or so won't be a problem. Cheesecake can come in many flavors, which is helpful when catering to different tastes and making some winter dessert ideas that appeal to many palates.
Regular cheesecake is rich and creamy, but you can also use chocolate, caramel, or berries to change it up. White chocolate cheesecake is a favorite of mine because it still looks the the original flavored cheesecake, but has a surprising chocolatey taste. White chocolate also lends to holiday themed cheesecake and can be used along with peppermint to create a recipe reminiscent of candy cane.
Continue reading →
Comfort food tends to be hot, thick and tasty, and it can apply to both sweet and savory dishes. What is your favorite comfort food? Do you love winter comfort food recipes as much as I do?
Are you into burgers and fries, homemade mac and cheese, onion rings with a creamy dip, a bowl of chili, or how about apple cobbler with vanilla ice cream?
Homemade bread is wonderful, as is pizza. Winter comfort food recipes might not be the healthiest of food but balance it out by eating healthy meals at other times, and it can be part of a balanced diet.
Although American food is what many of us think of when considering comfort food recipes, other cuisines are equally good at cheering the body and soul on a chilly day or evening.
Pizza and calzone are Italian favorites, along with mac and cheese, while a hearty crockpot beef stew with European seasonings might also be just what you need, or how does a Swiss cheese fondue recipe sound?
Continue reading →
Other Posts You Might Like