Drinks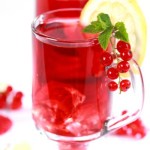 This lovely summer fruits ice tea combines tea, honey and fruit with mint leaves. The result is refreshing and delicious. If you wish to make an alcoholic version, add a splash of Cointreau, Limoncello, Chambord or fruit brandy to the drink. If you are doing this and there are kids around, don't forget to mark the pitcher so you know it's for the grownup only.
This tasty drink is tasty, refreshing and free from additives. A lot of commercial teas contain lots of added sugar, as well as artificial colors and flavorings, and those are all things we could happily do without.
Feel free to tinker with the following recipe. Try adding lychee tea and lychees instead of the hibiscus and rosehip teas. If you want to make it fizzy, add some lemonade or sparkling water to the mix. Pineapple, passion fruit or berries can also go into this tea. Continue reading →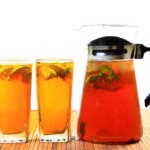 Although this is called orange mint tea there is no actual tea in there, so it is more than an infusion. The mint leaves are steeped in the mixture though, like tea would be.
Feel free to swap the sugar for honey or sweetener in this orange mint tea if you wish, and you can also serve it hot or warm, although it is especially good served cold. If you are growing your own fresh mint, take the opportunity to make this wonderfully refreshing tea with it.
After dissolving the honey or sugar in the orange mint tea, you may cool it and freeze it for future use if you want. It freezes just fine. Else just serve it with plenty of ice.
This is a wonderful drink for the warmer months or whenever you want something refreshing. The citrus flavors team wonderfully with the mint and you will love this magical combination. Continue reading →
Some More Hot Content For You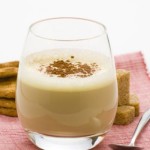 This Irish cream shake is so good and it is really quick to make too. Brew some strong coffee and let it cool down, then put it in the blender with Bailey's, ice cream and coconut milk to make this thick, creamy shake.
Ideal for St Patrick's Day or just whenever you want to spoil yourself with a wonderful treat, this Irish cream shake always goes down well, and the flavor is amazing.
This Irish cream shake recipe serves 2 people but it is easy enough to double or triple the recipe if you are serving more. If you want, you may top the shake with whipped cream and chocolate curls for a nice presentation, else you can serve smaller servings in martini glasses if you want. In the photo we have simply added a little cocoa powder as a garnish. Continue reading →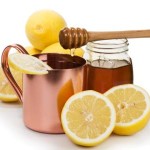 Nobody likes to be suffering with a cold or the flu but if you are unfortunate enough to have it, then the good news is there is a wonderful hot honey and lemon drink for the flu you can make yourself quickly and easily, which will help you feel better.
All you need are honey and lemon to make this hot honey and lemon drink for the flu, as well as some hot water, so while the kettle is coming to a boil, you can squeeze some fresh lemon juice.
If you don't have any lemons then squeezy lemon juice will do at a pinch. You might also want to add some whiskey, brandy or your favorite liquor. Although this does not do much for your cold or flu it is not going to do any harm and it might make you feel sleepy enough to take a nice nap. Leave it out if you prefer not to use it though. Continue reading →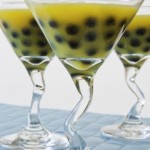 Bubble tea is an ice cold drink dotted with chewy tapioca pearls. The popularity of this beverage has grown so sharply recently you can find bubble tea shops all over the place these days. It is actually hard to walk past one and not go in and treat yourself to one of these wonderful treats. A mango bubble tea recipe always goes down nicely.
Like many things you buy from a shop or cafe, bubble tea can work out expensive if you buy a lot of them, making it worthwhile learning how to make bubble tea yourself at home. The mango bubble tea recipe is super-easy and you can experiment with all different flavors.
What is Bubble Tea and Where is It From?
This beverage originated more than 30 years ago in Taiwan and then its popularity spread through Southeast Asia. Eventually it started becoming popular in the West. Continue reading →
Making a milkshake in the blender is incredibly easy and you just need to add milk, ice and some fruit, press the button and within a few seconds you will have a tasty, creamy and frothy drink to enjoy. An easy blender milkshake recipe is worth adding to your repertoire and you will love the flavor.
One of the most unusual recipes is our almond and rosewater milkshake and you can scroll down for that recipe. Our red apple milkshake is also wonderful. Once you have mastered these you can start making up your own milkshakes, throwing in anything you want.
What to Add to an Easy Blender Milkshake Recipe
Use canned fruit (drain it if it is a sugar syrup or don't bother if it's in natural juice) or fresh fruit if you prefer. Ice is something most blenders can easily handle but check if yours can before throwing it in there! The same applies to nuts and if your blender can tackle ice it can certainly break down nuts. Continue reading →
Other Posts You Might Like