Eggs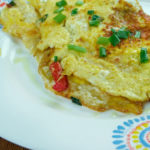 This omelet makes a great side dish for a curry if you don't want to serve rice or naan bread or if you are looking for low carb side dish ideas. You can also eat it by itself as a meal or snack. This is the best Indian omelet recipe to choose if you are looking to spice things up a little and enjoy a brand new flavor.
What is in the Best Indian Omelet Recipe
Along with the eggs which are of course the main ingredient in any omelet, we are using spinach, shallots, cilantro, turmeric and chili.
You can omit the spinach if you want, or replace it with sliced mushrooms. You can also swap the shallots for a small yellow onion or omit the chili pepper if you don't want it spicy.
Making the best Indian omelet recipe is simply a matter of combining the ingredients then cooking the omelet in a skillet. I like to wilt the spinach first but you don't have to do that unless you want it really soft. It cooks in the omelet anyway. Continue reading →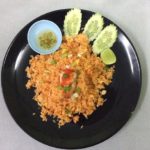 This is a wonderful side dish to have with chicken, pork or another kind of meat, or you could enjoy it by itself for lunch or a light evening meal. Thai fried rice with egg is similar to the Chinese egg fried rice you might be more familiar with. We are just including typical Thai flavors instead of Chinese ones.
This only takes about 5 minutes to make because you are warming up the rice, cooking the vegetables to al dente (which doesn't take long) and cooking shrimp (which doesn't take long either!) If you prefer to use chicken or another protein, shredded cooked chicken can be tossed in at the end with the green onions, and just warmed through. You can also omit the chicken for a vegetarian version of the dish.
What Else is in Thai Fried Rice with Egg?
Known as khao phat in Thai (since khao means rice and phat means stir-frying) this dish is often made with shrimp, chicken or crab, along with onion, garlic and perhaps tomatoes as well.
Traditionally Thai fried rice is made with Thai jasmine rice, but you can use any kind of leftover cooked rice to make it. Fish sauce and soy sauce are typical flavorings, and we also love a little oyster sauce in the mix. A pinch of sugar is good if you want to add sweetness. Continue reading →
Some More Hot Content For You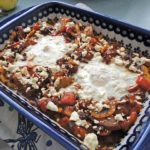 Shakshuka is a Middle Eastern tomato, bell pepper and egg dish. Sometimes it is spelt shakshouka. This Middle Eastern shakshuka recipe actually originated in Northern Africa and there are many different variations on the basic theme.
The feta cheese is not a traditional ingredient, for example, but I love to add it because the creamy tang goes so well with the dish. Leave it out if you prefer though.
How to Serve a Middle Eastern Shakshuka Recipe
It is often served for breakfast in Israel with challah or pita on the side. The dish is also good for brunch or lunch. I like it with pita bread, homemade hummus and other Middle Eastern/Israeli/Arabic dishes.
The sauce is made first and that's easy to prepare on the stove, and then the eggs are gently cracked into the sauce. Finally the skillet goes into the oven so the shakshuka can finish cooking. It is then served hot, with some kind of bread on the side to mop up all the tasty juices.
Good for You Too!
This shakshuka recipe is a healthy dish, boasting the protein form the eggs, the lycopene and antioxidants from the tomatoes, and the vitamin-C from the bell pepper. If you want to make this more substantial add some small lamb meatballs to the sauce. You can also swap the bell pepper for eggplant or grill the peppers first for a richer flavor. Continue reading →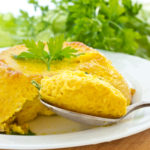 There are lots of egg recipes to choose from if you want to enjoy eggs for breakfast, and this delicious, filling ingredient can be prepared in various ways. This cheese baked omelet is just one of your options.
Boiled, scrambled or fried eggs are always good, or you can make an omelet, either conventionally on the stove, or, if your stove is crowded with other breakfast delights such as bacon, sausage and mushrooms being fried, you can make an omelet in the oven.
Keep things easy using just eggs, milk or cream and a little onion to give the omelet some crunch. You can also add extra vegetables like bell pepper, mushrooms or even some snipped chives or fresh basil.
More Cheese Baked Omelet Tips
The following cheese baked omelet recipe offers four servings, but this omelet keeps for several days in the refrigerator, so enjoy it the next day, maybe with fried or grilled mushrooms on the side or some wilted spinach. Consider this too: halve a tomato and bake that along with the omelet.  Continue reading →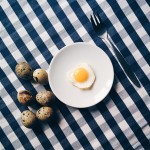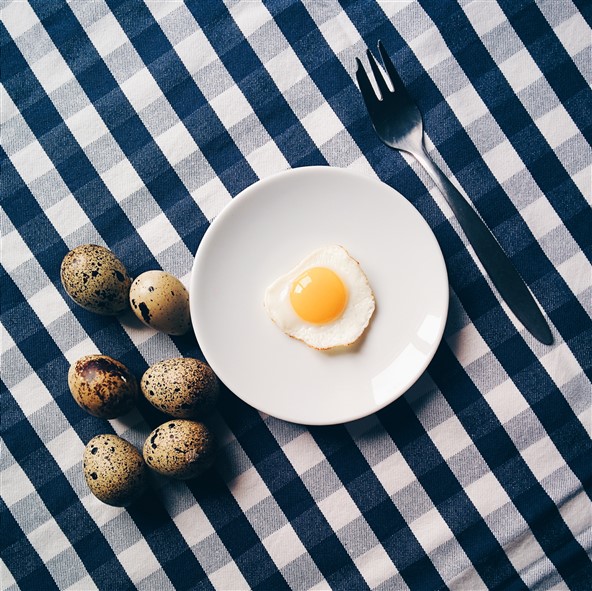 A quail egg can be compared to a chicken egg except of course it's a lot smaller! Because of this size, quail eggs make a nice garnish, an elegant garnish even, for all kinds of meat, poultry, fish or vegetable-based dishes. As you might imagine, it doesn't take as long to cook this tiny egg as it would to cook a chicken egg. But knowing how to cook quail eggs is, of course, vital.
How Long to Cook Quail Eggs?
These pretty little speckled eggs will be soft-boiled in 2 1/2 minutes, medium-boiled in 3 minutes or hard-boiled in 4 minutes. Compare that to chicken's eggs which can take up to 15 minutes to hard-boil and you will see the obvious difference.
So how are you going to serve these? You could pick something traditional like scrambled eggs or an omelet but just think of how many quail eggs you'll need! Better still, consider a nice steak dinner or some tacos or burritos, then have the quail eggs as a beautiful garnish. That would be the best way to serve them. Unless someone you know has a quail and therefore a glut of these to use up, save them for an elegant garnish, for the very best results and of course the most impressive ones.
Continue reading →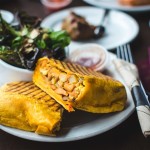 A beloved Mexican and Tex-Mex food, a burrito makes a great lunch, dinner or snack. And this is the best breakfast burrito recipe I ever tried! One modern trend is all about presenting this hearty delight first thing in the morning and calling it a breakfast burrito. So you can have your breakfast all rolled up neatly burrito-style. A breakfast burrito recipe will contain typical breakfast ingredients like potatoes, bacon, eggs, mushrooms, whatever else you like. These fillings will be hot and cooked, enclosed in a soft flour tortilla.
Burritos are wrapped or folded to enclose the filling, unlike a taco which is usually folded in half around the filling. Some people like to steam or lightly grill the tortilla to softed it, so it wraps around the filling more easily. Order a regular burrito in Mexico and you can expect meat and refried beans to be your typical filling. Head north of the border into the US though and you will find a wider variety of fillings like rice, beans, lettuce, salsa, cheese, sour cream, guacamole and, where breakfast burritos are concerned, even bacon, eggs and hash browns – hey, why not!
The word burrito translates from the Spanish to mean 'little donkey' and it is thought the name comes from the look of the bedrolls and packs donkeys used to carry. Try this best breakfast burrito recipe when a bowl of cereal simply isn't enough to prepare you for the day ahead. Continue reading →
Other Posts You Might Like