Eggs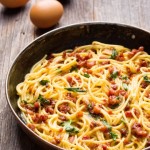 This is a classic Italian dish made with spaghetti, bacon and eggs. There are different variations – some people add cream or cream cheese, some will add parsley or another herb, and others will use whole wheat spaghetti over white spaghetti. However you prefer it, an easy spaghetti carbonara recipe is well worth adding to your culinary repertoire.
The following recipe is really simple, even if you are a newbie in the kitchen, and the flavor is amazing. This is good served with mixed salad leaves dressed with vinaigrette. Learning how to make spaghetti carbonara is a great idea if you want to serve something impressive but only have 2 pots on the stove.
When I made this easy spaghetti carbonara, I chose to add some cream cheese. It wasn't necessary (I mean, it would've been good without it) but I wanted some creaminess in there. The authentic spaghetti carbonara recipe is made without the addition of cream or cream cheese, but if you want to add some, well it's your dish! I also added turkey because I had some to use up and that was great in there. Continue reading →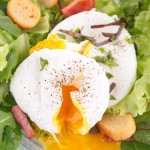 Perfect poached eggs are a tasty idea for breakfast, perhaps with buttered toast and some bacon or sausage. They can also be served as a garnish or side dish with meat. You might be wondering how to poach an egg like a pro in the microwave, how long to poach eggs or even how long to poach quail eggs since they are so much smaller.
The most typical way to poach an egg is in a pan of water on the stove, although we are going to look at microwave poaching as well. Bring a pan of water to a boil and add a pinch of sea salt.
Now crack an egg into a cup, then pour it into the water. Repeat with however many eggs you are poaching. They will start to cook right away and you will see them turn from clear to white. If you prefer to use silicon egg cups instead of just dropping the eggs into the water, do that. Now you know how to poach an egg like a pro! Continue reading →
Some More Hot Content For You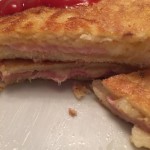 French toast, also known as eggy bread, makes a great breakfast. The bread is usually dipped in beaten eggs and then pan-fried until golden brown. This recipe takes the classic French toast to the next level, however, by adding ham and cheese to the mix. This is known as a Monte Cristo sandwich, and can be pan-fried or deep-fried. Ham and cheese French toast is something kids love, and so do the grownups!
Serve ham and cheese French toast with some ketchup for breakfast, brunch or a hot snack at any time, and enjoy the wonderful flavors. This is a snack which is sure to keep you feeling satisfied until your next meal. Serve these sandwiches hot from the pan and enjoy the wonderful crispy outside and the gooey cheese inside.
What Bread for Ham and Cheese French Toast?
You can use any kind of bread for ham and cheese French toast, perhaps baguette or ciabatta, or even regular sliced bread. It is best to use day-old bread because very fresh bread is more delicate and can tear. Use ready-sliced ham and cheese to save time. Cheddar is good here, or you can use any other type of melting cheese you want. Emmental or Gruyere are really good in this Monte Cristo recipe as well. Continue reading →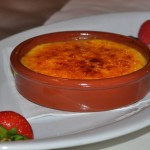 Learning to how many crème brûlée is easy, and this creamy, sweet dessert is very tasty after any kind of main dish. Crème brûlée, sometimes mis-spelt as crème brule, is also known as crema catalana, Trinity cream and burnt cream. But what is creme brulee exactly?
The rich custard base is topped with a hard caramel layer, and it is usually served at room temperature although it can also be served chilled if you want to make it ahead.
More about Crème Brûlée
Vanilla is the typical flavor for crème brûlée but there are other possibilities, including coconut, chocolate or coffee. This dessert dates back to at least the late 1600s. This dessert is similar to 'flan' which is a Spanish dessert served without the caramelized top.
This dessert is often served in individual ramekins and the top can be made separately and added, or else you can sprinkle sugar on the finished desserts, then use a cooking torch or broiler to caramelize it.
Our recipe only needs 5 ingredients. You will need egg, cream, white and brown sugar, and vanilla to make it, and this recipe is pretty easy to follow. Serve the dessert as it is or pair it with some fresh berries for a colorful contrast. We like it with fresh strawberries and even a sprig of fresh mint. When learning what is creme brulee and how to make it, you will also want to consider garnishes.
Continue reading →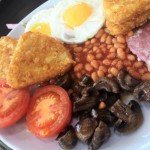 An English breakfast, often known as a full breakfast in England, is a breakfast meal which usually includes back bacon, fried, scrambled or poached eggs, sausages, and sometimes tomatoes, mushrooms, hash browns (yes they're American not English, but popular these days!), black pudding, baked beans, toast or fried bread, and tea or coffee. Want to know how to make an English breakfast yourself? Read on for some tips.
Bubble and squeak (mashed potatoes and cooked vegetables mashed together and fried) sometimes feature, while in the North you might get fried or broiled oatcakes instead of fried bread or toast.
How to Make an English Breakfast as an All Day Breakfast
Some pubs and cafes in England offer an 'all day breakfast' so you can enjoy this tasty meal whenever you like, whether you wake up late but not late enough for lunch, or you just crave a delicious English breakfast later on in the day. Another name for this type of breakfast in the UK is 'fry up' because most items on the plate are fried. Learn how to make an English breakfast and you can make this today. Continue reading →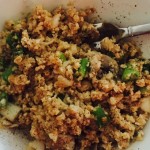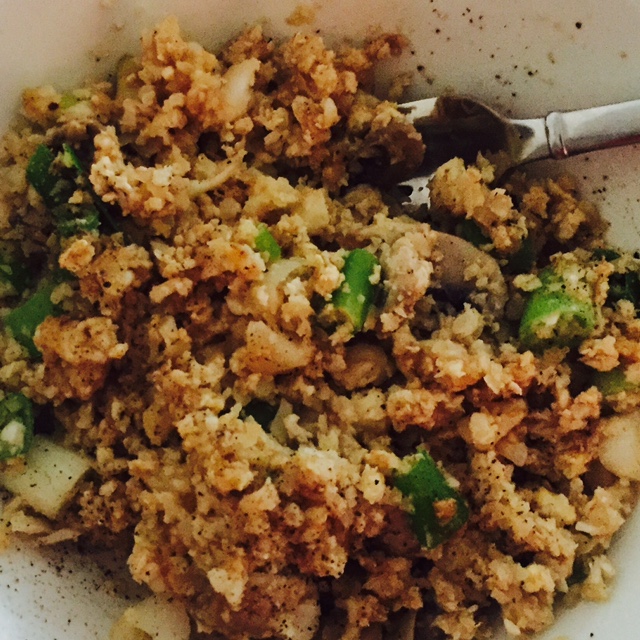 Using cauliflower instead of rice is a great idea if you are looking to cut calories, carbs, or you simply don't want to have rice but you want something similar in texture. Try this egg fried cauli  rice recipe and you will soon see what all the fuss is about!
Pop some cauliflower florets in the food processor, press the button, and a couple of seconds later you will have something resembling rice, which can be transformed into egg fried 'rice' or even something like our yummy Mexican cauli rice recipe (opens in new link) which is low in calories and tastes gorgeous.
Always a Great Meal
I made this egg fried cauli  rice recipe for lunch today and found it quick and easy. This pan-fried cauliflower rice is delicious and you can add anything you like in there. I just used green onion, mushrooms, soy sauce, egg and a dash of sesame oil along with the cauli rice but you may add anything else in there.
Perhaps you have some leftover cooked chicken or shrimp to use up, in which case throw them in and warm them up for a couple of minutes. Did you open a can of corn kernels or peas yesterday? Add a spoonful of those into the cauli-rice mix if you want. Continue reading →
Other Posts You Might Like