Eggs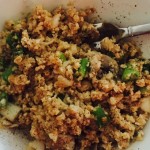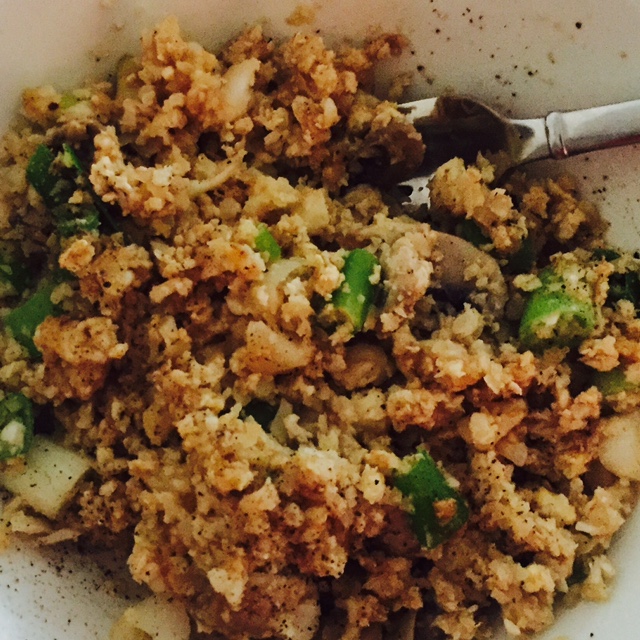 Using cauliflower instead of rice is a great idea if you are looking to cut calories, carbs, or you simply don't want to have rice but you want something similar in texture. Try this egg fried cauli  rice recipe and you will soon see what all the fuss is about!
Pop some cauliflower florets in the food processor, press the button, and a couple of seconds later you will have something resembling rice, which can be transformed into egg fried 'rice' or even something like our yummy Mexican cauli rice recipe (opens in new link) which is low in calories and tastes gorgeous.
Always a Great Meal
I made this egg fried cauli  rice recipe for lunch today and found it quick and easy. This pan-fried cauliflower rice is delicious and you can add anything you like in there. I just used green onion, mushrooms, soy sauce, egg and a dash of sesame oil along with the cauli rice but you may add anything else in there.
Perhaps you have some leftover cooked chicken or shrimp to use up, in which case throw them in and warm them up for a couple of minutes. Did you open a can of corn kernels or peas yesterday? Add a spoonful of those into the cauli-rice mix if you want. Continue reading →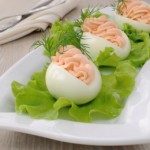 How pretty do these salmon pate stuffed eggs look? This recipe takes deviled eggs to the next level, by combining the egg yolk with salmon, lemon and creamy ingredients to make a pale pink, delicious-tasting appetizer. One or two egg halves per person is a good estimate although some people won't be able to stop munching on these lovely little snacks.
There are different ways to prepare these salmon pate stuffed eggs. You can make them the traditional way by slicing the eggs in half lengthwise or you could remove a wedge from the top (like in the picture) for a different look.
How to Add the Salmon Pate Stuffed Eggs Filling
The salmon pate stuffed eggs filling is better piped in with a piping bag (or a plastic bag with the corner cut off) but if you don't have one or you don't want to pipe, you can simply spoon the filling in. Chill the salmon deviled eggs for half an hour then serve them perhaps with some snipped chives on top or with some fresh herb sprigs. Maybe add some lemon wedges to the platter too.
This tasty snack is easy to prepare and you can make them ahead, making them ideal buffet food or party snacks. If you're making them any more than half an hour ahead though, cover them with plastic wrap before popping them in the refrigerator. Be careful not to wrap them too tight – you won't want to ruin your carefully piped filling.
Continue reading →
Some More Hot Content For You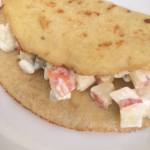 Whether you are looking for a tasty breakfast recipe, a quick snack or even a sweet treat when you get peckish in the evening, this easy banana pancakes recipe is ideal. You can combine the ingredients in a couple of minutes, then cook the pancakes in a skillet on the stove for a few minutes.
Serve them just as they are, drizzled with some syrup or perhaps will chopped fruit or berries as a filling. You can also tweak our recipe, perhaps adding some cinnamon or nutmeg or even a little brown sugar. The sweetness of the banana means you don't really need to add any sugar to the pancake batter, especially if you are going to serve it with syrup, but you know your palate best, so tweak it as you wish.
You can cook these in oil, butter or cooking spray, as you wish. Don't make them too thick, so unless you have a big skillet you might wish to divide the batter in 2 and cook 2 pancakes. Cook them on one side, then flip and cook the other side. The raw batter is very pale yellow, nearly white, and the finished pancakes are golden.
Continue reading →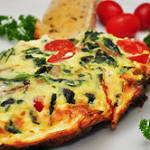 Eggs are a wonderful and versatile ingredient for vegetarians, and you can use them to make breakfast, lunch or dinner, so it is a good idea always to keep some in the refrigerator. The following recipe teams the eggs with fresh vegetables, garlic, cheese, and basil, and the result is light yet perfectly satisfying. This healthy vegetarian frittata is something you are sure to enjoy.
Feel free to change the vegetables, using up whatever you have in the refrigerator. Pretty much anything goes, so you might wish to swap the green onions for red onion, the baby spinach for broccoli, the potatoes for mushrooms, or even the basil for cilantro or parsley.
Throw in some diced chili pepper too if you want to give the dish some extra zip! Any kind of cheese is good in this frittata recipe, although a blend of parmesan and mozzarella works especially nicely here.
Continue reading →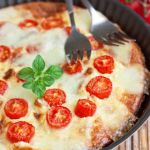 This healthy, colorful recipe is rich in vitamins and minerals, and it makes a delicious meal, whether you have it for breakfast or brunch, lunch or dinner. A frittata is an Italian egg-based dish, a bit like a crustless quiche or omelet. I love this potato and cherry tomato frittata because of the combination of flavors and textures.
Frittata comes from 'friggere' – the Italian word for 'fried' – and such a dish can include cheese, vegetables, pasta, eggs, or anything else you like.
This term used to refer to eggs cooked in a skillet, whether you are making an omelet, fried egg or even tortilla de patatas (a Spanish potato omelet). This was the definition of 'frittata' until the mid-1950s anyway, but these days it refers to an open-face omelet.
Differences Between Frittata and Omelet
An omelet might or might not have added ingredients, while a frittata always has at least one ingredient besides the eggs, and those ingredients go into the mixture while the eggs are still raw. An omelet is usually almost fully-cooked before the other ingredients go into it. A potato and cherry tomato frittata is not the same as a potato and cheese baked omelet.
Continue reading →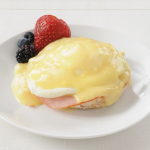 Easy eggs Benedict is one of the most amazing breakfast recipes ever. A toasted English muffin is topped with Canadian bacon, poached egg and finally homemade Hollandaise sauce for a rich, creamy and mouthwatering eat.
There are plenty of recipes online for diet versions of this dish but in my opinion nothing beats the real thing, so save this for a special occasion like your Christmas morning breakfast, or make it for someone's birthday if you are concerned about the fat/calories or whatever. Made this way, you are sure to end up with the most mouthwatering version of the dish – the original version.
If you are making this for vegetarians, you can swap the Canadian bacon for spinach (that results in a dish called eggs Florentine which is also very tasty and of course boasts extra nutrients).
Continue reading →
Other Posts You Might Like