Eggs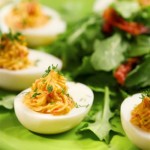 Deviled eggs make a nice dish before any main course or you can serve them at a buffet or party. Curried deviled eggs are especially nice and the curry flavor goes really well with the egg taste. You can add a bit of sweet relish or minced sun-dried tomatoes too if you want to.
You might also want to add a couple of drops of Tabasco sauce or a bit of Dijon mustard to spice this deviled eggs recipe up. If you prefer plain deviled eggs, just leave out the curry powder and green onions. Most people will prefer the eggs slightly curried though.
More Tips for Curried Deviled Eggs
If you don't have a piping bag to pipe the egg yolk filling back into the egg whites you can spoon it in, but obviously it looks more attractive if you pipe the filling in. It's not tricky like decorating a cake – as long as you aim for the space in the egg white where the egg yolk was, you will be fine! Continue reading →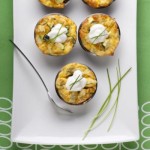 Whether you serve these low carb mini quiches for breakfast, lunch, dinner or just as a snack, there is no doubt these mini quiches will satisfy your hunger. Eggs are a basic staple on low carb diets because they offer plenty of nutrients, they are filling and tasty, and there are so many recipes you can make with this versatile, budget ingredient. Eggs are great for vegetarians and pescetarians, as well as carnivores.
Low Carb Mini Quiches: An Easy Freezy Idea!
One great thing about this low carb mini quiches recipe is you can freeze the quiches, then just pop one in the microwave for half a minute. Make a big batch at once and you will have breakfast sorted out for the next few weeks. Continue reading →
Some More Hot Content For You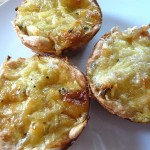 Try this mini onion quiches recipe if you want a fresh and delicious flavor in every bite. The tasty little treats make a wonderful vegetarian starter recipe. The cheese and onion mixture is a melt in the mouth filling and the pastry comes out crisp and tasty. These individual onion quiches look great and taste even better.
If you like quiche asparagus might be a flavor you'd like to try. Cheese and ham quiche is another classic dish. Feel free to adjust the ingredients in this quiche recipe if you want, to make your preferred quiche flavor. The sky is the limit when working on your own dishes, rather than having to settle for the less-than-fresh offerings from your closest grocery store.
Tailor this Mini Onion Quiches Recipe to Your Palate
Although dieters often choose crustless quiche recipes for their reduced carb/calorie counts, you will find plenty of quiche recipes which can be converted for any taste, made with or without the crust, and made with any filling you personally favor. Continue reading →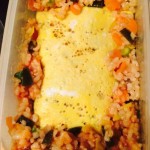 Also known as omurice or omu-rice, omuraisu is a typical Japanese dish featuring fried rice and omelet, and often some ketchup too. Omuraisu is a contraction of the Japanese words for omelet and egg. This omuraisu recipe is not hard to make and you will love the flavor.
This dish can be found in Western style restaurants in Japan as well as in Japanese homes, and it was also introduced to Korea under Japanese rule. You can find it in Taiwan too which was also under Japanese rule for some time. This dish has been around since the early 1900s.
Different Kinds of Omurice
Chicken rice, chicken and vegetable rice or beef rice can be wrapped in a thin fried egg sheet to make an omuraisu recipe. Sometimes ketchup or white sauce is added to the rice. Continue reading →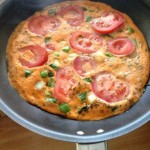 This recipe is your best friend if you want to make a perfect vegetable omelet, and this is a skill everyone should know. Learning how to make vegetable omelet is very easy and you can serve this for any meal. Omelets can be served for breakfast, lunch or dinner, and this recipe makes enough for 2 servings. You will love the perfect flavor and texture this offers.
How to Make Vegetable Omelet: Some Handy Tips
If you want to cut the fat and calories, swap the butter for margarine and use skim milk. You can also use reduced-fat cheese in it.
As for the vegetables, pretty much anything works. Tomatoes, mushrooms, green onion, fresh herbs and bell pepper all go into my omelets regularly, and I love the addition of cheese too.
Sometimes I make Spanish omelet, which means using potatoes instead of the vegetables. I love the combination of eggs and potatoes. If you are learning how to make vegetable omelet you will definitely want to experiment with different veggies! Continue reading →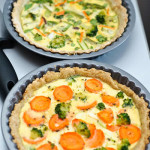 Few things are as delicious as a good vegetarian quiche, and learning how to make vegetable quiche is something that any home cook can do with ease.
You can include as few or as many veggies as you like, and choose from various types of crusts and fillings, to make your vegetarian quiche recipe perfect for your palate.
Once you discover how to make quiche you will want to experiment with diverse crusts and fillings. Not only will you love the resulting quiche but your family are sure to love it too.

Quiche is a healthy option, boasting the protein from eggs, the nutrients in the veggies, and it is also really filling and will keep you satisfied until your next meal so discovering how to make vegetable quiche is very worthwhile. Continue reading →
Other Posts You Might Like