Fish and Seafood
Salmon is a powerhouse of nutrition. This salmon in mustard cream sauce recipe is just one idea for incorporating this juicy fish into a recipe. Wild-caught salmon boasts sweetness as well as a fatty touch which balances things out beautifully for the perfect mouth-feel.
This would be beautiful with any kind of potatoes – mashed, boiled (with dill weed!) or crispy and roasted, along with your favorite green vegetable. Broccoli, zucchini (courgette) and green beans are definite contenders. Personally I love grilled green asparagus, so consider that as well.
If you want to double up on the sauce it would make a fine vegetarian dip for chips, bread or veggie crudites. If you are serving this with mashed potatoes, simply ladle some of the extra sauce over those too. We are going to broil (UK: cook under the grill) the salmon for optimum results, and you will find the other ingredients add plenty of appeal to the overall flavor. Continue reading →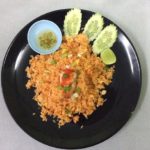 This is a wonderful side dish to have with chicken, pork or another kind of meat, or you could enjoy it by itself for lunch or a light evening meal. Thai fried rice with egg is similar to the Chinese egg fried rice you might be more familiar with. We are just including typical Thai flavors instead of Chinese ones.
This only takes about 5 minutes to make because you are warming up the rice, cooking the vegetables to al dente (which doesn't take long) and cooking shrimp (which doesn't take long either!) If you prefer to use chicken or another protein, shredded cooked chicken can be tossed in at the end with the green onions, and just warmed through. You can also omit the chicken for a vegetarian version of the dish.
What Else is in Thai Fried Rice with Egg?
Known as khao phat in Thai (since khao means rice and phat means stir-frying) this dish is often made with shrimp, chicken or crab, along with onion, garlic and perhaps tomatoes as well.
Traditionally Thai fried rice is made with Thai jasmine rice, but you can use any kind of leftover cooked rice to make it. Fish sauce and soy sauce are typical flavorings, and we also love a little oyster sauce in the mix. A pinch of sugar is good if you want to add sweetness. Continue reading →
Some More Hot Content For You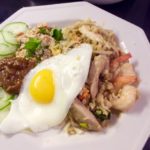 This cauliflower nasi goreng – low carb and tasty – might well earn a place on your regular meal rotation. It's just so special! Nasi goreng is a delicious dish from Indonesia, which I've enjoyed plenty of times since moving to the Netherlands, since the Dutch are very much into Indonesian foods.
Although this is a rice-based dish and you might think no way can that be low carb, swap the rice for cauliflower and it will be! Also, because this is a spicy dish (a dish with spices, not necessary 'hot' if you don't want it to be) you won't taste the cauliflower.
What is Nasi Gorgeng?
The name 'nasi goreng' means fried rice in Malay and Indonesian, and the term can refer to pre-cooked rice with a little cooking fat and kecap manis, which is a sweet soy sauce. Shallot, tamarind, chili and garlic are typical ingredients, along with egg, shrimp and/or chicken. Sometimes salted dried fish are used instead of the other proteins.
This recipe is known as Indonesian although it is also popular in Malaysia, the Netherlands and Singapore. Nasi goreng can be enjoyed everywhere from roadside stands in Indonesia to Jakarta buffet tables or fine restaurants. This is known as the national dish of Indonesia, although I'm not sure what the locals would make of this low carb cauliflower nasi goreng variation. This dish was developed as a way to avoid wasting cooked rice, since frying can stop dangerous microbes propagating especially before refrigeration was commonplace like it is today. Continue reading →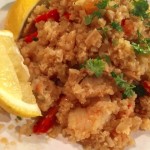 When I worked in Gran Canaria I used to eat paella a lot. In fact I made friends with a local chef who used to make a special batch for me minus the peas (my pet food hate!) This rice-based delicacy was served with half a baguette, plenty of alioli, or ai oli (or garlic mayo) and perhaps a sangria on the side. At that time I had never even heard of a low carb paella using cauli rice because I was enjoying the real thing too much to deviate.
Try as I might, I could never tire of this wonderful Spanish dish. Fast forward a decade and I still love that flavor but my husband is diabetic and rice is a no-no. So I wondered at this point whether cauli rice would work, since it is great for making other cauliflower rice recipes like egg fried cauli rice and lots of other cauli rice recipes.
This is why I tried my hand at a low carb paella using cauli rice a couple of evenings ago. I thought I would add chicken and seafood, along with chicken broth, smoked paprika and saffron to get that authentic flavor, and considering the main ingredient was swapped for a paella rice substitute I have to say it worked really well! Continue reading →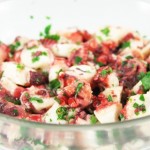 Last night I decided to make seafood so I grabbed some raw squid (calamari) tubes and also 2 cooked octopus legs. I had an idea of how to cook them but wasn't sure how to reheat the octopus without it going tough. I really wanted an octopus and squid stir fry though, so I went ahead with it.
On the package it said to give it a couple of minutes in the microwave but I wasn't keen on that idea. Instead I prepared a stir-fry type dish with the squid, then added the octopus at the end and just stirred it into the rest of the mixture until it was warmed through. It came out really well and octopus and squid stir fry is something I want to make again.
How to Reheat Octopus
The key here is reheating it gently so it doesn't toughen. That means you should get it warm rather than piping hot else you risk that meat toughening up, and let's face it, nobody wants chewy seafood. Of course, the octopus can also be served cold, as part of a salad perhaps. Continue reading →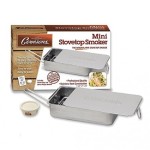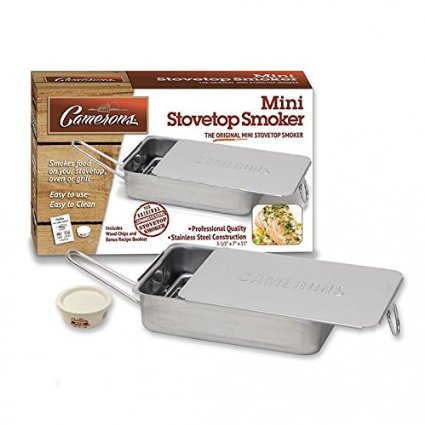 An indoor smoker is a wonderful buy if you want to smoke your own food but you either don't want to do it outdoors, you don't have a backyard, or the weather isn't really on your side. There are different types of indoor smokers to choose from but you can get one for under $50 and the results of your indoor smoker recipes will be really impressive.
Bring all the delicious flavors of wood smoking indoors and try smoking a whole fish filet or ham. You can also smoke ribs, salmon, chicken, sausages, tofu, cheese, nuts, garlic, salt (yes, smoked salt is amazing!), Cornish hens, and much more.
No oil or fats need to be added when making indoor smoker recipes, and you don't have to add salt or flavoring either. The food smokes in its own juices so it stays nice and moist.
Choose from many types of wood chips to get the perfect taste from your indoor smoker recipes, and consider combo-cooking, which means smoking the food first then finishing it off on the grill or oven to get it crispy. Continue reading →
Other Posts You Might Like