Fish Recipes
Salmon is a powerhouse of nutrition. This salmon in mustard cream sauce recipe is just one idea for incorporating this juicy fish into a recipe. Wild-caught salmon boasts sweetness as well as a fatty touch which balances things out beautifully for the perfect mouth-feel.
This would be beautiful with any kind of potatoes – mashed, boiled (with dill weed!) or crispy and roasted, along with your favorite green vegetable. Broccoli, zucchini (courgette) and green beans are definite contenders. Personally I love grilled green asparagus, so consider that as well.
If you want to double up on the sauce it would make a fine vegetarian dip for chips, bread or veggie crudites. If you are serving this with mashed potatoes, simply ladle some of the extra sauce over those too. We are going to broil (UK: cook under the grill) the salmon for optimum results, and you will find the other ingredients add plenty of appeal to the overall flavor. Continue reading →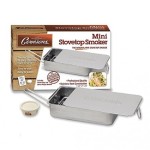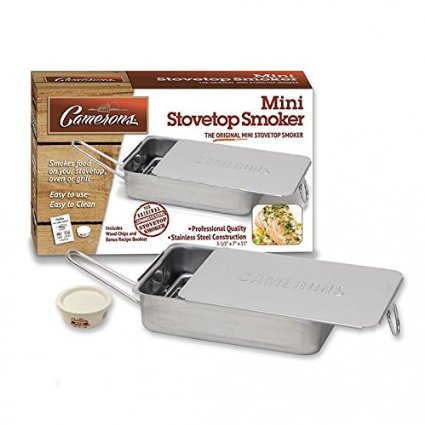 An indoor smoker is a wonderful buy if you want to smoke your own food but you either don't want to do it outdoors, you don't have a backyard, or the weather isn't really on your side. There are different types of indoor smokers to choose from but you can get one for under $50 and the results of your indoor smoker recipes will be really impressive.
Bring all the delicious flavors of wood smoking indoors and try smoking a whole fish filet or ham. You can also smoke ribs, salmon, chicken, sausages, tofu, cheese, nuts, garlic, salt (yes, smoked salt is amazing!), Cornish hens, and much more.
No oil or fats need to be added when making indoor smoker recipes, and you don't have to add salt or flavoring either. The food smokes in its own juices so it stays nice and moist.
Choose from many types of wood chips to get the perfect taste from your indoor smoker recipes, and consider combo-cooking, which means smoking the food first then finishing it off on the grill or oven to get it crispy. Continue reading →
Some More Hot Content For You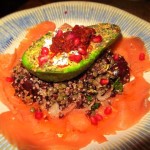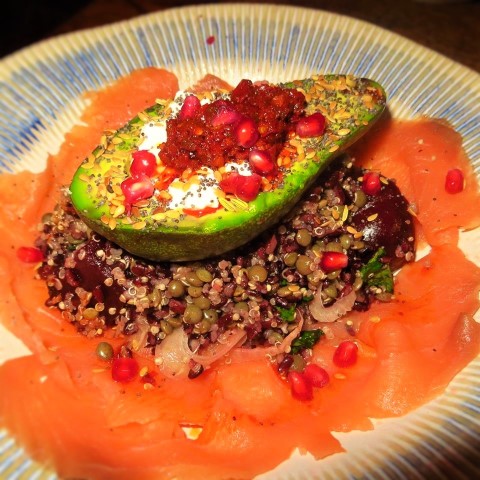 My husband and I had lunch at the Jamie Oliver restaurant in Cardiff last year and it was really good! I had the avocado superfood salad with smoked salmon and it really made an impression. I loved all those flavors and it looked gorgeous too. I wanted to recreate it so I came up with this Jamie Oliver superfood salad copycat recipe. It's not identical but pretty close!
What's in It?
The Jamie Oliver superfood salad copycat salad is made with avocado, beets, grains, kale, toasted seeds, and a tasty harissa and lemon dressing. On top of that you have avocado, pomegranate and poppy seeds. The following recipe is a copycat attempt, in case you wish to recreate some of this wonderful meal, but I can't say it is totally accurate since I'm just going by what I remember.
In the restaurant you can order free-range chicken or smoked salmon on the side, or some feta cheese if you want. I am all for tweaking recipes so take the following Jamie Oliver superfood salad copycat recipe and tweak it to your heart's content. Consider adding walnuts, olives, capers, cucumber, grated carrot, baby spinach, or anything else. Consider this recipe as a starting point and lovingly make this recipe your own. Continue reading →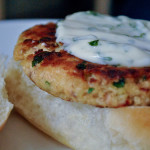 Whip up some of these easy salmon patties with breadcrumbs and you have a quick and easy evening meal for the whole family. I use canned salmon to make these easy salmon patties but you could use tuna instead or even crab. Just ensure it is drained well before incorporating with the other ingredients. Drain the salmon in a sieve and then combine it with a beaten egg, some onion and breadcrumbs, and that is all you need to add to make easy salmon patties with breadcrumbs.
If you want to add extra ingredients though, go ahead and consider herbs, garlic, or anything else you wish to throw in there. I use a food processor to combine the ingredients.
When making hamburgers (with meat) you need to take care not to over-mix because the burgers can become tough but with canned salmon it doesn't matter, and you will only need a few quick pulses in the food processor to combine the ingredients anyway. If you don't have one, you can simply stir or mash the ingredients together, and the same applies if you prefer a chunkier texture in your easy salmon patties with breadcrumbs. Continue reading →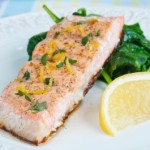 This is an incredibly easy recipe and a great way to prepare salmon. Here we are adding lemon and lime juice to the fish, along with lemon and lime zest if you like. You could stick to either lemon or lime or, like I prefer to do, use some of each for a more interesting flavor in this lemon and lime salmon recipe. Add the zest too if you want, to add more citrus flavor to the salmon and also to add a decorative touch.
Last time I made this lemon and lime salmon recipe, I sprinkled some Old Bay seasoning over the salmon. I wasn't sure whether my husband would like it because he hates celery and celery seed is a major ingredient in Old Bay but he did so that worked out well! I love Old Bay with crab cakes and other seafood dishes, and actually it's great with salmon as well, especially with lemon and lime salmon.
For Lemon and Lime Salmon, Remember: Fresh is Best!
If you only have bottled lemon and lime juice, use that for the lemon and lime salmon, but honestly it pays to use the fresh stuff because it really is better, plus you can serve some lemon and lime wedges on the side too which always looks nice. Serve this with spinach, snow peas or broccoli, and perhaps some mashed potato too or a potato salad if you prefer. You might even prefer a different grain such as couscous or quinoa.
Continue reading →
Comfort food tends to be hot, thick and tasty, and it can apply to both sweet and savory dishes. What is your favorite comfort food? Do you love winter comfort food recipes as much as I do?
Are you into burgers and fries, homemade mac and cheese, onion rings with a creamy dip, a bowl of chili, or how about apple cobbler with vanilla ice cream?
Homemade bread is wonderful, as is pizza. Winter comfort food recipes might not be the healthiest of food but balance it out by eating healthy meals at other times, and it can be part of a balanced diet.
Although American food is what many of us think of when considering comfort food recipes, other cuisines are equally good at cheering the body and soul on a chilly day or evening.
Pizza and calzone are Italian favorites, along with mac and cheese, while a hearty crockpot beef stew with European seasonings might also be just what you need, or how does a Swiss cheese fondue recipe sound?
Continue reading →
Other Posts You Might Like