Fish and Seafood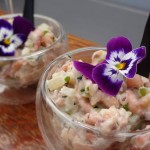 This Old Bay shrimp and apple salad is a gorgeous recipe. It looks really nice served in little glasses with edible flowers as a garnish, but it can also be served over lettuce or baby salad leaves if you prefer. This Old Bay shrimp and apple salad is a nice way to begin any kind of meal, and it is especially good during the summer when you don't want to cook.
We are using shrimp, and you can use little ones or chop larger ones. Make sure they are peeled and deveined first. Canned or thawed shrimp are fine here. You will also need some red apple and onion for crunch. The dressing for our Old Bay shrimp and apple salad is made with mayonnaise, Worcestershire sauce, Old Bay seasoning and lemon juice.
Old Bay Shrimp and Apple Salad Tweaks
If you want, you can add other ingredients to the Old Bay shrimp and apple salad mix. We suggest diced celery, chopped walnuts or diced cheddar cheese. You might even want to add a little fresh dill weed or chopped chives. The recipe is nice as it is, so you might not want to add anything else to it. Also take care not to overwhelm the delicate flavors by adding too many other flavors to the mix.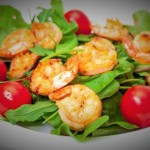 Shrimp is a great addition to salad recipes. It offers a subtle, light flavor and goes well with many other salad ingredients. A base of salad leaves or spinach can be topped with hot, warm or chilled cooked shrimp along with other things like pineapple chunks or mandarin segments for sweetness, walnuts or cashews for crunch, cherry tomatoes for color and anything else you want to add to your healthy easy shrimp salad recipe.
You can cook shrimp in various ways, such as deep-frying, stir-frying, boiling, baking or grilling. If you want to pan-fry the shrimp, they will only take a couple of minutes, as will boiling or grilling, although if you want to grill or bake them, you will need to wait for the grill or oven to heat up first. Then cook them to perfection for your healthy easy shrimp salad recipe.
How Do You Know When Shrimp is Cooked?
Shrimp starts off a grayish color and turns pink when it is ready. When you see this color change it means your shrimp is done.
A healthy easy shrimp salad recipe belongs in various cuisines. You might like to keep the ingredients very simple and add some ranch or caesar dressing for an American flavor, marinate the shrimp in soy sauce to give them an Asian flavor, or even saute them with curry powder and other spices then serve them with a yogurt-based dressing for an Indian taste on your plate. Continue reading →
Some More Hot Content For You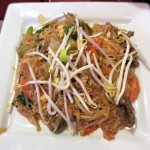 I never get tired of this wonderful dish – it really is the best traditional Pad Thai recipe. The rice noodles, shrimp, tamarind, nuts, lime juice and other ingredients work together in perfect harmony and the flavor is simply wonderful.
The full name of pad thai (sometimes spelt pat thai) is kway teow pad thai, which means stir-fried rice noodles in a Thai style, and it is thought to be a southern Chinese dish which was introduced to Thailand in the mid-20th century.
Pad Thai Noodles
It is important to cook the noodles perfectly in order to make the very best traditional Pad Thai recipe. You will need 'rice sticks' which are dried flat noodles. Some people soak them while others boil them. I've tried both ways and both work fine. Continue reading →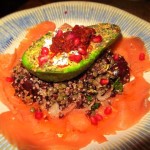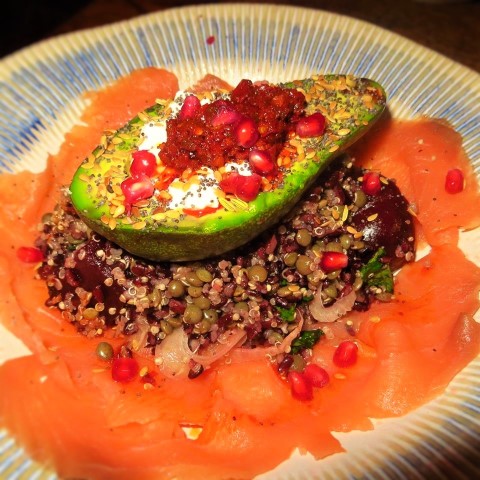 My husband and I had lunch at the Jamie Oliver restaurant in Cardiff last year and it was really good! I had the avocado superfood salad with smoked salmon and it really made an impression. I loved all those flavors and it looked gorgeous too. I wanted to recreate it so I came up with this Jamie Oliver superfood salad copycat recipe. It's not identical but pretty close!
What's in It?
The Jamie Oliver superfood salad copycat salad is made with avocado, beets, grains, kale, toasted seeds, and a tasty harissa and lemon dressing. On top of that you have avocado, pomegranate and poppy seeds. The following recipe is a copycat attempt, in case you wish to recreate some of this wonderful meal, but I can't say it is totally accurate since I'm just going by what I remember.
In the restaurant you can order free-range chicken or smoked salmon on the side, or some feta cheese if you want. I am all for tweaking recipes so take the following Jamie Oliver superfood salad copycat recipe and tweak it to your heart's content. Consider adding walnuts, olives, capers, cucumber, grated carrot, baby spinach, or anything else. Consider this recipe as a starting point and lovingly make this recipe your own. Continue reading →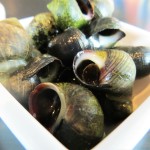 Winkles are little black shellfish that look like snails. They may be enjoyed as part of a seafood platter or fruits de mer, or you can enjoy them as a snack by themselves, or with some bread and butter, as an easy winkles recipe appetizer.
You can buy winkles either cooked or live but if you're shopping for fresh ones (or picking your own) to make an easy winkles recipe, first you should check the smell. Good winkles smell slightly sweet and like the sea. They might move visibly. Live ones need to be rinsed in plenty of cold water before being soaked in salted water for half an hour before you boil them.
Very Easy Winkles Recipe Ideas
They take 3 or 4 minutes to boil in salted water and then it's best to roll them in oil to make the shell shiny. Serve them with salt and vinegar, and don't forget the little pins to extract the meat from the shell. What an easy winkles recipe this would be.
These are time-consuming to eat because they are very small, but honestly they are worth the effort because the flavor is amazing. Discard the hard foot at the top end but the rest of the winkle may be eaten. Continue reading →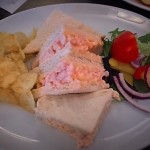 Shrimp, or prawns as they are also known, are great for making succulent shrimp sandwiches. Simply peel and cook them, then toss with mayonnaise, adding in some salt and black pepper for flavor, and spread this over white bread (or whole wheat if you prefer) to make the most delicious little succulent shrimp sandwiches.
These succulent shrimp sandwiches are nice for lunch or as a snack, or you could enjoy them mid-afternoon with tea or coffee. If you have large shrimp, cut them in half. Smaller ones can be left as they are.
You can use thawed, fresh or canned shrimp in this succulent shrimp sandwiches recipe but ensure they are well drained before you start. If you have raw shrimp, bring a pot of water to a boil then drop the shrimp in and cook for a couple of minutes or until they are pink. Continue reading →
Other Posts You Might Like