Fish and Seafood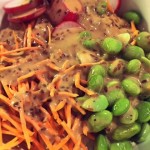 This is my current favorite crunch Asian salad with sesame dressing recipe. It contrasts crunchy and soft ingredients and boasts a wonderful Asian flavor in every mouthful. What really finishes it off perfectly is the roasted sesame dressing. I like to use rice noodles for this, although egg noodles would also work, or even thick udon noodles.
For the vegetables in this Asian salad with sesame dressing, I like to use edamame beans, grated carrot and radish. You can either thaw some frozen shelled edamame beans or use fresh shelled ones, as you prefer.
Buy grated carrot to save time when making an Asian salad with sesame dressing, else you can shred or grate your own in, maybe in a food processor or using a julienne peeler. If you want to use other ingredients instead, consider blanched broccoli florets or asparagus spears. Continue reading →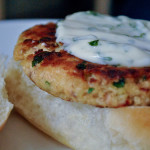 Whip up some of these easy salmon patties with breadcrumbs and you have a quick and easy evening meal for the whole family. I use canned salmon to make these easy salmon patties but you could use tuna instead or even crab. Just ensure it is drained well before incorporating with the other ingredients. Drain the salmon in a sieve and then combine it with a beaten egg, some onion and breadcrumbs, and that is all you need to add to make easy salmon patties with breadcrumbs.
If you want to add extra ingredients though, go ahead and consider herbs, garlic, or anything else you wish to throw in there. I use a food processor to combine the ingredients.
When making hamburgers (with meat) you need to take care not to over-mix because the burgers can become tough but with canned salmon it doesn't matter, and you will only need a few quick pulses in the food processor to combine the ingredients anyway. If you don't have one, you can simply stir or mash the ingredients together, and the same applies if you prefer a chunkier texture in your easy salmon patties with breadcrumbs. Continue reading →
Some More Hot Content For You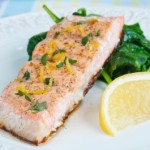 This is an incredibly easy recipe and a great way to prepare salmon. Here we are adding lemon and lime juice to the fish, along with lemon and lime zest if you like. You could stick to either lemon or lime or, like I prefer to do, use some of each for a more interesting flavor in this lemon and lime salmon recipe. Add the zest too if you want, to add more citrus flavor to the salmon and also to add a decorative touch.
Last time I made this lemon and lime salmon recipe, I sprinkled some Old Bay seasoning over the salmon. I wasn't sure whether my husband would like it because he hates celery and celery seed is a major ingredient in Old Bay but he did so that worked out well! I love Old Bay with crab cakes and other seafood dishes, and actually it's great with salmon as well, especially with lemon and lime salmon.
For Lemon and Lime Salmon, Remember: Fresh is Best!
If you only have bottled lemon and lime juice, use that for the lemon and lime salmon, but honestly it pays to use the fresh stuff because it really is better, plus you can serve some lemon and lime wedges on the side too which always looks nice. Serve this with spinach, snow peas or broccoli, and perhaps some mashed potato too or a potato salad if you prefer. You might even prefer a different grain such as couscous or quinoa.
Continue reading →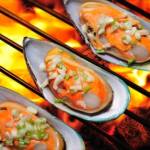 When the weather is cold, mussels steamed in the pan with white wine and parsley makes a wonderful meal, served with warm garlic bread. Then maybe follow them up with some mulled wine or hot apple cider. This is why everyone should know how to cook mussels. When the weather turns warm, such a dish might not offer the same appeal but that's when the barbecue comes into play and grilling season is in full swing.
In the following recipe we are taking live mussels and cooking them in foil packets. They are served with a butter, parsley and white wine sauce, along with some bread. This makes a lovely appetizer for 4 or an entrée for 2. If you're serving it as an entrée then consider fries on the side or baked potatoes.
How to Store Mussels Safely
When learning how to cook mussels, you should know that live mussels may be stored in the refrigerator for a couple of days. Before you cook them, tap any shells which are open. Alive ones will close their shells right away. Dead ones won't so discard any that don't close when you give them a sharp tap. Soak them in salted water for a few minutes too. This encourages them to spit out any grit.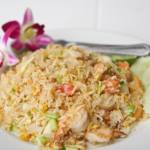 This is very typical food in Thailand, and you can find Thai fried rice with shrimp (or chicken or another protein) served everywhere from a food stand on the street corner to a fine Thai food restaurant. There are different ways to make Thai fried rice with shrimp and you can usually specify which meat you want to have in there. When making Thai fried rice, you can use up any meats or seafood and veggies left in the refrigerator so if you have leftovers it is a great way to use them up.
More about Thai Fried Rice with Shrimp
Unlike Chinese fried rice and some other kinds, Thai fried rice comes with a wedge of lime on the side along with prik nam pla, which is chilies and fish sauce combined together. Use the following recipe as a starting point, adjusting the ingredients to match what you happen to have available.
It is always best to use day-old cooked rice to make your Thai fried rice with shrimp, because freshly cooked rice is too moist and will steam instead of fry. If that isn't possible though, just ensure your rice has time to cool down because this will dry it out quite well.
If you want to make your own prik nam pla (fish and chili sauce) to serve with this (and you really should, for an authentic Thai rice flavor!) then you should put 3 tablespoons of fish sauce in a bowl and add 4 sliced Thai chilies. Squeeze in the juice of half a lime if you like, although the lime is optional.
Continue reading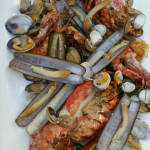 Plateau de fruits de mer is the French term for seafood platter, and this recipe comprises both cooked and raw seafood on a chilled platter, often on a bed of ice. If you order a fruits de mer recipe, you can expect shellfish along with bread, mayonnaise (preferably homemade) and condiments like cocktail sauce and mignonette sauce. The serving platter will be above table level on some kind of stand, and sometimes there are several tiers, both to make it look for elegant, and also because some of the shellfish is served on the half-shell or in the full shell, and then it takes up a lot of room.
A fruits de mer recipe is traditionally served after midnight mass in France as a Christmas treat. Fill your tiered platter with as much wonderful seafood as it can hold and chill the rest until you are ready to replenish it. Prepare homemade mignonette and mayonnaise, ensure you have plenty of bread and white wine (or Champagne) and get ready to wow your dinner guests with this authentic French seafood dish. Gin goes well with seafood so perhaps serve martinis or even gin and (a good quality) tonic before you bring out the show-stopping pièce de résistance – your icy platter of shellfish in all its glory.
Do you have a simple platter or tiered platter for your fruits de mer recipe? If not, you can use a cake stand under a dish to give your fruits de mer recipe some height. Spread the surfaces with crushed ice and add seaweed for decoration if you have some. Use coarse dishwasher salt instead of ice if you are not serving the dish immediately.
Arrange your seafood on the tiers and drape a couple of the prawns over the sides. Add mayonnaise, lemon wedges and maybe some mignonette too. Serve the bread on the side and make sure everyone has a little bowl with water and a slice of lemon so they can wash their hands, or at least some moist towelettes. You can buy little pins for the winkles, so people can get them out of the shells, and other implements.
Continue reading →
Other Posts You Might Like