Shellfish Recipes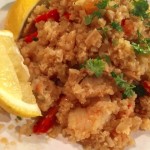 When I worked in Gran Canaria I used to eat paella a lot. In fact I made friends with a local chef who used to make a special batch for me minus the peas (my pet food hate!) This rice-based delicacy was served with half a baguette, plenty of alioli, or ai oli (or garlic mayo) and perhaps a sangria on the side. At that time I had never even heard of a low carb paella using cauli rice because I was enjoying the real thing too much to deviate.
Try as I might, I could never tire of this wonderful Spanish dish. Fast forward a decade and I still love that flavor but my husband is diabetic and rice is a no-no. So I wondered at this point whether cauli rice would work, since it is great for making other cauliflower rice recipes like egg fried cauli rice and lots of other cauli rice recipes.
This is why I tried my hand at a low carb paella using cauli rice a couple of evenings ago. I thought I would add chicken and seafood, along with chicken broth, smoked paprika and saffron to get that authentic flavor, and considering the main ingredient was swapped for a paella rice substitute I have to say it worked really well! Continue reading →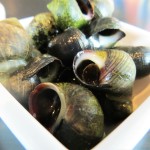 Winkles are little black shellfish that look like snails. They may be enjoyed as part of a seafood platter or fruits de mer, or you can enjoy them as a snack by themselves, or with some bread and butter, as an easy winkles recipe appetizer.
You can buy winkles either cooked or live but if you're shopping for fresh ones (or picking your own) to make an easy winkles recipe, first you should check the smell. Good winkles smell slightly sweet and like the sea. They might move visibly. Live ones need to be rinsed in plenty of cold water before being soaked in salted water for half an hour before you boil them.
Very Easy Winkles Recipe Ideas
They take 3 or 4 minutes to boil in salted water and then it's best to roll them in oil to make the shell shiny. Serve them with salt and vinegar, and don't forget the little pins to extract the meat from the shell. What an easy winkles recipe this would be.
These are time-consuming to eat because they are very small, but honestly they are worth the effort because the flavor is amazing. Discard the hard foot at the top end but the rest of the winkle may be eaten. Continue reading →
Some More Hot Content For You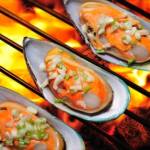 When the weather is cold, mussels steamed in the pan with white wine and parsley makes a wonderful meal, served with warm garlic bread. Then maybe follow them up with some mulled wine or hot apple cider. This is why everyone should know how to cook mussels. When the weather turns warm, such a dish might not offer the same appeal but that's when the barbecue comes into play and grilling season is in full swing.
In the following recipe we are taking live mussels and cooking them in foil packets. They are served with a butter, parsley and white wine sauce, along with some bread. This makes a lovely appetizer for 4 or an entrée for 2. If you're serving it as an entrée then consider fries on the side or baked potatoes.
How to Store Mussels Safely
When learning how to cook mussels, you should know that live mussels may be stored in the refrigerator for a couple of days. Before you cook them, tap any shells which are open. Alive ones will close their shells right away. Dead ones won't so discard any that don't close when you give them a sharp tap. Soak them in salted water for a few minutes too. This encourages them to spit out any grit.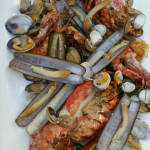 Plateau de fruits de mer is the French term for seafood platter, and this recipe comprises both cooked and raw seafood on a chilled platter, often on a bed of ice. If you order a fruits de mer recipe, you can expect shellfish along with bread, mayonnaise (preferably homemade) and condiments like cocktail sauce and mignonette sauce. The serving platter will be above table level on some kind of stand, and sometimes there are several tiers, both to make it look for elegant, and also because some of the shellfish is served on the half-shell or in the full shell, and then it takes up a lot of room.
A fruits de mer recipe is traditionally served after midnight mass in France as a Christmas treat. Fill your tiered platter with as much wonderful seafood as it can hold and chill the rest until you are ready to replenish it. Prepare homemade mignonette and mayonnaise, ensure you have plenty of bread and white wine (or Champagne) and get ready to wow your dinner guests with this authentic French seafood dish. Gin goes well with seafood so perhaps serve martinis or even gin and (a good quality) tonic before you bring out the show-stopping pièce de résistance – your icy platter of shellfish in all its glory.
Do you have a simple platter or tiered platter for your fruits de mer recipe? If not, you can use a cake stand under a dish to give your fruits de mer recipe some height. Spread the surfaces with crushed ice and add seaweed for decoration if you have some. Use coarse dishwasher salt instead of ice if you are not serving the dish immediately.
Arrange your seafood on the tiers and drape a couple of the prawns over the sides. Add mayonnaise, lemon wedges and maybe some mignonette too. Serve the bread on the side and make sure everyone has a little bowl with water and a slice of lemon so they can wash their hands, or at least some moist towelettes. You can buy little pins for the winkles, so people can get them out of the shells, and other implements.
Continue reading →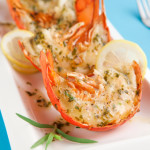 Lobster tails make a real treat and, when cooked right, you can expect a succulent, tasty result with plenty of ocean flavor. Learning how to cook lobster tails is straightforward and the results are impressive. These little delicacies might not be the cheapest type of seafood in the store (far from it, usually) but once it in a while it is nice to spoil yourself to a lobster tails recipe. Buying the tails is cheaper than buying a whole lobster, and they're easier to prepare and eat too.
I spotted some of these on sale just after Christmas. Of course we had a full-to-bursting refrigerator then (who doesn't?) but they were frozen, so into the freezer they went. When I felt like cooking them, I thawed them overnight in the fridge and then started researching the best recipes for them.
The two times I'd had lobster tails before were memorable. Once was in Gran Canaria and they were caught fresh that morning (it pays to have fishermen as friends!) and char-grilled, and the second time was on the Oasis of the Seas cruise ship and those were boiled. I wanted to know how to cook lobster tails so I could make them any time.
Continue reading →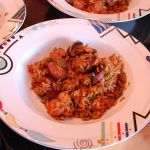 There are not many exact recipes in Cajun cooking, because most of it is done to taste not to measurements, and the same dish can be prepared a different way each time, even by the same chef. This is because Cajun cuisine is an art form and the result of the dish depends on the mood of the chef as well as what happens to be in the refrigerator and cupboards. This means creating classic Cajun food is largely about getting a 'feel' for the ingredients and flavors.
Although there are plenty of adaptations and tweaks you can make when making classic Cajun food, if you do want to follow a recipe it can be hard to find the right ingredients outside the New Orleans area. The fresh spices and seasonings can be hard to get, along with ingredients like Andouille sausage and fresh crawfish.
If you want to learn how to make classic Cajun food though, it is essential to get the ingredients so check grocery stores with Cajun seasonings or visit a specialty food market. A lot of Cajun recipes need time to simmer so set the scene with some jazz music and prepare for a wonderful eating experience like no other.
Continue reading →
Other Posts You Might Like